RayAnn Reynolds, a member of the Hot Springs National Park Kennel Club and proud "mom" of 10 old-fashioned, black-and-tan coonhounds, says it takes a special breed to be a show person.
Reynolds said during the Hot Springs National Park Kennel Club dog show this weekend that her love affair with breeding and showing black-and-tans started 10 yeas ago when she met a friend at a dog show in Kentucky and "fell instantly in love" with a black-and-tan coonhound named Stevie.
Since then, her entire family has become involved in her hobby. Her grandson, Chandler Watson, a 10-year-old Lake Hamilton student, showed his grandmother's dog, Annie, at the event, which was held at the Hot Springs Convention Center.
While her husband does not show the dogs, Reynolds said he loves them. Her children also like to help with the dogs, but Reynolds said her grandchildren take the most active role with her hobby.
When Reynolds and the dogs are not showing, she spends her time cleaning, feeding, training and socializing the dogs. They live in her home and each have their own couches or baby mattresses to sleep on.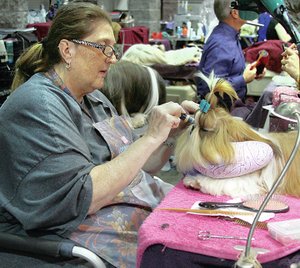 PAMPERING: Annette Louis, of Denison, Texas, acts as stylist for Meme, a Shih Tzu entered to compete in the Hot Springs National Park Kennel Club dog show Saturday at the Hot Springs Convention Center.
For Reynolds, breeding is a labor of love. Her kennel, Southwind Kennel, breeds to improve the small gene pool of black-and-tan blood lines, not to sell. She does a lot of testing to determine which dogs she will breed into her program. Her goal is make sure the breed is able to last.
"It's nothing I will ever make money on," she said.
The puppies she does not keep are given all their shots and spayed or neutered before they are put up for adoption. She has a waiting list of those who want her puppies.
Before she adopts the dogs out, the potential owner has to provide a veterinary reference, personal references, proof they have a fenced yard and agree they will not keep the animal tethered in order to be considered.
If the new owner decides they do not want the dog, they have to return it to Reynolds to re-home.
Reynolds said she encourages anyone who wants to get started breeding or showing to first do their research and learn everything they can about the breed. They should join both a local kennel club and a breed club because that is the best place to get help, she said.
Even though it can be costly, Reynolds loves traveling to various shows across the country with her dogs. She said that, on top of their normal care, she also has to pay for show fees and traveling expenses.
"It is very much worth every single penny," she said.
Reynolds said shows help her validate her breeding program. A judge or another breeder can look at her dogs and see what she may not see.
She said a few shows give prizes, but most just give ribbons. All give points toward championships.
For Reynolds, the best part of showing is spending time with her dogs and her friends.
"It is like going camping, but instead of being around a campfire, you are around a show room," she said.
Local on 09/28/2015