FAYETTEVILLE -- While the Arkansas Razorbacks and Louisiana Tech Bulldogs complete their game-week routines tonight headquartered in hotels, the father of Louisiana Tech cach Skip Holtz will be honored at John Q. Hammons Center in Rogers.
Lou Holtz, coaching the Razorbacks at a 60-21-2 clip from 1977-83 including an 11-1 first season capped by mammoth 31-6 upset of prohibitively favored Oklahoma in the Orange Bowl, and inducted into the College Football Hall of Fame after leading Notre Dame to a national championship, will be inducted nto the Razorbacks Hall of Honor.
Holtz goes in with one of his Razorback players, safety Greg Lasker of Conway, and the late Danny Rhodes, an all-Southwest Conference linebacker staring for Frank Broyles' Razorbacks from 1971-73; basketball greats Oliver Miller and the late Tom Pickell; Kenderick Moore, one of the best in baseball under retired Razorback coach Norm DeBriyn; former Razorback record-setting sprinter Roddie Haley for retired coach John McDonnell and former Lady Razorbacks greats Christin Wurth-Thomas, a U.S. Olympian coached by now 2-time NCAA champion Lance Harter, and all-Southeastern Conference softball pitcher Tammy Kincaid Dustin.
Lou Holtz likely would have been a Razorback Hall of Honor inductee long ago but never was available because he either was coaching (Minnesota, Notre Dame and South Carolina) or working as a college-football analyst for ESPN or CBS.
The timing is something Skip Holtz savors having, of course, spent 1977-83 in Fayetteville, attending Fayetteville High.
"It's great to see my dad being honored for everything he accomplished during his days at Fayetteville and the success he had with the program," Skip Holtz said. "It's great to see the people of Arkansas bring him back. It's going to mean an awful lot to him."
As it does to Skip.
"I have great memories of growing up in Fayetteville," the younger Holtz said. "I still have close friends there I stay in touch with. Fayetteville is still a very special place to me."
Of course, it would be all the more special for him if his 26-point underdog Bulldogs, losing much to graduation off last year's 9-4 team, could pull off a upset.
Bielema calls Skip Holtz "one of the good guys in our profession," but also among the most competitive and has achieved consecutive 9-win seasons.
Skip Holtz has coached against Arkansas. By an Alex Tejada field goal in overtime, Bobby Petrino's 2009 Razorbacks edged Holtz's East Carolina Pirates, 20-17 in bone-chilling temperatures at the Liberty Bowl.
Both Holtz and Bielema use first-time starting quarterbacks Saturday.
Louisiana Tech redshirt freshman quarterback J'Mar Smith debut starts because senior Ryan Higgins -- though he will play in the game eventually, Holtz said -- was charged with driving while intoxicated.
At Arkansas, fourth-year junior Austin Allen has apprenticed since 2013 while now graduated-to-the-NFL older brother Brandon Allen started at quarterback.
Austin Allen says, "I am definitely ready. It's been a long time and a lot of preparing and thinking about it and I am just ready to go out there Saturday."
Will he be nervous?
"Oh, yeah," Allen said. "If you don't get a little bit nervous you are not right. You are not in the right place. I am really excited about it. As long as you prepare, you play well."
Arkansas offensive coordinator Dan Enos concurs, saying Allen has prepared well.
"Just the other day," Enos said, "I was kinda thinking to myself, 'Boy, this guy's probably ready to play a game.' He's a great young man. He's tough. He's a hard worker. He doesn't want to let anybody down. I'm really, really confident he's going to play very, very well."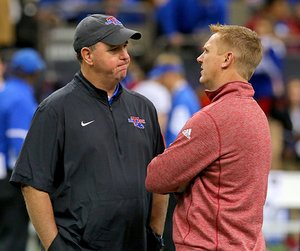 Arkansas Democrat-Gazette/Stephen B. Thornton COACHES' CORNER: Louisiana Tech coach Skip Holtz, left, and Arkansas State counterpart Blake Anderson get together before the 2015 New Orleans Bowl. Holtz sends the Bulldogs against the Arkansas Razorbacks in the season opener for both teams Saturday. Kickoff is 3 p.m. at Reynolds Razorback Stadium in Fayetteville and on the SEC Network (Resort Channel 79). Arkansas State opens the season today with an 8 p.m. home game against Toledo at Centennial Bank Stadium in Jonesboro on ESPNU.
Louisiana Tech has posted consecutive nine-win seasons while representing Conference USA yet because of the hits they took from losing the 2015 senior class have been 26-point underdogs this week.
Any pressure being so heavily favored?
"No, not at all," Allen said. "We come in every day that LaTech is the best team that we are going to play all year. That's how it is every single week that we have to prepare like it's the best team that we will play all year."
For the first time in now fourth-year coach Bielema's Razorbacks regime, the Razorbacks didn't practice Thursday but devoted it to the weight room. Instead, they will practice today, a plan that strength coach Ben Herbert studied from the University of Oregon and some other college teams and NFL teams.
The different format is designed for fresher legs on game day, Bielema said.
Sports on 09/02/2016