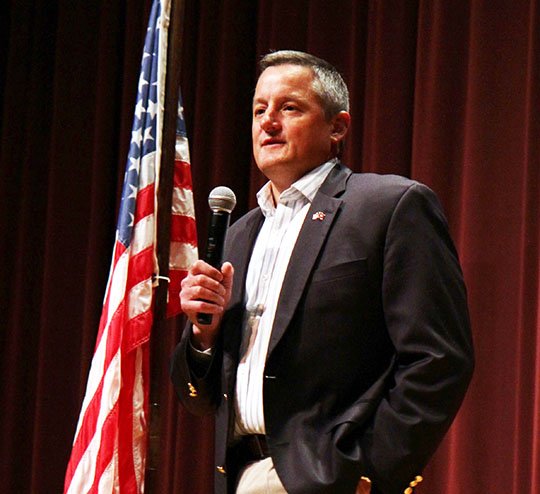 The Sentinel-Record/Lorien E. Dahl HOT TOPICS: U.S. Rep. Bruce Westerman, R-District 4, spoke in Hot Springs Village on Wednesday during a "Coffee with your Congressman" event, held in Woodlands Auditorium. Some 75 constituents attended to hear Westerman address issues facing the 4th Congressional District and all Americans. - Photo by Lorien Dahl
HOT SPRINGS VILLAGE -- Some 75 area residents from locations including Bismarck and Mount Ida made a trip to Hot Springs Village on Wednesday to hear U.S. Rep. Bruce Westerman, R-District 4, speak at a "Coffee with your Congressman" event.
Westerman spoke briefly on his forestry background and work he's doing with congressional committees, then opened the meeting to questions from the audience.
The executive director of Hot Springs' Spa Area Independent Living Services, Brenda Stinebuck, asked Westerman if he would commit to voting "No" on any proposed budget that would cut services for the clientele she serves, who are disabled and often rely on governmental assistance for housing and living costs.
In response, Westerman said what many have seen or read in the media regarding budget cuts is actually part of a "skinny budget," which is just a recommendation from the administration, and he admitted that this administration's budget is an austere one. He said he would work to get funding for programs that are important to his constituents.
Several in attendance, including more than one representative of SAILS, made clear their concerns about repeal of the Affordable Care Act, noting they work directly with citizens who have greatly benefited from acquiring insurance since its introduction.
Westerman said, "I'm excited about what we're proposing regarding health care," and described several amendments he's supporting.
Included is a Medicaid expansion proposal for Arkansas that would require all able-bodied persons aged 18-64 to be working to receive that type of insurance.
One dissenter spoke up, suggesting that all Americans should be covered, whether they are employed or not. She asked about Westerman's medical insurance, and he said that it is through the health insurance exchange, and that for him, his wife, and their four children, his monthly out-of-pocket cost is between $1,300-$1,400.
Another amendment would reinstate antitrust laws, so insurance companies cannot have monopolies. He also discussed insurance being sold across state lines, and the possibility of small businesses banding together to lessen employee-sponsored insurance costs.
He explained the benefits of having an "invisible risk pool," that would take the risks away from insurance companies for covering pre-existing conditions, which would theoretically allow premiums to drop some 40-60 percent.
Westerman said another amendment he is working on would add an income adjustment to an age-adjusted flat tax credit.
He noted the efforts of Dr. Thomas E. Price, U.S. Secretary of Health and Human Services, to open regulations on services like ambulatory surgery centers, which would lower health care costs for many who don't actually need a hospital stay to take care of their medical procedures.
Other questions were asked concerning the environment, conservation funding and pipelines.
Westerman said, "I'm very passionate about the environment," noting healthy forests create a healthy environment, and saying that national forests have been poorly managed in recent years. He said he wants the U.S. Forest Service to work more from its mission of sustaining the health, diversity and productivity of forests to meet the needs of both present and future generations.
Regarding pipelines, he said they are "actually the safest mode of transporting material." Several in the audience voiced their disagreement, but Westerman remained steadfast.
The third main topic addressed was infrastructure, and he said for needs to be met, money from overseas must come back into the economy via tax reform. He spoke specifically of needs in Arkansas, including work on Interstate 49 outside Fort Smith, and necessary maintenance on the Arkansas River system to continue barge traffic, thereby reducing tractor trailers on Interstate 40.
Asked about H2B visas, which allow noncitizens to work on a temporary basis, Westerman said he supports the program. He also touted the importance of building work ethic and training in America's younger generations, so they will begin to fill those jobs. He said he hears all the time about employers not being able to find a workforce who will show up and perform, even for higher paying fields like air traffic control.
This was Westerman's first "Coffee" event for 2017. He will have another in Sheridan next week.
Local on 04/13/2017
Print Headline: Westerman speaks about environment, health care at HSV
Sponsor Content
Comments