Lake Hamilton High School's 2015 valedictorian, Emily Gentles, took part in two summer study programs in New York and Italy.
Gentles will be a junior at the University of Arkansas in Fayetteville this year as a math major with an emphasis on statistics. She is the daughter of David and Darlene Gentles.
Her first summer of college included participation in the University of Chicago's Summer Research Experience for Undergraduates apprentice program. Last summer marked the first time the university opened up applications to students who did not attend Chicago.
About half the 300 applicants were Chicago students and only three were selected from other universities. The other two outside applicants accepted into the program attended the University of Michigan and the University of Notre Dame.
The National Science Foundation's REU program supports active research participation by undergraduate students in any areas of research funded by the foundation. Project involve students in ongoing research programs or projects specifically designed for REU.
Gentles was accepted into Stony Brook University's Institute for Advanced Computational Science first REU. The first class included four Stony Brook student and others from Cornell University, the University of Alabama and the University of Minnesota, as well as the Universidad Metropolitana in San Juan, Puerto Rico.
"It has been a total joy and privilege to have these talented young scientists here," said IACS Director Robert Harrison. "They brought a vibrancy and energy that reminded us all of why we entered science in the first place."
"We were all from different backgrounds," Gentles said. "The thing that kind of tied us together was the use of computational science."
The eight-week "Data + Computing = Discovery" program allowed students to perform computational research. The IACS sponsored a boot camp during the first week to teach students about the Python programming language most commonly used by their faculty mentors.
Gentles use her training in Python to compare the two quantum chemistry software packages of Multiresolution Adaptive Numerical Environment for Scientific Simulation, known as M.A.D.N.E.S.S., and NWChem. Faculty members involved work from ecology, evolution, neurobiology, physics and other subjects as students led a variety of projects, with topics such as combustion engines, neural activity data sets from mice and thermonuclear supernovae.
"My job was to write Python scripts to automate the testing process so when can get all of this data to compare to the old program," Gentles said.
The SeaWulf supercomputer allowed Gentles to perform calculations throughout the summer. She used one node with 28 processors, which represented a fraction of computing power available, and calculations could take more than 24 hours at a time.
"We have gotten to a part in science where a lot of problems cannot really be solved by one field," Gentles said. "You have to work together in the creation of these huge computers."
Gentles said she gained skills in data management, programming and scientific communication. She said her work concluded M.A.D.N.E.S.S., the newer program, is faster and more accurate than NWChem.
"Instead of taking 14 hours to get the answer to decane, I got my answer in half an hour," Gentles said. "It is a huge improvement for the quantum chemistry community, but also this application can be used for applied mathematics, physics and other sciences. It is really useful."
The program allowed students to participate in other activities, such as kayaking the Nissequogue River and dining out as a group in Port Jeff Village. Other events were organized to help the students sharpen their soft skills, such as the "Distilling Your Message" workshop, in which a professor for Stony Brook's Alan Alda Center for Communicating Science taught students the importance of communicating their science in layman's terms.
The program was financed with funds from Stony Brook's office of the vice president for research, the College of Engineering and Applied Sciences, the provost's office, IACS, and through supplemental funding requests to National Science Foundation-sponsored grants. Gentles' travel was covered by the state of Arkansas.
Gentles graduated from Lake Hamilton with a 4.31 grade-point average and more than 20 hours of college credit. She received a four-year $70,000 Honors College Fellowship from the university, as well as the Governor's Distinguished Scholarship from the state for as much as $10,000 per year.
More than 220 guests attended the nine undergraduate participants' Research Symposium on Aug. 4. Each student detailed their results on posters and explained them to the guests.
Gentles returned to Hot Springs on Aug. 5 and classes start back in Fayetteville on Aug. 21 for the fall semester. She had a similar short break to start the summer.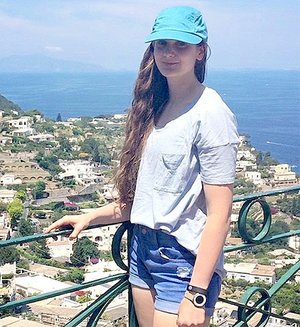 Photo by Submitted photo
Submitted photo 3-D VIEWING: Emily Gentles' two-week study abroad program in Italy featured mainly photogrammetry work in the preserved settlement of Pompeii, which was buried under ash by the 79 A.D. eruption of Mount Vesuvius. Photogrammetry will allow 3-D reconstructions of the location to educate students about the site even as it continues to degradate.
The Honors College Fellowship allowed Gentles to travel to Italy with a dozen other students and two professors. Most of their two weeks was spent in Pompeii conducting photogrammetry, which is the use of photography in surveying and mapping to measure distances between objects.
"It is really important because, obviously, not everyone can go to Pompeii," Gentles said. "Also, through time, it degradates and you lose information. The goal is to use these 3-D models to put into a virtual reality environment so students can learn and be in the space without physically traveling there."
The Roman settlement of Pompeii is famous for its preservation by ash spewed by Mount Vesuvius when erupted in August of 79 A.D.
"It was very, very interesting to work with people who are in those fields of study, because the ways we think are very different," Gentles said. "They would make these observations and I would think, 'Wow, that is definitely not what I am getting from this particular experience.'"
Local on 08/17/2017