The outgoing president and CEO of The Greater Hot Springs Chamber of Commerce and Hot Springs Metro Partnership received statewide recognition for his work this week.
The Arkansas Economic Developers & Chamber Executives on Monday named Fram Outstanding Chamber Executive during the Awards Luncheon for the association's 2017 annual conference, which concluded Tuesday at the Hot Springs Convention Center.
"It's a tremendous honor," Fram said. "I've been doing this a long time, and you get a lot of things over the years, but to have the people you work with nominate you and recommend you really adds a lot to it."
The conference drew Chamber of Commerce executives from all over the state, with sessions that focused on economic matters affecting Arkansas and how to respond to them.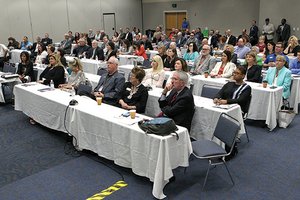 Photo by Richard Rasmussen
The Sentinel-Record/Richard Rasmussen CHAMBER TALK: Attendees at the Arkansas Economic Developers & Chamber Executives' annual conference listen to a speaker Tuesday at the Hot Springs Convention Center.
AEDC Chairman of the Board Sue McGowan said the conference focuses on providing information to Chamber of Commerce executives so they can better serve their communities. McGowan described two different "tracks" the featured speakers can take -- an economic development track or a commerce track.
One session was Tuesday's State of the State Breakfast, delivered by Mike Preston, executive director of the AEDC.
"We talked about everything that's happening in economic development, my vision for the next 12 months and where we see things going, and how we can all work together to promote Arkansas as a state, and bring in more jobs," Preston said.
Preston said the economic challenges facing Hot Springs are statewide issues, as well, and in order to be successful in the future, the city needs an economic draw for college graduates.
"Some of those who end up going off to college don't end up coming back. They might go to another state," he said. "We need to make sure that there's opportunities for them to come back, and we have to recognize that not every kid that graduates high school is gonna go to college. We need to make sure that they're preparing that workforce for jobs that they can go out and make a great living doing."
The award Fram received Monday is given each year to a nominated Chamber of Commerce executive in Arkansas who is seen as outstanding by their peers.
Fram is in his 33rd year as a Chamber of Commerce executive, having previously served in Harrison, Lincoln, Neb., and Tulsa, Okla.
In his five years of service in Hot Springs, the Chamber of Commerce has gained five-star accreditation by the United States Chamber of Commerce. The Metro Partnership became the only professional economic development organization in Arkansas accredited by the International Economic Development Council.
In three weeks, Fram will pass the torch for both the chamber and the Metro Partnership to Gary Troutman, of Hot Springs, recently announced as the new president and CEO of the organizations.
Fram said he will serve an assisting role at the Chamber of Commerce until Dec. 31, then plans on launching a consulting business.
"He's been so instrumental in assisting others in their careers," McGowan said. "He's been a mentor for many years to a lot of people, and a lot of those are doing very well in the state."
"We'll certainly miss Jim, but he's certainly built a strong foundation and a strong legacy here in Hot Springs," Preston said.
Local on 08/30/2017