PEARCY -- Plagued by turnovers and missed shots on offense, the Hot Springs Lady Trojans relied on their defense against Centerpoint Friday night.
The Lady Trojans were held to one of their lowest scoring outputs of the season, but stifled the Lady Knights in a 42-27 win at Lake Hamilton's Wolf Arena.
"Coming into the second half of the season, we are going to have to rely on our defense," Hot Springs coach Josh Smith said. "Anytime you can hold somebody to 27 points, you've got a good chance. Credit to Centerpoint. They had a good game plan and they played great defense. We were not ready for how physical they were around the rim and it affected us and led to some missed shots."
Improving to 11-3 on the season, Hot Springs will face Lake Hamilton in the Kameron Hale Invitational championship game at 6:30 p.m. tonight. The Lady Wolves defeated Prescott 51-41 in the other semifinal Friday night.
"We know Lake Hamilton can shoot the fire out of it, and Prescott is a feisty team," said Smith. "I expect us to be in for a fight with whoever we play, but if we come out, do our job and play defense like we're capable of playing defense, we'll have a chance to win the game."
Clinging to a 17-13 advantage at the half, the Lady Trojans stretched their lead to as much as nine in the third quarter as senior Ariana Guinn started to find her rhythm. Held to just four points in the first half, the guard scored seven straight points and Hot Springs took a 28-20 lead into the fourth quarter.
"She's smart enough to understand the game that some nights her shots aren't going to be falling," Smith said. "She knows that she can't let it affect who she is. She's still got to go out and be Ariana, and keep attacking the rim. Her mentality is she isn't going to let an off night phase her."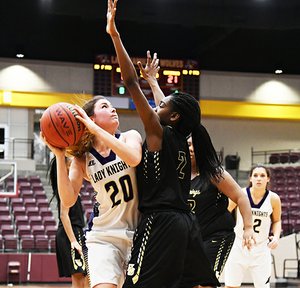 The Sentinel-Record/Mara Kuhn IN FORCE: Hot Springs guard Imani Honey, right, defends a shot by Centerpoint's Taylor Bowen (20) Friday in the girls' semifinal of the Kameron Hale Invitational. The Lady Knights will play in the third-place game today at 1 p.m. in Lake Hamilton Wolf Arena against Prescott.
A 3-pointer by Centerpoint's Keasha Owens pulled the Lady Knights within 30-23 early in the fourth quarter before the Lady Trojans ended any chance of a comeback. Junior guard Kiah Beauford scored six points to spark a 12-0 run that gave Hot Springs a commanding 42-23 lead with less than four minutes to play.
"We got a little bit of a lead on them and when they started to put some pressure on us, we were able to get the ball in the right spot," said Smith. "That really gave us a boost, and got us to a double digit lead where we had a cushion and were able to control the rest of the way. We made a few mental errors late, but it was because of how well Centerpoint played. They caused us to makethose mistakes."
Centerpoint junior guard Jaide Vavra dropped seven points in the opening quarter, but the backcourt duo of Guinn and Imani Honey each scored four points as the Lady Trojans held a slim 9-7 lead at the end of the first period. Both teams struggled to find a groove in the second quarter, Beauford leading the way with four points as Hot Springs took a 17-13 advantage into halftime.
Vavra connected on two 3-pointers in the third quarter to keep things interesting, but was forced to leave the game with an apparent ankle injury and the Lady Knights never recovered.
Beauford finished with 10 points, while Honey recorded eight points and senior Trinitee Nevels chipped in with five points.
"We got into the bench again tonight, and we had a lot of girls step up," Smith said. "Keindia Nevels stepped up and played big, and I thought Trinitee scored some good buckets for us when we got the ball to her.
"We are asking some kids to do some things they have not done and playing some lineups that I have not seen on the floor together this year, but that is good to see. It is good for them to get a feel for it as we move forward."
Vavra led all scorers with 16 points, including four baskets from behind the arc. The Lady Knights (6-5) will play in the third-place game at 1 p.m. today against Prescott.
Sports on 12/30/2017