Garland County's homeless count produced significantly higher numbers in the unsheltered category this year compared to 2016, officials involved in the count said this week.
The count, which was conducted Jan. 24 by United Way of the Ouachitas, sent volunteers across Garland County to tally individuals that fall under Housing and Urban Development's definition of homeless.
The count breaks down the individuals into sheltered and unsheltered categories. The unsheltered category more than doubled in number from 2016 to 2017, the officials said.
Sue Legal, compliance and resource development director of Ouachita Children's Center, said the count is done annually for HUD's allocation of pertinent resources to Southwest Arkansas Partnership, a coalition of 25 regional counties under Arkansas' Continuum of Care.
This year, HUD required every county in the United States to conduct the count within the final 10 days of January. Although HUD only requires sheltered individuals to be counted every other year, Garland County's extension of SWAP counts both categories each year on their own initiative.
The count's unsheltered tally increased by 105 percent, from 115 in 2016 to 236 in 2017. HUD's definition of unsheltered includes individuals living in any location that is not a shelter or residence, as well as domiciles such as vehicles or houses without running water. This portion of the count involved volunteers traveling both around Hot Springs and into Garland County in search of individuals living under such conditions.
Garland County sheriff's Lt. David Wolf was in charge of taking three volunteers up into the Buckville area to count. He said the homeless population in that part of the county was mostly living in such domiciles, going against his conventional idea of "homeless," which entailed living on the street in a city.
The sheltered tally saw a slight decrease, falling from 157 to 146 -- a 7-percent drop. This count includes those living in homeless shelters, transitional housing and residential programs. The tally was collected by volunteers stationed at feeding centers such as The Salvation Army of Hot Springs and Jackson House throughout the day.
Overall, the number of homeless individuals counted rose 40 percent from a full count of 272 in 2016 to 382 this year.
On the day this year's count was conducted, skies were partly cloudy and temperatures were in the 60s -- a stark contrast to the cold, wet conditions that accompanied last year's count. It also featured an uptick in volunteers, from around 30 in 2016 to more than 50 in 2017, and featured the new practice of volunteers knocking on the doors of smaller hotels to check on the residents' living status, Legal said.
Such favorable circumstances are why Legal said she believes this year's homeless count does not necessarily indicate an increase in homelessness, but rather a more accurate revelation of the number of homeless in the county.
"The number of volunteers played a factor," Legal said. "I also think that the weather played a big factor."
Legal said one of the obstacles in getting an accurate assessment is HUD's requirement the count take place in the last 10 days of January, which is in the middle of winter, and often subject to cold, inclement weather that drives the homeless inside.
"Whether it rains, snows, sleets, we have to do the count," Legal said. "The only way we can use our alternative date is if it is so bad in one of the other counties that we have to shut it down."
Charles Laggan, president of the board of trustees of Samaritan Ministries of Hot Springs Rescue Mission for Homeless Men, and Jan Laggan, Samaritan's executive director, said that this year's count agreed with their assessment of the homeless population.
Jan Laggan said in December that, over the nine years of the ministry, more than 2,000 different men have come through Samaritan's overnight or resident program.
The 2017 count also confirmed that Samaritan Ministries' target demographic -- male -- is the county's largest homeless demographic, comprising 238 of the 382 total homeless counted, or 62 percent.
That was also the case for the unsheltered homeless, where males comprised 156 of the 236 counted.
At least 113 of those counted in the final tally were listed as female, but Legal said some of the females who were included in the final count need to be recounted, and some individuals who were counted did not mark a gender on the count form they were given.
There were 75 homeless individuals who were 24 years old and younger, which Legal said HUD classifies as youths, representing around 20 percent of the total.
"That's usually what it is," Jan Laggan said. "Men are out on the streets, and women find places to live with family or friends or whatever, especially if there's children involved. And that's more accurate than it's even been in the past."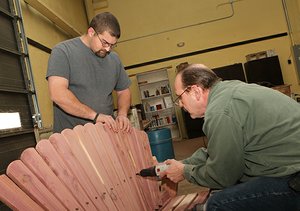 The Sentinel-Record/Richard Rasmussen NEW LIFE: Samaritan Ministries resident Wesley Borgmeyer, left, and former resident Lonnie Broadway make a cedar bench in the woodworking shop at the facility on Thursday. Borgmeyer was homeless when he arrived at the shelter about a month ago. Broadway was homeless three years ago before completing the ministries program, and now teaches carpentry there.
On average, Samaritan Ministries serves 250 to 300 different homeless males at its facilities each year, which are higher numbers than the 238 counted on Jan. 24. Chuck Laggan said a number of homeless people in Garland County might not be originally from the area. Of the men the ministry serves, 83 percent are from within Arkansas, 7 percent are from surrounding states, and 10 percent are from elsewhere.
Legal said she believes the number of homeless people in Garland County is actually greater than the Jan. 24 count. She said that she thinks there are more on the streets than were counted and that many of the homeless in the county live in camps in rural or wooded areas and go largely uncounted.
"These people are very good at hiding," she said. "They get up early in the morning, come back really late."
Legal also said that although HUD allows a 24-hour period for counting, the organizers did not allow their volunteers to count after dark for safety's sake. She said this is something that will be reconsidered for 2018's count, considering that counting at all times of the day might provide an even more accurate assessment of the county.
Though she still believes the true number of homeless within the county is higher, Legal said she hopes the increase in number will drive residents to fight the problem.
"I am hoping that there will be more community awareness, that there will be more programs open to the homeless," Legal said.
Local on 02/10/2017