Multiple fire agencies were called to the scene of a massive fire at Four Seasons Villa Resort, 301 Kleinshore Drive, Saturday night after a vehicle fire spread to adjoining town homes.
Autumn Carlisle, 70 West fire chief, said four town homes were destroyed, and a fifth was damaged, but there were no injuries.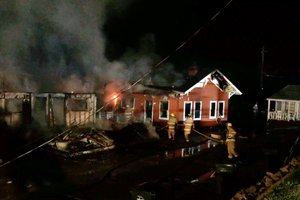 Photo by Mara Kuhn
Firefighters from multiple agencies work to extinguish still-burning areas of a residential complex that burned on Kleinshore Road Saturday night.
Carlisle said there was initially confusion over whether the fire was a structure fire or a vehicle fire.
Fire dispatch identified the location as Four Seasons Villa Resort.
When firefighters arrived, three separate town homes were fully involved, and a fourth was catching fire.
The city of Hot Springs and volunteer fire departments from Lake Hamilton, Mountain Pine, Piney and Bonnerdale provided manpower and equipment, and Morning Star was providing additional manpower to relieve firefighters.
"We've had some difficulty with firefighters getting overheated," Carlisle said.
Hot Springs Fire Chief Ed Davis said his department provided two engines and 14 firefighters, including off-duty personnel who were called in to ensure that the city's firefighting capability was not affected elsewhere in the city.
The residential complex is located in the unincorporated area of the county, outside the city limits.
Davis said the mutual aid was the case of a "neighbor helping a neighbor."