EDITOR'S NOTE: This is the first in a series of articles detailing the efforts and involvement of two Lakeside High School graduates in the Syrian Emergency Task Force, which advocates for the safety and well-being of Syrian civilians during the country's ongoing civil war.
Two Lakeside High School alumni recently returned to Hot Springs and their alma mater to discuss their work with the Syrian Emergency Task Force and the impact of the Syrian Civil War, which they described as the world's worst humanitarian crisis since World War II.
The Syrian Centre for Policy Research estimated more than 470,000 Syrians died during the first five years of the conflict. An estimated 11 million Syrians have fled their homes since the outbreak of the civil war in March 2011, according to http://www.syrianrefugees.eu. Many remain internally displaced within Syria, but 4-6 million others have sought refuge in other countries.
Mouaz Moustafa, founder and executive director of the SETF, and Natalie Larrison, director of outreach, led presentations throughout the school day on March 7 to students in the Lakeside High School library media center. They had time after to dine with Larrison's parents and meet with The Sentinel-Record before returning to Little Rock that night. Moustafa flew out from Little Rock the following morning and Larrison coordinated a trip to Massachusetts the ensuing weekend to raise awareness.
Personal connections abound in Moustafa's ties to the Syrian conflict. He was born a Palestinian refugee in a refugee camp near Damascus, Syria, the capital and now possibly the country's most populous city with more than 1.7 million people. He is the son of Mona and Kamal Moustafa.
The family was poor during his childhood and lived in illegal housing on the edge of the city. They were stunned when his father was able to obtain a visitor visa to enter the United States.
Moustafa said the family's passage to America was miraculous. His father purchased a plane ticket to Tulsa, Okla., and took the family's life savings of $50 with him while the others waited in Syria.
A fellow passenger on the flight changed the family's fate forever. A man told Moustafa's father $50 was not enough for him to start a new life. The man gave him $500 and told him to find his friend in Fort Smith who recently opened a hotel.
Moustafa said his father purchased a Datsun car for $150, drove to Fort Smith and the hotel owner helped him find his way. Gary King, an immigration lawyer, helped bring the family to Fort Smith when Moustafa was 11 years old. They later moved to Hot Springs, where Moustafa attended Lakeside.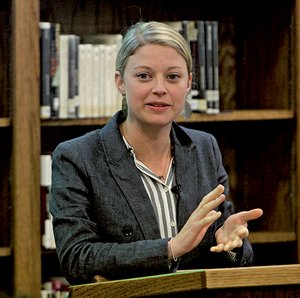 The Sentinel-Record/Richard Rasmussen TASK FORCE: Natalie Larrison, a 2006 Lakeside High School graduate, began last year as the director of outreach for the Syrian Emergency Task Force. She and fellow Lakeside alum Mouaz Moustafa delivered presentations throughout the school day on March 7 about the Syrian Civil War and their work with the SETF.
Larrison is a native of Hot Springs, where she attended St. John's Catholic School through the fifth grade. She is the daughter of Chuck and Laura Larrison.
Larrison was an honor roll student at Lakeside. She was voted as a member of the homecoming court, ran cross-country and was a cheerleader on three consecutive state championship squads.
The two rarely crossed paths at Lakeside, where Moustafa was also an honor roll student. Moustafa graduated in 2003 and Larrison graduated in 2006, but they both ran cross-country when Moustafa was a senior.
Moustafa was a standout soccer star for the Rams. He scored 22 goals and notched 12 assists as Lakeside went 18-1-2 in his senior season, just the sixth year of the program. The team's only loss was a 2-1 defeat in overtime to Harrison in the Class 4A state championship game at War Memorial Stadium.
The pair met up again in Conway when both were students at the University of Central Arkansas. Larrison interviewed Moustafa for a research paper about Damascus.
"It's really funny to read now because he describes this city that is completely different," Larrison said. "He talked about social norms and how there's dance clubs underground. It's hard to imagine now. These underground what-were-fun-things for the youth of the city are now being used for God knows what."
Moustafa graduated from UCA and moved to Washington, D.C., as an intern in the office of U.S. Rep. Vic Snyder, who served in the House of Representatives. He later worked for three years in the office of U.S. Sen. Blanche Lincoln until she lost a re-election bid in 2010 to U.S. Sen. John Boozman.
"As a kid who was born in Syria and had almost no rights there, I could never dream of working in government, something I wanted to do," Moustafa said. "I like politics. I like international relations. To be able to come to America, become a citizen, but then also work in the most democratic branch of our government was really, in a big way for me, the American dream.
"This is someone who came from no big family and from no money. I came here and I did not speak English, went to a public school literally the next day and had to figure out my way through. To be able to study what I love and then work in Washington in the capital was just unbelievable."
Moustafa's parents moved to Little Rock while he was in college. They now live outside of D.C.
Larrison discovered a love for teaching at Camp Winnamocka in Arkadelphia. She graduated from UCA and taught for five years at North Pulaski High School in Jacksonville.
"Originally, I thought I would be an English teacher," Larrison said. "That was maybe so I could teach internationally, because I always thought about that."
Larrison succeeded an English teacher who had recently received a $40,000 grant to start a new photography program. She was given authority to utilize the grant funds and lead the new program. Larrison only taught photography and journalism after her first year.
The Jacksonville North Pulaski School District detached from the Pulaski County Special School District last summer. The North Pulaski and Jacksonville high schools merged this school year, with plans for a new high school to be constructed and open by the fall of 2019.
Larrison's employment was uncertain due to the merger and she felt compelled one night while driving last year to reach out to Moustafa. The timing enabled her to dive headlong into one of the SETF's most recent endeavors.
Local on 03/24/2017