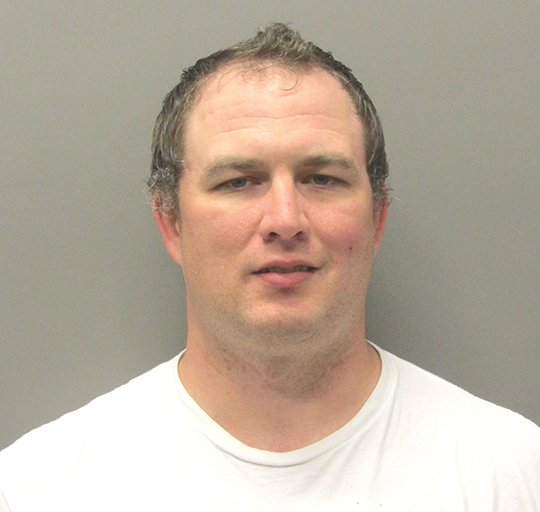 Jackson
A former youth pastor accused of raping two teenage girls in 2014 in Hot Springs was convicted Thursday after a four-day trial in Garland County Circuit Court and could face up to 80 years in prison.
Andrew Lee Jackson, 31, who lists a White Hall address, was found guilty of two felony counts of rape, with the eight-man, four-woman jury recommending a sentence of 40 years on each count. Jackson, who was taken into custody after the verdict and is being held on zero bond, is scheduled to be formally sentenced April 11. Judge Marcia Hearnsberger will decide at the sentencing hearing whether to run the sentences concurrently or consecutively.
Garland County Prosecuting Attorney Michelle Lawrence, who represented the state along with Deputy Prosecutor Kara Petro, said she will recommend at the hearing that the sentences be run consecutively for a total of 80 years, while Jackson's attorney, Shane Ethridge, will likely argue for them to be concurrent.
The jury deliberated for about 90 minutes before finding Jackson guilty and less than 30 minutes to recommend the sentence. Lawrence noted Hearnsberger did not instruct the jury to decide on consecutive or concurrent and would be making the decision herself.
Jackson was originally charged with 13 counts of rape, with 10 involving one victim, who was 16 at the time, and three involving the younger victim, who was 13 at the time, one for each incident of rape, but Lawrence said they amended it to two counts, one for each victim, before the trial since each count is punishable by up to life in prison.
The jury heard three days of testimony beginning Monday, including testimony from both victims, Garland County sheriff's investigators, the girls' therapist, Jackson, his wife, and his pastor from childhood during the guilt phase.
Lawrence said they also presented cellphone evidence involving text messages sent between Jackson and the two victims that corroborated the victims' allegations, and she noted that she felt it was a significant factor in the jury's decision.
They also presented witnesses who "saw various things" which also corroborated the victim's story, including one who "walked in" on Jackson and the 16-year-old "under the covers" and another who testified about being involved in a three-way phone call with Jackson and one victim.
She said the victims, who each went through three years of counseling and therapy, were both "able to take the stand and talk about what happened to them," and it was clear the jury believed them.
While the charge involving the 13-year-old was based solely on her age at the time, Lawrence said she used a different approach with the 16-year-old, arguing Jackson was essentially her guardian because she was living with Jackson and his wife at the time the rapes occurred.
"Even though he wasn't her parent or foster parent, he still qualified as her guardian because she had moved in with him and his wife," she said, noting that under the law he was then guilty of rape if the victim was younger than 18 years old.
Lawrence said she and Petro had argued that not only should Jackson be "punished for his poor decision," but the jury needed to protect society from his future actions.
"We told them they were the voice of Garland County as to what is acceptable and what will be tolerated here," she said.
According to the affidavit, in November 2014, Garland County sheriff's Investigator Mike Wright began an investigation into rape allegations involving the 13-year-old and her then 28-year-old youth pastor, identified as Jackson. Wright was assisted by Arkansas State Police Crimes Against Children Investigator Kathy Finnegan.
The victim was interviewed Nov. 7, 2014, at the Cooper-Anthony Mercy Child Advocacy Center and disclosed she had sexual relations with Jackson three different times between August and October at the home Jackson shared with his wife.
She told investigators she would often spend the night at the Jackson home, sleeping in the living room with Jackson and his wife on a sectional sofa separated into three pieces. She said at one point Jackson told her he "felt like a monster" for what he had done, although she was uncertain what all happened during the encounter because she was asleep.
She said she knew she and Jackson first had sexual relations about a week before the start of school in August on the sectional in the living room while his wife was asleep on the other section.
Jackson was arrested on Dec. 22, 2014, and charged with three counts of rape.
The victim's sister, 16, was interviewed at that time about any possible sexual contact she had with Jackson, but initially denied anything had happened between them.
The sisters shared a cellphone and had both communicated with Jackson on the phone. In reviewing text messages from the phone, investigators felt confident the 16-year-old was also a victim of sexual abuse.
On Sept. 21, 2016, the sister was interviewed again at Cooper-Anthony and disclosed she had sexual intercourse with Jackson "at least 10 times," beginning in August 2014 and continuing through October 2014.
She stated the rapes occurred in a bedroom at Jackson's home and the first time he had covered her mouth while he raped her. She punched him at one point during the rape trying to get him off her. She said Jackson threatened her, telling her if she told anyone he would burn up her family's house with her and her family inside.
She said Jackson continued to have sex with her almost weekly for nearly three months and that she was scared what he might do if she told anyone.
When questioned, Jackson confirmed he and his wife would sleep in the living room on the sofa sections, but denied the victim's accusations and insisted his only relationship with her was that of youth pastor.
Wright noted that in mid-December 2014, he viewed "inappropriate text messages" extracted from the victim's phone, which indicated Jackson had "much more than a youth pastor relationship" with the victim.
In the texts, Jackson made such comments as "I love you so much" and "I missed you this weekend terribly" and "I'm sorry I can't be with you."
Local on 03/31/2017
Print Headline: Former youth pastor convicted of rape
Sponsor Content
Comments