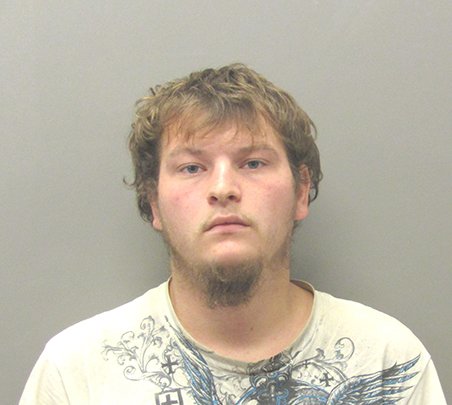 Wilt
A Kansas man was arrested early Tuesday on an Oct. 11 warrant stemming from allegations he had ongoing sexual relations with a 13-year-old girl that resulted in a pregnancy.
Joel Clark Wilt, 26, who lists a Wichita, Kan., address, was taken into custody shortly after 8 a.m. Tuesday and charged with one count of rape, punishable by up to life in prison. Wilt had previously been convicted in Garland County for a misdemeanor theft in March 2012.
He remained in custody in lieu of zero bond and was set for arraignment in Garland County District Court on Wednesday.
According to the probable cause affidavit, on June 8, Hot Springs police Detective Kenny May was contacted by the Arkansas State Police Crimes Against Children Division regarding a Child Abuse Hotline report that involved sexual intercourse between the two individuals. Both the suspect, identified as Wilt, and the victim denied having sex.
On July 26, May received a fax from Planned Parenthood in Arizona stating that the victim had been seen at its Glendale clinic on July 20. The fax also stated the victim was pregnant, and there were concerns about her having a sexual relationship with an adult.
May received the victim's pregnancy results from her grandmother on Sept. 26, which showed the estimated date of conception was May 5.
On Aug. 9, May received a fax from the Department of Children and Family Services in Los Angeles. The fax stated the victim had received an abortion at a clinic within the county. She also disclosed that she had begun dating Wilt five months beforehand, and her pregnancy was the result of their relationship.
On Aug. 14, the victim's mother showed May conversations between Wilt and the victim on the victim's cellphone, including numerous Facebook messages between the two from July where Wilt reportedly called the victim "cute and sexy baby" and told her "I love you so much too baby."
On Sept. 13, May reviewed a disk provided by state police that included a phone conversation between Arkansas State Police Investigator Kathy Finnegan and the victim recorded Aug. 10. In the phone conversation, the victim informed Finnegan she had an abortion the day before, and Wilt was the father. She said Wilt had told her to take 6,000 mg of vitamin C each day to induce a miscarriage.
The victim came to the Hot Springs Police Department on Sept. 26 and told May she had met Wilt in late 2016. She said she began having sex with Wilt in March 2017, when she was 13.
The victim said she and Wilt first had sex at his residence. She said Wilt was aware of her age, and their relationship continued after her 14th birthday. She said she initially denied their relationship because she was in love with him and believed she could hide it.
Local on 11/02/2017
Print Headline: Kansas man arrested for alleged sex with 13-year-old
Sponsor Content
Comments