Shoppers are expected to "shop small" today for the eighth annual Small Business Saturday, a program launched by American Express in 2010 to support local merchants.
During last year's Small Business Saturday event, according to a news release, 112 million consumers "shopped small," spending more than $15.4. Surveys show that 72 percent of consumers said Small Business Saturday inspires them to "shop small" throughout the year and not just for the holidays. In addition, more than 60 percent of consumers state the main reason they support small businesses is because of their contributions to the local community.
Several small businesses in the downtown area are taking part in Small Business Saturday this year, including Evilo Oils & Vinegars at 360 Central Ave.
Store manager Nicke Harper said Friday that business was steady on Black Friday, adding that the store "usually gets busy in spurts."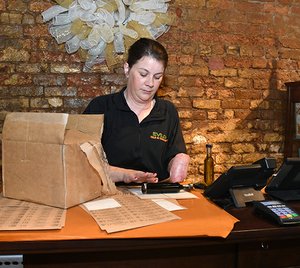 The Sentinel-Record/Mara Kuhn GETTING READY: Chrissy Thum, associate at Evilo Oils & Vinegars, labels bottles of oil on Friday.
Evilo is offering specials on all oils and vinegars today, with gift baskets discounted to 50 percent off.
"The price tags on the bottom let you know how much they are to buy today," she said. "Say it's a $50 basket -- a $50 basket is a $100 value. We can personalize any gift basket and do the deals for them with any type of customizable basket that anybody might want."
Harper emphasized the importance of shoppers supporting local businesses, adding, "Hey, we are locally owned people and you can buy stuff that Walmart and Walgreens sells right here from people that are living in your city with you."
"Our owners own all four of the business right here -- Bathhouse Soapery, Evilo, Fat Bottomed Girls Cupcakes and Pour Some Sugar On Me, but they're all right here in Hot Springs. Their warehouse is right over there so they're very involved. It's very important for us to get out in the community and support each other. We'll go to other stores and shop other stores just to support them," she said.
Evilo is set to open at 9 a.m. today and will be offering giveaways and free cake and cheese balls.
"Come down, snack around -- it's definitely going to be fun down here," Harper added.
Julie Smart, owner of Chez Julie Gifts at 412 Central Ave., has been in business in the downtown area for 29 years and said shopping locally "makes the world go 'round."
"I stay open in the evening, sometimes until midnight if we have to. Never in 29 years have I had a set close time. If there are people out there -- I'm in a tourist area and I cater to the people out there. If I have to be a tourist attraction, so be it, I will be open," she said.
"We just encourage local people. I had a customer this morning who was local and they wanted to shop local, to keep (their money) in the community, so people are grasping the concept. It's so important to support small businesses," she said.
Smart said items such as sweaters, headbands, sandals, and various winter items will be marked down today.
Chez Julie is set to open its doors today at 9 a.m.
Blushed Beauty Boutique at 340-A Central Ave. is new to the downtown area this year and owner Mary Matthews is gearing up for Small Business Saturday with discounts on items such as cosmetics, bath bombs, and other winter items.
Sales include a buy-five-get-one-free deal on bath bombs.
"The bath bombs, they all have trinkets in the center. For instance, Tiny Dancer has a little ballerina slipper. This Little Light of Mine has a little plastic glow, when it hits the water it shines light on the water. The Christmas ones have a little Christmas ornament in them, or a jingle bell. Rudolph the Red Nosed Reindeer has a red light that shines," Matthews said.
The popular makeup line Frankie Rose Cosmetics is offering a special Christmas deal valued at $48 for only $28.
"(Small Business Saturday) just reminds people that -- what I think, is that it's essential for small business; you just can't compete with the big box stores sometimes. I think it just gives a real sense of intimacy to the community. People like to feel like they're getting something that you can't find any place else and I think that's what a lot of small businesses, especially downtown, offer," Matthews said.
Blushed Beauty is set to open at 10 a.m. today.
Local on 11/25/2017