The sound and smell of motorcycle exhaust and the sight of leather riding gear fills the city of Hot Springs this weekend as the 12th annual Hot Springs Rally takes over Convention Boulevard and the downtown area.
The rally kicked off on Thursday and will run through Sunday morning.
As of Friday, more than 4,500 individuals were registered for the open rally and between 10,000-12,000 motorcycle enthusiasts are expected to attend rally events.
"It's running way ahead of what we had last year," said Fred Anderson, Hot Springs Rally organizer. "It's real hard to tell (how many attend). We can count the people that come through (the vendor mall), but there are so many people in town that don't have armbands, but they're here. With the weather the way it is, tomorrow ought to be a huge day."
A drive down Bathhouse Row or Convention Boulevard is evidence enough of the numbers the rally has drawn to the city this weekend, as hundreds of motorcycles line the streets and even more can be seen roaring down the highway.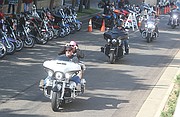 Anderson said that the Hot Springs Rally attracts numerous bikers from Texas, Louisiana and even Florida.
"We were afraid the floods in Texas would have kept some people away but surprisingly enough we had very few cancellations from Texas from people that preregistered," he said. "We do get a few people from Florida, but I'm sure that there's more on their minds right now than the motorcycle rally."
With events including a motorcycle parade, two Poker Runs, a bike show, and concerts by Kellie Pickler and Three Dog Night, motorcycle lovers young or old can find their flavor in the Spa City this weekend.
The shorter of the two Poker Runs on the schedule for this weekend was run Friday beginning at 10 a.m. and ending at 4 p.m. A route is designated for each run that consists of four different stops at businesses outside of the convention center, and registered riders must follow the route and gather stamps from each stop before convening back at the convention center to check in. The rider with the best hand in each run is awarded $250, and riders with the top five hands in each run are entered to win the grand prize of $2,000, the winner of which will be announced tonight before the Three Dog Night concert.
Following the Poker Run was the annual motorcycle parade, a highly anticipated event by riders and spectators alike. The parade route runs from Central Avenue to Park Avenue, through Gulpha Gorge, onto Grand Avenue and back to Convention Boulevard.
"We usually get a pretty good turnout for that," Anderson said.
Pickler was on the schedule to perform at Bank of the Ozarks Arena on Friday, and Three Dog Night is set to close out the rally tonight.
"The big reasons (people come to this rally) are, for one, the amount of phenomenal motorcycle riding there is around Hot Springs. There's so many great scenic routes up Highway 7 and through there, and I think that's one of the big reasons people come," Anderson said. "Second one, I think we try to put on nationally-known entertainment every year. We do country one night, classic rock another. It kind of draws two different types of people; if you like country or classic, there's always something for you.
"And, the city of Hot Springs has always been great. This is the 12th year we've put on the open rally and the city is really behind us. The local merchants support it, and, granted, for a weekend it gets a little noisy around here, but fortunately it's only one weekend."
Local on 09/09/2017