While Hot Springs acknowledged Senior Night, it was visiting Lake Hamilton that did the celebrating Tuesday night.
Junior Cole Plyler pitched five no-hit innings, sophomore Bradyn Clark had five RBIs and the Wolves (5-14, 4-6 in 5A/6A-6) rolled to a 12-0 win over the host Trojans (7-10, 2-10).
"A win like this peps the guys up and gives them good morale," Lake Hamilton coach Mac Hurley said. "Cole pitched a good game and did a good job. Bradyn Clark was on fire today. I'd give the game ball to him; he's stroking it right now."
After stranding two runners on base in the top of the first inning, Lake Hamilton set the tone for the rest of the game with a barrage of runs in the second.
Junior Jace Robbins delivered an RBI single and Clark followed with a three-run home run over the center field fence to give the Wolves a 5-0 advantage.
After Weston Dobyns and Utah Aitken each drew a walk, sophomore Spencer Gracie ripped a two-run double to stretch Lake Hamilton's lead to 7-0.
"That's a big momentum booster," said Hurley. "It helps a whole bunch just to get on the win side. We have another big game Thursday and we just want to compete."
Given ample run support, Plyler took the game over on the mound. The sophomore didn't allow a baserunner until the bottom of the third inning and finished his day with no runs allowed on no hits with three walks and eight strikeouts in five innings before leaving to preserve his arm.
"We didn't want to throw over 65 pitches, but he gave us five quality innings," Hurley said. "He did a good job and stayed sharp from his last outing. I'm proud of him for that."
Despite the blistering start in the first two frames, the Wolves were unable to maintain that momentum to put the mercy rule in play.
Hot Springs starter Ben Slate held Lake Hamilton without a hit over the next three innings, finishing with seven runs allowed on five hits in five innings pitched, striking out five while issuing five walks.
"We jumped out to a lead and kind of coasted after that," Hurley said. "We can't do that. We've got to keep putting pressure on and get it done."
Payton Winston reached base safely to lead off the top of the sixth and Clark continued to swing a hot bat with an RBI double to give the Wolves an 8-0 lead.
Clark finished a triple shy of the cycle with a season-high five RBIs in five plate appearances.
"He's always been capable of this; it's all been a mind game for him," said Hurley. "He hasn't had much confidence and I take the blame for that. I put a lot of pressure on the kid, but he's starting to come around and play loose. He's starting to hit the ball better and we need him. We count on him big time."
With the Wolves holding a commanding 9-0 advantage, J.T. Bardwell and Robbins each reached base safely to lead off the top of the seventh before Winston, Clark and Tanner King followed with one RBI each.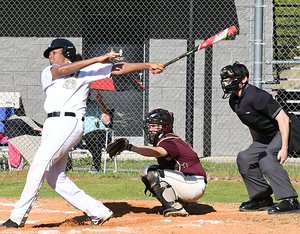 The Sentinel-Record/Grace Brown SWING BATTER BATTER: Hot Springs senior Isaiah Calhoun swings at a pitch during a baseball game against Lake Hamilton Tuesday at Hot Springs. Both teams are scheduled to close the regular season on Thursday, the Trojans at Magnolia and the Wolves against visiting Little Rock Christian.
Hot Springs freshman Elias Parker broke up the no-hitter with a two-out single in the bottom of the seventh. Senior Isaiah Calhoun followed with a single of his own, but King induced a groundout to end the game with the shutout in tact.
King and Gracie combined to allow no runs on two hits with no walks and two strikeouts in two innings of relief for Lake Hamilton.
Sophomore DeAnte Sanders surrendered five runs on five hits with two walks and no strikeouts in two innings pitched for the Trojans.
Both teams are scheduled to play Thursday in regular season finales. Hot Springs will travel to Magnolia (14-4, 9-2) before competing in the 5A-South tournament next week at Lakeside, while Lake Hamilton will host Little Rock Christian (18-8, 9-3) before traveling to Greenwood for the first round of the 6A-West tournament at 1 p.m. Saturday.
"We just need to be thinking about it and competing hard," Hurley said. "As far as confidence, this was big time for us. Anytime you can get a win, you're happy about that."
Sports on 04/25/2018