After years of discussion and planning, ground was broken last week for Oaklawn United Methodist Church's new Family Life Center, to be located next to the fellowship hall at 216 Higdon Ferry Road.
The church's goal is to have the new facility completed by the end of the year.
Designed as an all-purpose building, the new facility will contain a walking track, basketball court, bathroom facilities with showers, classrooms, and a stage for concerts and plays. Much of the thought during the planning stage was geared toward opening the new facility to the entire community, not just members of the church.
"We've been discussing it for quite a few years about the need for more space. A lot of it started because we wanted more space for our youth programs and for the children's programs that we have, and to have more classrooms because we've been struggling on space that way," David Fastenow, member and finance chairman at Oaklawn UMC, said.
"We're not a large congregation, but we're a very active congregation, we have a lot of things going on."
After viewing design choices, Fastenow said the church determined that building the new Family Life Center directly beside the existing fellowship hall made the most sense. The new building will take up some of the parking lot space, he said, but the lot across the street from the church is big enough to accommodate parking.
The new facility will also be ideal for hosting the church's various outreach programs, including the Oaklawn UMC Food Pantry, and its Country Praise Worship Service on Sundays.
"Our approach is, we're putting this up but we want it to be for the community. We don't want it to just be used by us. We want to share what we can -- feast, fun and fellowship, and we want to do that with the community and try to involve them," Fastenow said.
In addition to opening up the new facility for fellowship and existing outreach programs, the church hopes to be able to use it as a disaster shelter if the need ever arises. For that reason, the facility will feature separate men's and women's shower facilities.
"We're also looking at it having an uninterruptible power supply -- when the power goes off, the generator will kick in, so that building can stay functional even if power is lost around here. We're trying to look forward in things like that and things that we can do to really help the entire community," he added.
Oaklawn UMC Pastor Russ Breshears said in a news release, "God has given us a large vision and with everyone working together, this Family Life Center will offer many ministries and services to Hot Springs. In addition to being the home of our Country Praise Worship Service, the Family Life Center will provide space for our children and youth programs, including our Boy Scout and Girl Scout troops. In addition, it will help us further our food pantry and commodities programs that help many people in Hot Springs."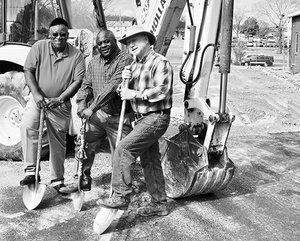 Submitted photo GROUNDBREAKING: From left, Richard Herrington, building committee chairman, K.T. Marshall of Malvern National Bank, and Randy Burroughs, general contractor, break ground for Oaklawn United Methodist Church's new Family Life Center.
Malvern National Bank is assisting with the financing of the building and vice president and loan officer K.T. Marshall has been an active participant in preparing for the construction, the release said.
Call 501-623-5588 or email oaklaw[email protected] for information on the project or the church.
Local on 02/20/2018