A nine-point outburst in the first quarter was just the beginning for Hot Springs forward Santiair Thomas Thursday night.
Two days after recording 31 points and 12 rebounds in an 84-48 win over De Queen (2-24), the sophomore notched his second consecutive double-double with 26 points and 13 rebounds in a 61-56 win over Camden Fairview (13-14) in the 5A-South conference tournament semifinals at Trojan Fieldhouse.
"He played lights out tonight on both ends of the floor," Hot Springs coach Rodney Echols said. "I told him it was going to be hard to duplicate his last performance, but he came back and scored 26 tonight and did a great job defensively for us. There were points in the ball game where we looked for him. We wanted to get Santi the ball and let him do his thing."
While Thomas came out firing on all cylinders, Fairview countered with a balanced offensive attack. C.J. Mitchell and Jalen Moore combined for 10 points in the opening quarter and the Cardinals withstood the early scoring burst from Thomas for a slim 15-14 lead.
A 3-pointer by Moore stretched Fairview's lead to 19-16 early in the second period, but Curtis Frierson answered with five straight points of his own to set the stage for a back-and-forth quarter.
Niles Smith connected on a shot from behind the arc that gave the Cardinals their largest lead of the game at 27-21 before Thomas and Kaleb Hughley combined for five points to bring the Trojans within 27-26 at the half.
"I came in just thinking about the conference championship; I want to win it," Thomas said.
Thomas picked up where he left off to open the second half. The sophomore scored eight quick points and Hot Springs rode a 10-2 run to a 36-29 lead.
"We made a heck of an adjustment at halftime," said Echols. "That adjustment was to get out and score in transition, because we thought that they didn't do a good job of getting back on defense. We got a lot of transition buckets, and I think that was one of the biggest reasons we came out with a win."
Fairview continued to get contributions from everyone to keep the game within reach in the third quarter. Smith scored five points, while four others scored two points apiece to bring the Cardinals within 44-40 entering the final frame.
"Hats off to Camden, because they came in here and they fought," Echols said. "It would have been easy for them to come in down, because we beat them by 18 here two weeks ago and we're 2-0 against them on the year, but they came in and took it to us."
A layup by Smith gave Fairview its second lead of the second half at 52-51 with 3:37 remaining before the Trojans locked in defensively with the game on the line.
After three points from Latrell Ellis, Thomas delivered the play of the game with two minutes to play. After coming away with a loose ball, the sophomore found an opening and flushed home a slam dunk to give Hot Springs a lead it would not surrender.
"I knew we were going to have to step up and show them that we weren't playing with them," Thomas said. "I was just praying to God that I wouldn't miss it."
The Trojans held Fairview to just four points in the last two minutes, while converting on five of their last six shots from the free throw line to preserve the win.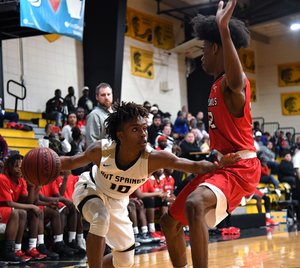 The Sentinel-Record/Grace Brown HIGH-FLYING: Hot Springs' Kaleb Hughley (3) attempts a basket as Camden Fairview's Brandon Smith (12) guards during the 5A-South District Tournament at Trojan Fieldhouse on Thursday.
Smith paced Fairview with 13 points, while Quaishun Thompson scored 12 points and Mitchell had 10 points. J.J. Walker had 11 points for the Trojans and Hughley finished with eight points.
Hot Springs will face Magnolia (17-5) or Watson Chapel (14-13) in the conference championship at 8:30 p.m. tonight. The Cardinals will compete in the third-place game at 5:30 p.m.
"We need to take how we finished tonight in the fourth quarter and transfer it to the next game, because it is going to be a quick turnaround," Echols said. "We just need to stick to our game plan and what has gotten us this far. We have a chance to fight for our fourth conference championship in five years, and we are doing it with a bunch of young guys."
Sports on 02/23/2018