The historic Malco Theatre, for the first time since 2008, will host Arkansas Shorts: A Night of Short Film, beginning with an opening reception at 4 p.m. today.
A decade ago, the festival was a mostly local affair, with many of the films shot and produced by budding young filmmakers from Hot Springs. Today, the festival has grown to include films by professional and established filmmakers from around the state and award-winning short films from across the country and around the world. It has grown in the last decade to be one of the premier short film festivals in the state and an important celebration of the small-but-talented filmmaking community in Arkansas, a news release said.
This is the fourth year the event will be curated by Jennifer Gerber, a Hot Springs native and filmmaker.
"This is going to sound like an exaggeration, but it's not -- this night is my favorite night of the year. For me, it beats New Year's, birthdays, holidays, because I'm a filmmaker and a film lover and it is the greatest concentration of filmmakers in our state and a celebration of shorts like none other," Gerber said Friday.
"What I really love is just that it's such an incredible turnout. Every filmmaker looks for a responsive audience to show their films to and this is an engaged audience, they're passionate, they're there to have a good time, and it's packed."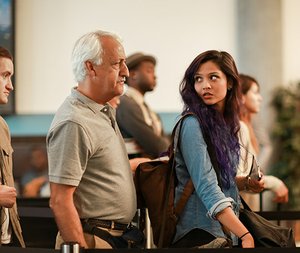 Submitted photo SHORT FILMS: "Fanny Pack," a short film by Uttera Singh, will be shown tonight at the Malco Theatre during the North American Shorts block at Arkansas Shorts: A Night of Short Film.
This year's festival includes four blocks of short films: an International block at 5 p.m.; a North American block at 6:30 p.m.; a block of student films from this year's Inception to Projection filmmaking class; and the Arkansas Shorts block at 8 p.m., featuring a juried selection of films made by Arkansas residents and natives.
Renowned photographer Thomas Petillo will return this year to take black and white portraits of the audience attendees at the opening reception.
Arkansas Shorts features films that are 10 minutes or less, an important medium for filmmakers on a budget or with a unique story or concept. Gerber said some exceptions are occasionally made, though, especially in this year's North American block.
"I've made a few exceptions because I think there are films that I'd like the community to see. When it comes to the Arkansas shorts we're far more strict with the time limit because we want to be able to show as many films as possible," she said. "We have five of our Inception to Projection films that will be screened and then 19 shorts made in Arkansas, so we like to be able to keep that length so we can show a wide range of films that are made in our state."
Gerber said some of the event's highlights will come from this year's Inception to Projection filmmaking class, a program that tasks students to write, shoot and edit a short film.
Because of Low Key Arts' former Executive Director David Hill's sketch comedy writing background, Gerber said the class was treated like a television studio writer's room in which the entire group wrote sketch comedies and then each student directed their own.
"Because they were all written by a group, I think the work is really elevated and then they helped each other make these films. I'm really proud of what these students pulled off. I think they took our Inception to Projection content to the next level and they're really entertaining, and the personalities of this group is very distinct. I'm excited for Arkansas to see them because they're very special," she added.
Gerber recently resigned from the University of Central Arkansas as a professor to take on a full-time role with the Hot Springs Documentary Film Festival, and she said some of the films featured at this year's Arkansas Shorts were created by her former UCA students.
"I've seen these students just grow year after year and become better and better. As our filmmaking community is growing I see the films at the Arkansas Shorts get better year after year. I've really seen some progress, and I'm really closely connected to most of the films here. Either they're my students or my friends or they're people that I've worked with. That's why I don't vote, because I'm too close to all of the films that are playing, it's not fair. I want them all in," Gerber said.
With an average yearly attendance of 350-400 at the event the past few years, Gerber said organizers expect attendance numbers to be the same this year, though tickets are selling at a much more rapid pace and a full house is expected.
"Tickets are still available online but I recommend people to buy them now. There will be some available at the door but our sales are really rapid this year compared to our former years. We're expecting to sell out, so if you want to guarantee a seat you want to get in there early," she said.
Tickets are available in advance through Prekindle for $10 per screening or $20 for all blocks, including the after party, at https://www.prekindle.com/promo/id/24898849303034487.
Films will be judged and awards including Best of Show and Audience Choice will be given out at a ceremony following the program. An after party will be held at SQZBX Brewery & Pizza Joint, 236 Ouachita Ave., following the final awards ceremony.
Local on 01/06/2018