Playing without their leading scorer for almost the entirety of the first half, the supporting cast picked up the slack for the Hot Springs Lady Trojans Thursday night.
After senior guard Ariana Guinn resigned to the bench with two fouls in the first two minutes, Hot Springs (18-3, 7-0 5A/6A-6 conference) weathered the storm in a 61-50 win over visiting Lake Hamilton (9-11, 4-5) at Trojan Fieldhouse.
"Give credit where credit is due, they had a game plan for us and they played well," Hot Springs coach Josh Smith said. "They played more zone (defense) tonight than we normally see from them, and we struggled with it early on."
With Guinn out of the game, the Lady Trojans were forced to rely on others to fill the scoring role. Junior forwards Nya Moody and Jaidan Thomas each scored seven points, while senior center Trinitee Nevels added five points.
"That was big, and we have watched them grow as the season goes along," said Smith. "With Trinitee, she worked her way into that starting role and she has really progressed this year. With Jaidan and Nya, they both started the year off kind of slow, but last game they had nine points each and tonight they had seven apiece. We've got to do it by committee."
Despite the absence of Guinn, Hot Springs opened the game on a 9-2 run behind six quick points from Thomas. Lake Hamilton bounced back with a scoring burst of its own as junior Jenny Peake and seniors Logan Keener and Taylor Wells combined for 10 points to bring the Lady Wolves within 15-12 at the end of the first quarter.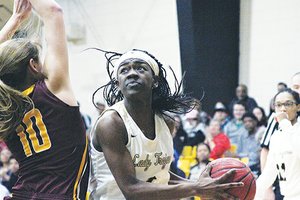 The Sentinel-Record/Rebekah Hughes SENIOR SPARK: Lady Trojan Imani Honey (2) shoots past Lake Hamilton's Logan Keener (10) Thursday during Hot Springs' 61-50 home win at Trojan Fieldhouse.
The second period proved a defensive struggle as both teams made just two shots from the field. Hot Springs senior guard Imani Honey and Keener each scored four points, and the Lady Trojans took a slim 21-19 lead at the half.
Guinn's return to the court to open the third quarter, combined with Honey's shooting stroke from behind the arc gave Hot Springs the spark it needed to take control. Guinn scored six points, while Honey buried three 3-pointers as the Lady Trojans rode a 9-0 run to a 40-32 lead entering the fourth quarter.
"(Guinn) changes things, and she makes it really hard to defend them," Lake Hamilton coach Blake Condley said. "I was really proud of my girls. We came in with a game plan and I thought we did a good job of executing it, but credit to Hot Springs. They hit some shots when they needed to, and they made a few more plays than we did."
A basket by Guinn gave Hot Springs a 46-35 advantage early in the final period, but Peake caught fire offensively to keep the Lady Wolves in the game. The junior scored nine of Lake Hamilton's first 11 points in the quarter as the Lady Wolves pulled within 46-43 with three minutes to play. Peake finished with a team-high 22 points, including 13 in the fourth quarter.
"She's just growing as a player and learning how to practice every day so that it carries over and leads to consistency," said Condley. "That is what we are preaching to all the girls. That effort and energy that we had tonight, we need to duplicate that every time we step out on the court. We're just looking for that consistency."
After Guinn converted on a three-point play from the line to stretch the Hot Springs lead to 51-45, Lake Hamilton elected to intentionally foul to prevent the Lady Trojans from running out the clock.
Hot Springs made the Lady Wolves pay as Guinn and Honey combined to hit all nine of their free throw attempts in the fourth quarter to preserve the lead.
"If we are in it late in the game, we've got a great chance with the way we're shooting free throws right now," Smith said.
Honey led all scorers with 25 points for the Lady Trojans, while Guinn had 15 points, all in the second half. Keener finished with nine points for the Lady Wolves.
Hot Springs took a 10-game winning streak into Friday's contest at Magnolia (4-7, 2-6) and Lake Hamilton traveled to Hope (0-10, 0-8). Both teams return home Tuesday night, the Lady Trojans against El Dorado (8-10, 5-5) and the Lady Wolves against Lakeside (15-5, 7-3).
"We've shown signs for two quarters most of the season, and our two quarters are winning us a lot of games," said Smith. "We've got to find a way to find that third quarter in this back stretch, and hopefully right before we hit the conference tournament, we will finally find that complete game. The thing about these girls is there is no quit in them."
Sports on 01/27/2018