Hot Springs Sunrise Rotary Club presented five scholarships Tuesday morning, including two named in honor of local radio personality Dick Antoine in celebration of his contributions to the community.
Recipients of the scholarship honoring Antoine, in recognition of outstanding academic performance and leadership qualities, were Esmeralda Ramirez, of Cutter Morning Star High School, and Raina Smith, of Hot Springs World Class High School.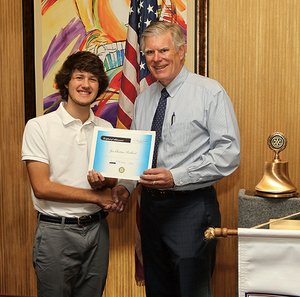 The Sentinel-Record/Richard Rasmussen SCHOLARSHIP RECIPIENT: Christian Boekhout, left, accepts a scholarship from Hot Springs Mayor Pat McCabe Tuesday on behalf of the Sunrise Rotary Club of Hot Springs.
The Sentinel-Record/Richard Rasmussen ROTARY SCHOLAR: Ben Carey, left, accepts a scholarship from Hot Springs Mayor Pat McCabe on behalf of the Sunrise Rotary Club of Hot Springs on Tuesday.
Other scholarships were given to Christian Boekhout, of Hot Springs World Class High School, Ben Carey, of Jessieville High School, and Ali Meeks, of Mountain Pine High School. Each scholarship was worth $500.
Rotarian Adrianne Kahn said the annual scholarships for recent high school graduates make an impact each year.
"Rotary was started by five businessmen in Chicago and they got together to share ideas and to help each other in business, and to help out in the community where they saw fit," Kahn said. "And our little group reminds me a lot about the original group because we're very tiny, but we have a big heart and we do a lot in the community.
"We feel like so much of what we do is to help with these scholarships and when you serve on the committee, you see how much need there is in the community."
Kahn said the decision to back two scholarships honoring Antoine was simple, not only because of the impact he has had on the community but the way he and his wife, Becky, have helped Kahn over the years.
"I felt like Dick had contributed so much for the community that I wanted to name a scholarship after him," Kahn said. "I've known Becky and Dick for many years. They impressed me in every way. It's like Dick was 'Mr. Hot Springs' and if you knew Becky, you got to know everything else that was going on in Hot Springs.
"Dick and Becky were really involved with Relay for Life. ... so when my son got cancer, Becky set up a prayer chain and it meant a lot. We've been very blessed with (Arkansas) Children's Hospital and he recently got a scholarship to continue his education, so I know how it feels to get one of these. It's just fabulous and this year, like every year, we have some students who have overcome some really great obstacles to win these scholarships and to perform in school which is fantastic. So we just want to give them the opportunity to continue their education. That's why we're going to name two of the scholarships for Dick."
Hot Springs Mayor Pat McCabe shared a few sentiments about Antoine's contributions before presenting the three students present for the scholarship ceremony.
"It's kind of hard to say that if you live in this town any length of time that you wouldn't have run into Dick in some capacity and some walk of your life," McCabe said. "There's nothing that Dick hasn't done here within the community. Earlier this year the city board recognized him with a proclamation and sort of outlined a lot of the things that Dick was involved in. ... If there was a cause worth standing behind, Dick was there front and center."
The mayor told the students who received scholarships in Antoine's name if they can fill even half of his shoes "you will have had a very successful life and the world will be better for your involvement."
Local on 07/25/2018