A larger-than-life depiction of some of Major League Baseball's greatest icons is taking shape on the south wall of the Craighead Laundry Building.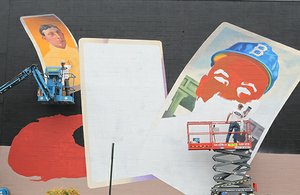 Photo by Richard Rasmussen
TAKING SHAPE: The mural, "Playing Cards," depicts several of major league baseball's greatest players who had ties to spring training in Hot Springs. Photography by Richard Rasmussen/The Sentinel-Record
Chris Arnold and Jeff Garrison, artists with Eyecon Studios of Dallas, began work Sept. 17 on the mural "Playing Cards," a play-on-words for the featured baseball trading cards and the action taking place across the piece. The two were selected following a call for proposals by Visit Hot Springs in January to design a mural depicting Hot Springs' spring training history.
"They put out a call for entries and, I don't know if it was nationwide, but (Mary Zunick) reached out to us directly based on our past works and invited us to submit an entry," Arnold said.
Garrison said the two had designed and painted a mural in Waxahachie, Texas, that celebrated the city's similar baseball history. Arnold said they were unfamiliar with Hot Springs' history, but were pleasantly surprised following research.
"What I knew of Hot Springs was the hot springs," Arnold said. "I didn't know the back story of the fact that all the greats came through for spring training to get rejuvenated in the spring.
"That's probably one of the more interesting aspects of our work is that every time we get involved in a project, we have to do research and then you start finding out all these really interesting facts that I had no idea about."
Garrison said "it makes it much more rich when you're producing the work to find out that some of these greats of baseball were here to walk the streets, they breathed the same air, saw the same mountains. It's good inspiration for us."
According to Arnold, Eyecon Studios began by chance because both artists were pursuing a much different path.
"We met in art school in Columbus, Ohio, at Columbus College of Art and Design," he said. "We studied illustration -- we both thought we were going to be illustrators -- which was the far opposite of this. Illustration is designed to be read at about arm's length so we spent four and a half years using these tiny little brushes doing little bitty projects, and then we got out of school and kind of in the process of stumbling around to find our path, we ended up painting backdrops for the operas and ballet. Theater backdrops are very abstract, so we learned a whole other way to paint and we also learned the tricks for scale.
"We eventually found our way to deciding to start doing murals on the side from our day jobs. Then that kind of ended up taking over our day jobs so we eventually quit our respective day jobs and started painting murals full time and that was in 1991. We've basically been working together since '84."
Their process typically takes about three weeks, and their current Hot Springs project is set to take a similar amount of time, weather permitting. Garrison said site-specific work has come to be their expertise.
"You never know what you're going to be asked to do," he said. "For instance, about three or four years ago we got a phone call and somebody wanted us to break the Guinness World Record for largest piece of art done with makeup for Mary Kay Cosmetics. So for their 50th anniversary we took on that challenge and we are now proud owners of the Guinness World Record for makeup, something we never thought we'd be asked to do, but that's a good example of some of the oddball things we're asked to do."
One might notice when passing the "Playing Cards" mural the Hot Springs Advertising and Promotion Commission building adjacent to the wall serving as the canvas. Arnold said in their site-specific designs it is their job to make the design work and make obstructions and distractions unnoticeable.
"I was showing my son this rendering and he'd only seen this version of it," he said. "He'd never seen the photo of the building parked in front of it. And so when he saw it he said 'They put a building in the middle of your wall.' I said 'No, no it's there. We're just designing around it.' The custom, site-specific part of this is that if we do this right, no one is going to look at this piece and go 'Oh, too bad that building is in the way.' It's designed to work through and with this building.
"We've done another large project that has seven individual four-story tall murals and it was on this giant apartment complex, and one of the images by itself has 16 double French doors that cut through the entire face of the mural. The piece was designed to work around those doors and if we pull this off and do this right, no one knows that there's a building in the way or doors in the way. The design sort of takes on the hero role."
The artists have faced a few interesting challenges and taken them in stride working closely with a group of baseball historians who Visit Hot Springs consults on matters of Hot Springs' spring training history.
"We're not baseball aficionados -- I get it -- and our first mission is design," Arnold said. "Does it hold together? Does it work aesthetically? And that was the prime directive and the first pass was OK, it was baseball and was kind of in the ballpark, but we just kind of briefly went through historical figures in Hot Springs. We picked a few, but for instance, the first pass was just strictly based on design. I had an idea that I wanted the grouping, the hero spot on this side, but wanted to connect over on this side."
Arnold started with a picture of a famous pitcher on the wall's east side; however, the image was flipped, inadvertently making the player appear to be pitching left-handed. The historians, he said, explained that this player was not left-handed which would make the mural inaccurate which prompted Arnold to choose a different player -- Lefty Grove.
"So we got down to he had to be a major league pitcher. He had to be famous. He had to be here in Hot Springs. He had to be left-handed so that he could be facing the audience. So, that narrowed the field down," he said.
The baseball being pitched across the scene travels behind a card depicting Jackie Robinson and breaks through a card of Babe Ruth before landing in a baseball glove, he said, explaining the meaning behind the mural's title.
"They're actually caught up in the game," he said. "They're playing the game."
While it may look near completion, Arnold and Garrison both said that has become the running joke in their work with outsiders taking note of their progress.
"This process is pretty funny because people not being familiar with our work are already going 'Whoa, y'all aren't going to be here much longer. It looks like you've pretty much got it done,'" Arnold said. "It's so far from done and that's just kind of a running joke with us and our wives come by the studio to look at stuff and say 'Oh, well you're almost done. It looks completely done. ... ' They just don't know what degree of finished that it's headed for.
"So, that's kind of the fun part of doing public art is most people don't walk up and engage us directly so you never realize how many people that it's affecting that are going on behind you. So as we take a break and walk across the street and start talking to people, they end up starting to share their stories about Hot Springs and their links to some of these players. Like 'My dad's cousin knew this guy.' It's just cool."
Local on 09/25/2018