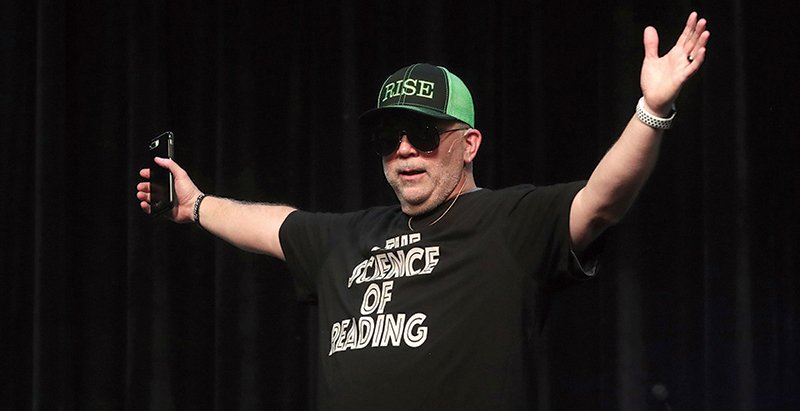 The Sentinel-Record/Richard Rasmussen EMCEE: Darin Beckwith talks to a group of educators at the Dawson Education Service Cooperative's Garland County schools professional development conference Monday at the Hot Springs Convention Center.
Monday's annual Garland County Professional Development Conference at the Hot Springs Convention Center featured "Family Feud" style games between school districts and an address from bestselling author Flip Flippen.
Dawson Education Service Cooperative Director Darin Beckwith, acting as emcee, encouraged attendees to be sensitive to both students' and co-workers' "traumas" and personal lives, to be aware of generational differences between fellow educators and students, and offered the support of the Dawson Cooperative.
"On behalf of Johnny Key and all the education service cooperatives around the state, we're here for you. We're here to support you. We're here to go that extra mile, to provide the things that you need at the right time to get those right outcomes for kids," he said.
Garland County's public schools resume classes this week; Cutter Morning Star and Lake Hamilton students return to the classroom today.
The "Family Feud" games saw teams from each of Garland County's seven school districts answering questions posed to Dawson Cooperative employees, and trying to guess the top answers.
During the final round of the elimination-style tournament, and with two of the allowed three strikes against them, Hot Springs School District emerged victorious against Lakeside School District. The winners received boxes filled with Dawson Cooperative prizes and goodies.
The games were followed by an address from Flippen, bestselling author, psychotherapist and founder of the Flippen Group, who broke down the anatomy of the brain, brain processes involved in learning, and encouraged emotional connections between students and teachers to facilitate more effective education and instruction.
"We teach brains," he said. "We should know how to hack into students' brains, because there's got to be a way to make information stick."
He explained the anatomy of the brain, citing the brain stem as imperative to all human functions; the amygdala, or "emotional processing center" responsible for the freeze, flight, or fight reactions; hippocampus, which Flippen likened to a storage center or library; and the limbic system.
Elevated cortisol levels, or stress, shrinks the hippocampus, making information storage more difficult, he said.
"When you're teaching, it comes up your brain stem, hits the limbic system, goes up to your amygdala, the switching mechanism that says safe, not safe. If they're feeling safe, if they're feeling OK, then they begin to have good interaction with the hippocampus, unless it's been impacted by cortisol. In which case, the hippocampus has shrunk, which now means I don't care how good a teacher you are, they have nothing to hang it on. There's no space in the hippocampus. If children aren't safe, if they're not OK, then they can't access the prefrontal cortex, that's where all your executive functions take place. This is where you do your problem solving," Flippen said.
"So you can be an amazing teacher, but if you do not have the relationship with those children, I don't care how good you are, they will not perform for you."
To reverse hippocampus shrinkage and lower cortisol levels, Flippen recommended physical contact.
"If you're going to teach, you have to touch. You have to touch students," he said.
Flippen encouraged shaking hands, patting students' shoulders or touching students' space, such as their desk or textbooks, appropriate forms of physical contact between teachers and students.
"I'm trying to feed that hippocampus. I'm trying to make it come alive."
In the digital age, with information at people's fingertips and mere clicks away, Flippen said teachers are responsible for bringing humanity and compassion to the learning environment.
Using his expertise as a psychotherapist, Flippen explained how sociopathy can lead to students becoming school shooters.
He referenced the recent Dayton and El Paso shootings and cited a statistic that of the 330 million people in the U.S., "3 to 5 percent" are sociopaths. He said sociopaths can either fall into a violent or nonviolent category.
"Of that 3 percent, that comes to 9.9 million people. Those kids go through public school," he said.
"It's imperative we get them help as young as we possibly can. And you can't say 'Oh we'll push it down the road.' Because you push it down the road, and at some point they pick up a weapon and they begin to hurt us, and they hurt other people. So candidly, if we're going to impact them, it's got to be us. We're the first responders. There's nobody else that gets to them quicker than we do."
Flippen concluded by imploring teachers to be compassionate toward students.
"I desperately wanted somebody to love me and believe in me. And the kids coming into your class, they need it more today than we have ever needed it in history. I am begging you, I am asking you with everything in me, to be those people. Be those people."
Local on 08/13/2019
Print Headline: BACK TO SCHOOL 'Family Feud,' Flippen and fun rev up educators
Sponsor Content
Comments