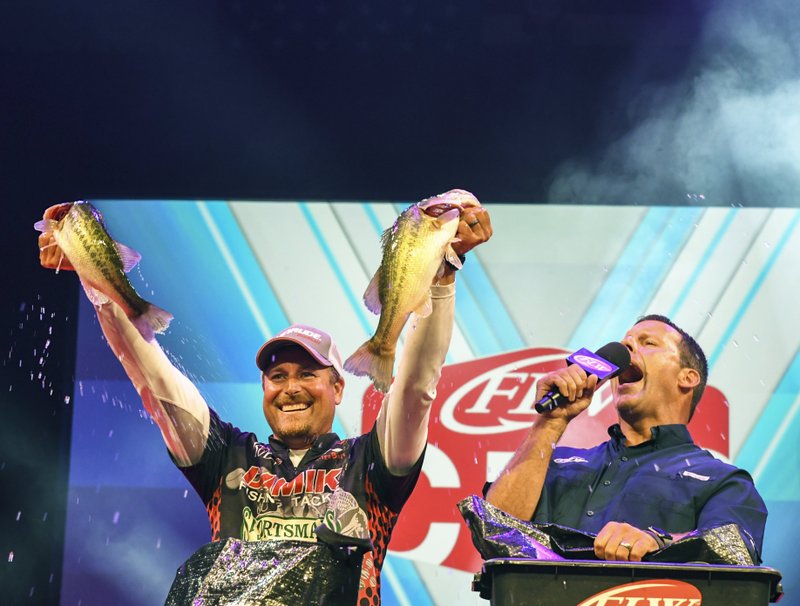 The Sentinel-Record/Grace Brown FANTASITIC KICKERS: Bryan Thrift, of Shelby, N.C., holds up two of the bass he caught on the third day of the 2019 FLW Cup during the weigh-in inside Bank OZK Arena on Sunday. He won the tournament with a three-day bag of 38 lbs., 7 oz.
Joseph Webster, one of 10 finalists in the FLW Cup, summed up the feelings of competing in a world championship of bass fishing.
"I'm not going to be the winner," the Winfield, Ala., angler said from the stage at Bank OZK Arena during Sunday's final weigh-in, "but we're all lucky to be here."
With 28 pounds, 2 ounces, Webster placed seventh in a contest dominated by pretournament favorite Bryan Thrift. Although not catching fish with every cast, Thrift demonstrated the patience and versatility needed against 51 other professional fishermen with hopes and dreams and skills to match. Grace under pressure, Ernest Hemingway called it, and it was under display all three rounds on Lake Hamilton under typical August-in-Arkansas conditions.
"This tournament taught me how to grind at a whole other level," said Cup rookie and dual qualifier Ryan Salzman, eighth at 26-12.
Curtis Niedermier, writing for flwfishing.com, said "it just felt like a Bryan Thrift-kind of tournament, and it turns out it was."
Like Phil Mickelson concerning golf's United States Open, Thrift had won just about everything important in professional bass fishing but the Cup. From the same hometown (Shelby, N.C.) as retired basketball star David Thompson, Thrift led after all three rounds, albeit with declining daily totals. The only angler to catch a double-digit limit on Sunday, Thrift boosted his lead over Kyle Walters during the round from 1 pound, 8 ounces to 5 pounds, 1 ounce.
"August in the South is an incredibly difficult time to fish a multi-day bass tournament," Niedermier said. "Bass are stingy, and bites are tough to get. It's rare to find a school of bass that can hold up for more than a day. Thrift's style is the perfect tool to attack that type of scenario. He's mastered the craft of 'precision junk-fishing,' whereby he fishes specific targets (usually dozens of them) but chooses from 10 to 15 baits to make the perfect presentation for each target.
"For the most part, that's how Thrift fished at Hamilton. However, each day, he eventually settled down in Hot Springs Creek and grinded out key bites that pushed his weight ahead of everyone else. Slowing down at the end of the day was a veteran move that Thrift might not have made early in his career, when he never fished a spot long enough for a cameramen to focus his lens."
Conserving time on the water is essential and knowing when to change locations is paramount. Thrift said he camped out in his main spot late in each of the last two rounds and "didn't crank my outboard motor for the last three hours either day."
Talk in the air before the final weigh-in was that Thrift had bagged enough fish to win the tournament. Sure enough, his third consecutive five-bass limit gave him 38 pounds, 7 ounces and the $300,000 first prize many judged would be his at Friday's launch from Andrew Hulsey Fish Hatchery.
Still, tournament sponsors prolonged the suspense with anglers coming to the scales in reverse order of the second-day standings. Targeting Thrift's score of 27-10, Webster pushed ahead at 28-2 with a limit weighing 7-1. After Salzman and Jordan Osborne came up short, Austin Felix, a former college fishing champion from the University of Minnesota, bumped Webster to second with five fish for 7-13 and 30-6 overall.
"I tried to let the lake tell me what was going on," said Felix, one of two finalists (Jordan Osborne, with no fish Sunday, placed 10th at 21-0) from Minnesota, the "Land of 10,000 Lakes."
Felix's lead lasted long enough for Floridian Scott Martin, the 2011 Cup champion on Lake Ouachita, to surge ahead with a limit weighing 8-8 for 31-2. The son of legendary angler Roland Martin, Scott has the body language of a winner whether in contention or not. Usually he is, although fifth on this day while ever gracious to his many fans (several relatives included) in the audience.
Three more lead changes resulted when Jeremy Lawyer (31-6), Dakota Ebare (32-2) and Walters (33-6) took their turns at the podium. Walters, a Floridian, was poised to claim his second major title in less than a year against Thrift, who finished second in the 2018 FLW Costa Series championship. Writers always look for the best story, and if they needed another good storyline on this day, Thrift and Walters were roommates last week.
Then came Thrift, who pulled his first three fish separately before displaying the two kicker bass that made him the 24th first-time Cup champion. The 5-pound, 1-ounce winning margin amounted to kicking clear, and then some.
"This has been 13 years coming," said Thrift's wife, Allison, from the stage, where Arkansas fishing legend Forrest L. Wood commended the champion for "the way you handled yourself."
"As easy as Thrift can make it look sometimes, this was a grueling tournament," Niedermier wrote.
Said Thrift: "I'm worn slam out. I really am. I fished as hard as I ever have in my life today. I'm tired, but I'm feeling good."
Sports on 08/13/2019
Print Headline: Cup champ grinds it out on Hamilton
Sponsor Content
Comments