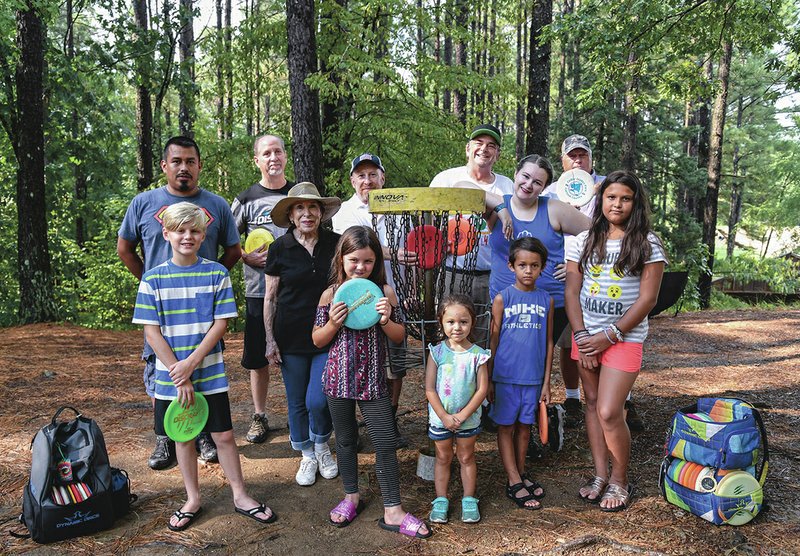 Members of the Wildcat Disc Golf Association and their families at Cedar Glades Park. - Photo by The Sentinel-Record/Grace Brown
Disc golf is a sport that nearly anyone can play and enjoy.
The game is similar to a traditional game of golf, but the objective is different. Instead of trying to hit a ball in a hole in as few attempts as possible, players toss a flying disc at a target, usually a net, in as few attempts as possible.
According to the Professional Disc Golf Association, disc golf is designed to be enjoyed by anyone, regardless of age, making it a great lifetime fitness activity. Because disc golf is so easy to learn, no one is excluded; players merely match their pace to their capabilities and proceed from there.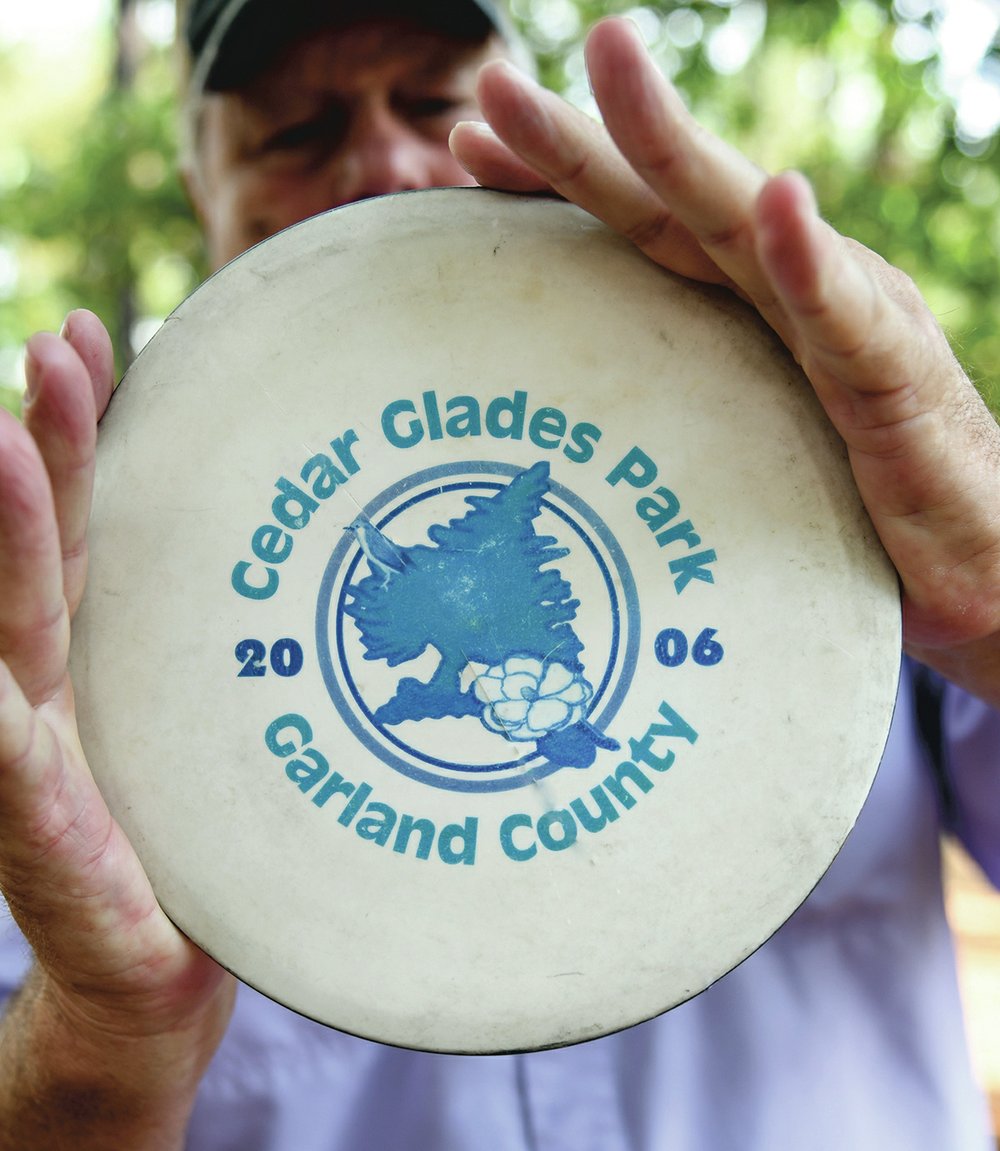 Glenn Wolf holds up a disc from the inaugural year of the Cedar Glades Park course.
Additionally, according to PDGA, disc golf is often free to play in public parks, although pay-to-play courses are trending upward -- players probably won't need to rent a cart, but converted golf course layouts are also on the rise.
A popular disc golf course in Hot Springs is Cedar Glades Disc Golf Course at Cedar Glades Park, located at 461 Wildcat Road. Players can grab some friends and compete against each other or, for a $6 fee, they can join the Wildcats Disc Golf Club -- a local league that competes against each other.
Wildcats member Abrahan Bahena said as long as someone is competitive, they can play disc golf.
"The main part is it's a good way to stay active, and 9/10 places you go to play will be free. It's supposed to be a cheap sport to start. The only thing it will cost you is the original gear you purchase," Bahena said.
He said although the ideal time to play disc golf is March to May because of the mild weather, the 35-member league plays year-round every Sunday.
The league is currently made up mostly of men, Bahena said, because it tends to have difficulty finding women with a "competitive streak."
Abraham Bahana putts his disc into the basket at Cedar Glades Park.
Wildcats member Lauren Nufer said although there are only two women on the team in total, it doesn't bother her. The league plays using the handicap system, so even when some men can physically throw farther than the women, it equals out the playing field.
She said playing in a male-dominated coed sport may seem intimidating to some women initially, but that shouldn't hold anyone back.
"The first day is always the hardest, but it only goes up from there," she said.
"Throwing a Frisbee does take skill, but once you get that down it turns out to be a lot of fun."
According to pdga.com/women, The PDGA and the PDGA Women's Committee have set a goal to introduce more women to disc golf by creating more events for all skill levels.
The website even offers resources in assisting women interested in running a women-only disc golf event or starting a women-only disc golf league.
According to discgolf.com, the Disc Golf Association was established in 1976 by Ed Headrick to form a new international sport and to promote the installation and use of disc golf courses around the world. Headrick coined and trademarked the term "Disc Golf" after inventing and patenting the original Disc Pole Hole. Headrick had originally wanted to call his invention a Frisbee Pole Hole, but ran into issues over the Frisbee trademark. Later, after founding DGA and the PDGA, Headrick released the term disc golf from trademark restrictions in order to help grow the sport.
Go Magazine on 08/15/2019
Print Headline: Disc Golf: A summer sport everyone can enjoy
Sponsor Content
Comments