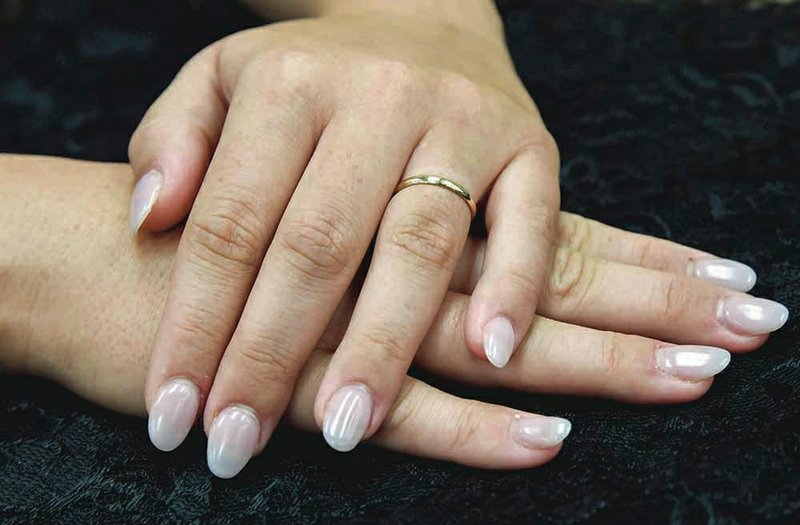 The Sentinel-Record/Grace Brown A model shows her nails one week later.
Unique Nails may have only opened its doors in February 2017, but the nail salon has already left its perfectly pedicured footprint on Hot Springs.
The shop, owned and operated by husband and wife duo David Vo and Teresa Nguyen, was named the Best Nail Salon in Hot Springs in The Sentinel-Record's 2019 Reader's Choice Awards.
"A lot of blessings came this year as far as getting the number one spot for the nail salon, it's just a blessing. It's just an accomplishment to get this far from where we started and being still fairly new," Vo said.
The Sentinel-Record/Grace Brown A model has her nails done by an employee of Unique Nails.
He started Unique Nails as a new career path to refresh the stagnation he was feeling in his old job as a nail technician at a different salon.
"I was just an employee at a different place. It was just time to go. When you work at a place for so long, you're just not happy anymore. It was just time to go a different route. I have friends that own businesses in town, and they motivated me to go ahead and go out there and do it," he said.
"Me and my wife, we had an opportunity with the help of friends and family, so we took it."
With 12 years of experience as a nail technician under his belt, Vo set to work opening Unique Nails.
"I started here in Hot Springs and I'm still in Hot Springs. In the beginning, it was difficult. But you learn as you go: different techniques for massaging, different nails designs, people skills, as well as customer service skills," he said.
Now Vo, Nguyen and six other employees provide top-notch manicures and pedicures to the people of Hot Springs.
The key?
"Customer service. That is our number one goal. I try to tell the people that work with us all the time that you can be the best nail tech in the world, but if you don't have a lick of customer service, you're nothing. I'm not about how many people I can get in my building. It's how many I can get back in. Honesty is the key to that. You know how some places, you'll walk in and they'll tell you that it'll be a five- to 10-minute wait, and next thing you know you're sitting there for an hour in ice-cold pedicure water? That's what separates us from everyone else, as far as honesty goes. We will be honest with you."
Rather than trying to fit as many people as possible into their days, Vo said that the team at the salon always schedules their day according to client requests.
The prices at Unique Nails are fairly reasonable, with basic pedicures starting at $30, basic acrylic manicures at $30, basic shellac manicures at $35 and basic dip powder manicures at $40.
The shop guarantees all dip powder and shellac services for two weeks, whether it is painted onto natural nails or acrylics to ensure customer satisfaction.
"If the customer is happy, we're happy. That's what you've got to do in this business," Vo said.
"We strive to provide the best customer service we can. That's my number one goal."
Along with the key to running a successful nail salon, Vo let HER Magazine in on the most current manicure and pedicure trends for the season.
"White is very trendy right now. A lot of people are doing white, whether they add glitter or unicorn-chrome or the waterfall or make it matte, but white is big in the summertime. It's just a nice, clean look."
While Vo said that people with shorter nails sometimes request acrylic nails, dip powder and shellac polishes are reigning supreme among his clientele.
He also said that with it being summertime and sandal weather, pedicures are particularly popular, even more so than during the winter months. The shop typically sees 80-100 clients in an average week.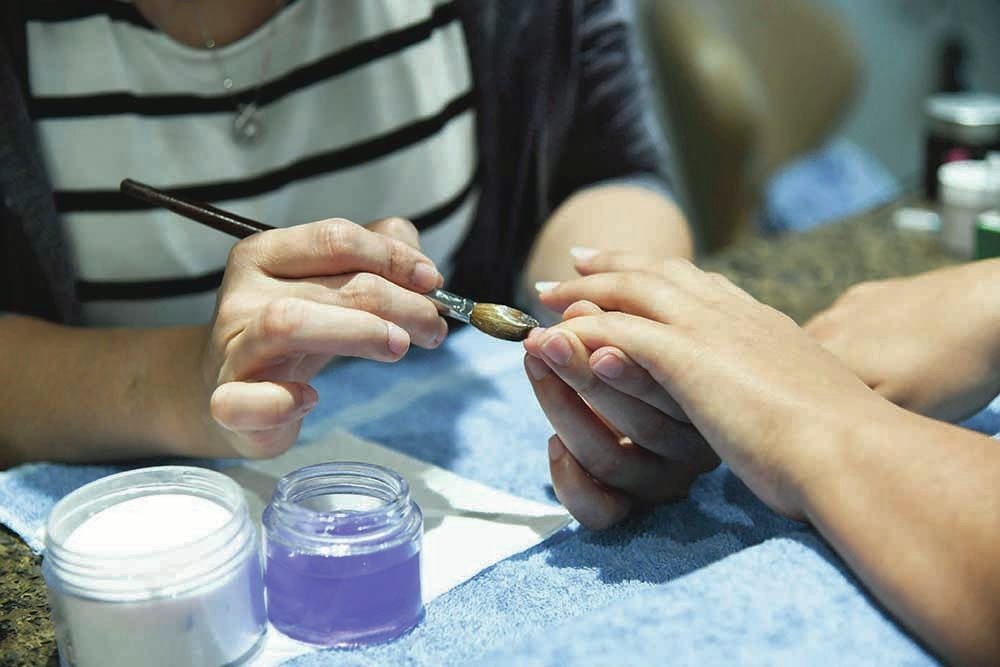 The Sentinel-Record/Grace Brown A model has her nails done at Unique Nails.
Vo said that manicured-hands down, his favorite part of his job is pleasing customers, whether that means helping them feel confident in their appearances, alleviating pain or anything else that a client may require from their nail technician.
"It's just a good feeling when they come in and they have an ingrown toenail or a headache or anything and I can make them feel better when they step out of my door. A lot of times when my customers come in with migraines and ingrown toenails, I try to go above and beyond to help fix that issue," Vo said.
Vo, along with the entire staff of Unique Nails, hope to continue to build on the salon's reputation as the Best Nail Salon in Hot Springs.
"We're just grateful for everything. I'd like to thank the community of Hot Springs and the surrounding areas, and we want to continue to provide the best service that we can."
Go Magazine on 08/15/2019
Print Headline: Unique Nails? Nailing it.
Sponsor Content
Comments