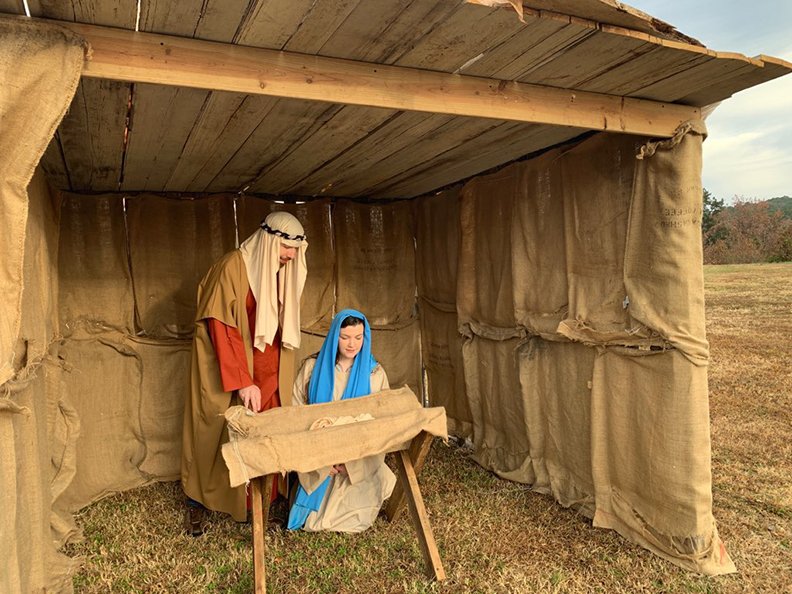 Hot Springs Baptist Church members have been working on the sets for "A Night in Bethlehem" since February. - Submitted photo
Hot Springs Baptist Church will welcome the community back to its interactive Christmas production "A Night in Bethlehem" after a 17-year hiatus beginning Friday.
The production, made up of almost 400 cast members, will run four nights -- Friday, Saturday and Dec. 13 and 14 -- at the church, 144 Weston Road.
"What we're doing is trying to recreate the first century night in Bethlehem when Joseph and Mary arrived and Jesus was born," Jim Hale, production co-coordinator, said.
Hale said the main goal of the 30 minute walk-through is to recreate the sights, sounds and smells of what someone would have encountered that night in Bethlehem. Attendees will begin in a residential scene of Bethlehem.
"There's not any scripts inside the village, but our people will be interacting," Hale said. "People will see what the first-century blacksmiths and rock masons were doing and how candles and baskets were made. What kind of fruit and vegetables and produce were sold and that sort of thing. There will be children playing and there will be women at the well drawing water. Of course, there will be Roman soldiers because Israel was under control of Rome then. They'll be harassing the people and that sort of thing."
Once through the residential area, Hale said attendees will experience a marketplace in Bethlehem.
"The synagogue will be there, you'll have craftsmen that are rock masons, blacksmiths, carpenters, they will be making candles, making baskets, leather, baking bread, selling chickens, selling eggs, selling grain," he said. "There will be a whole host of things taking place, the women at the well will be there, the inn will be there."
At one point, Joseph and Mary will walk through to the inn and knock on the door looking for a room, he said.
The story of Joseph and Mary's arrival in Bethlehem from Luke Chapter 2 will be told to attendees as they enter a stable scene.
When the walk-through concludes, attendees will be invited to the church for refreshments.
Originally running from 1998-2002, Hale said the production will be exactly how it was 17 years ago.
"It's such a uniting thing in our church," he said. "We've got over 400 people in our church who were doing everything from sewing 100 something new costumes. ... We've got people who have been building sets, walls, cottages and homes for months. It just brings a lot of people who have various skills to work to do something where we're all doing it together. Then it's an opportunity to invite the community to come at Christmastime and see what Christmas really is all about."
Hale said church members have been working on the production's set since February.
"We've built all-new sets and everything is new this year," he said. "It's been good for our church, it's been good for the community, but mainly a hundred and something people working together makes a unique ministry. ... We have people who are loaning us sheep, goats and chickens. It takes a lot of folks using their skills, using their abilities, sharing their insight to bring it about."
Hale said the church is hoping for an overall attendance of 5,000.
Tickets are free, but must be reserved. To reserve tickets, call the church at 501-760-4744, or visit http://www.hotspringsbaptist.org/nib/.
Local on 12/01/2019
Print Headline: Church brings back 'Night in Bethlehem'
Sponsor Content
Comments