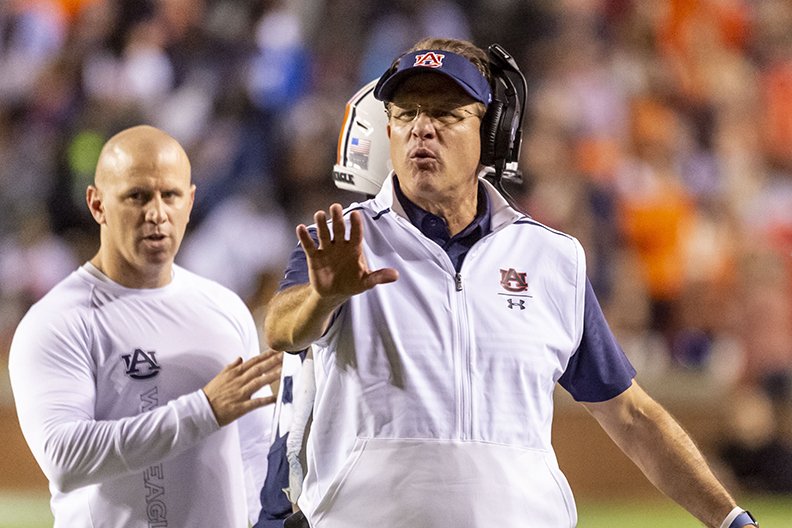 Auburn head coach Gus Malzahn argues with a referee during the second half of Saturday's game against Alabama in Auburn, Ala. - AP Photo/Vasha Hunt
Football season ended just in time for the Arkansas Razorbacks, although aftershocks from a disastrous campaign of fall Saturdays (and Thanksgiving Friday) kept on coming.
Missouri, in the wake of its 24-14 victory at War Memorial Stadium, had people pondering this question: When's the last time a team beat Arkansas and fired its head coach the next day?
Barry Odom went 25-25 in four years at Missouri, which in the current climate might get an Arkansas coach a hefty buyout package. Odom's last team, with high expectations after former Clemson quarterback Kelly Bryant arrived, cracked the top 25 in early season but finished 6-6. With the Tigers ineligible for a bowl because of NCAA sanctions, the school decided his fate 24 hours after the season ended.
"He did a respectable job under difficult circumstances, but I think the AD saw a diminishing talent pool," says a University of Missouri graduate and media member whose byline has appeared in this newspaper. "The team played hard, just not good enough."
Odom's 4-0 record against Arkansas (the NCAA stripped one win) proved a small bargaining chip for the coach. Instead, Missouri people were prone to ask, "Why aren't we beating other teams?"
Missouri will have its third different coach in seven years since joining the Southeastern Conference when Arkansas plays at Columbia in 2020. Unless Barry Lunney Jr. somehow is promoted, Arkansas will be on its 10th head coach in 19 seasons as an SEC member, making one wonder how Frank Broyles stayed 19 years on the sideline and Houston Nutt 10. (How Arkansas turned from a national power in football to a banana republic has been dutifully recorded, though this is no time for a retelling.)
Before Thanksgiving Saturday turned into night, Razorback Nation got an update on the school's coaching search from Auburn, Ala., where folks rolled Toomer's Corner after the Tigers' fourth Iron Bowl victory in 10 years.
Bulletin: Gus Malzahn isn't coming home to Arkansas. And if Auburn people can read a scoreboard, they should recognize that, in Malzahn, they have someone who has beaten Alabama three times as a head coach and once as an Auburn offensive playcaller. Malzahn's track record against Nick Saban is the SEC equivalent of shooting Liberty Valance. Instead of being fired, Gus should get a statue outside Jordan-Hare Stadium on the Auburn campus.
The wildest Iron Bowl in years went Auburn's way, 48-45, after Alabama made enough bonehead plays to suggest that J.B. "Ears" Whitworth, Paul "Bear" Bryant's predecessor in Tuscaloosa, was coaching the Crimson Tide rather than Saban, the latter-day Bryant.
Alabama, once inviolate on special teams, lost another at Jordan-Hare through the kicking game. On the same field that an Auburn player returned a missed field goal from back of the end zone for an Iron Bowl-winning touchdown in 2013, an Alabama kicker clanged his approach for a game-winning field goal off the left crossbar. That doink, and some other things, dropped the Crimson Tide out of the Associated Press top five Sunday for the first time in four years.
With Auburn scoring two pick-six touchdowns, Alabama went out of its way to fill its ancient rival's plate. The last helping of gravy on the Auburn feast was the most tasty and is sure to be remembered forever (like Punt Bama Punt in 1972 and The Kick-Six in 2013) in Lee County, Alabama, or wherever people shout "War Eagle."
If this were a "Friends" episode, it would be "The One that Gus Malzahn Outsmarts Nick Saban."
Gus' reputation as an offensive genius, one nurtured in his home same, has taken some hits but is ripe for rediscovery. On fourth and four in Auburn territory with time running out, Malzahn had his punter line up as a wideout. Alabama was penalized five yards for 12 men on the field, allowing Auburn to run out the clock.
Saban, the smiling face on so many current TV commercials, went berserk on the field, cooling off long enough to expound further in the postgame presser on what he called "a pretty unfair play."
"They substituted the punter as a wide receiver, so we put the punt team in. And then when the quarterback was still in there, we tried to put the defense back in," said Nick. "I thought they should have given us a little more time to substitute ... and we get called for having 12 guys out on the field. ... We are responsible for that as coaches, but it was a very unusual circumstance to say the least."
Poor Jeremy Waddle, the designated punt returner/12th man, who "tried to get off the field as fast as I can." He should have been man of the hour as the first Alabama player to score four touchdowns in an Iron Bowl.
Any Alabama loss in a decade that the Crimson Tide wins four national championships is unexpected. For Saban, as a losing coach, to go off on the officiating is not a regular part of what he calls the Alabama "process."
You got the feeling this might not be Alabama's day when the first half ended with an Auburn field goal, Andres Carlson from 52 yards after the previous play was reviewed and one second put on the game clock. What steamed Saban was the clock started on the snap, not at the official's ready.
"I don't know if I should tell you that but ... the (official) beside me said they won't be able to get it off anyway," Saban said. "So, they waited and waited and waited and went on the clock. The guy snapped the ball and (Carlson) kicked it. They said it was good. I think you can snap the ball with a second to go in the game. Whether they did or not that's not my judgment."
Alabama haters will tell you that in all SEC sports, the Crimson Tide in football (along with Kentucky in basketball) is most likely to get an officiating break. Especially in a game that the Crimson Tide needed to finish 11-1 and keep alive hopes of making the College Football Playoff next weekend.
Alabama, at 10-2, should be dead in the water for the playoffs, no doubt prompting the Crimson Tide to push for an expanded (eight teams?) format. About the only thing stranger than Alabama not in the final four is a statue of Gus Malzahn going up outside Bryant-Denny Stadium in Tuscaloosa.
Thus a fifth consecutive Alabama-Clemson playoff semifinal or championship game is virtually ruled out, though I think college football can live without that. Translating an Ed Orgeron (LSU) press conference should keep everyone busy.
Sports on 12/02/2019
Print Headline: Alabama kicks away Iron Bowl
Sponsor Content
Comments