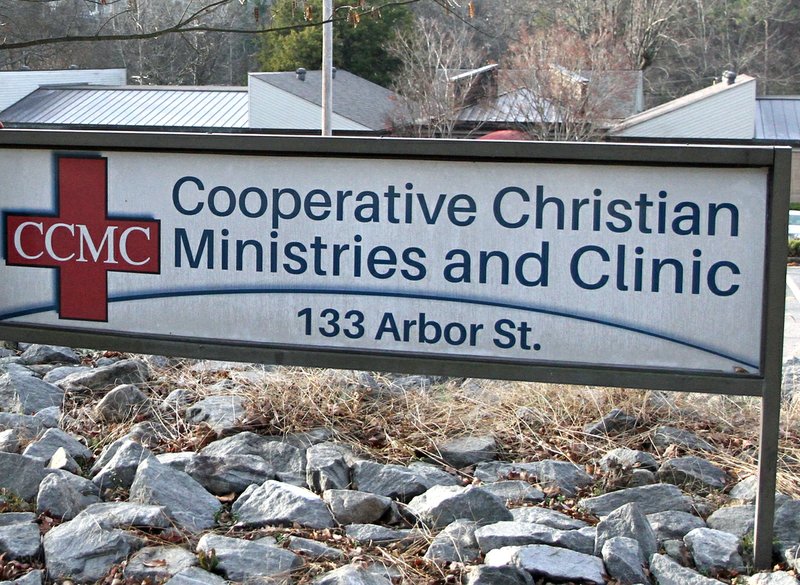 Cooperative Christian Ministries and Clinic on Arbor Street. - File photo by The Sentinel-Record
Cooperative Christian Ministries and Clinic's Getting Ahead program recently hosted its 56th graduation at First Baptist Church, and program coordinator Starla Bleifus says she is starting to see "amazing" things happen with the students.
CCMC started the Getting Ahead classes five years ago in Hot Springs and since then 458 students have completed the program. Nine students graduated on Nov. 25.
Bleifus said that the program has given the students hope and encouragement. At the most recent graduation, five different student speakers each said that the classes in budgeting and emergency savings was life-changing for them.
She said that the program will have two more graduations before the end of 2019. The graduation for the program's Highway 7 north class in the Fountain Lake and Jessieville area will be on Dec. 15 at 2 p.m. at Walnut Valley Baptist Church. A second Hot Springs graduation will be on Dec. 18 at 6 p.m. at First United Methodist Church.
Bleifus said that the Getting Ahead program helps people living with instability in their lives by teaching them how to build up resources and how that helps them and their community.
The students study 11 resources, including financial, emotional, mental/cognitive, language, social capital support systems, physical, spiritual, integrity and trust, motivation and persistence, relationship/role models and knowledge of hidden rules, that define poverty. The classes also help the students see how poverty will affect them.
Bleifus said that toward the end of the program the students do a self-assessment to see where they are and where their lowest areas are.
"They are given the opportunity to write a smart plan to make a good step to reaching their first goal whatever it might be," Bleifus said.
Bleifus said that the program also holds classes in the Garland County Detention Center called Getting Ahead While Getting Out, which focuses on a 72-hour stability plan to reduce recidivism.
Based on information provided by Garland County sheriff's Capt. Belinda Cosgrove, the operation manager for the Garland County Detention Center, the results have been "amazing," Bleifus said.
"I think that it is all due to the fact that they actually stop and they make plans for what they are going to do in the first few days when they get out and that makes all the difference instead of stepping back into the same situation that they were learning before they got arrested," Bleifus said.
She said that one of the program's success stories is a woman who was living at Potter's Clay. She had no job and no car. She started her classes with the program and she struck with a budget plan and the things that she learned. Six months later, she had a place to stay and a job. She went back to National Park College and was on the dean's list.
Local on 12/02/2019
Print Headline: Getting Ahead creates 'amazing' pathway for students
Sponsor Content
Comments