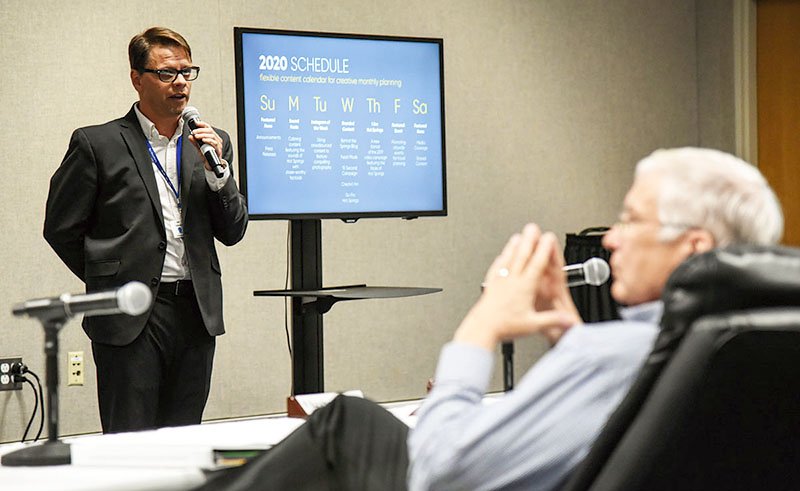 Bill Solleder, left, marketing director for Visit Hot Springs, talks about the 2020 marketing program at Monday's Hot Springs Advertising and Promotion Commission meeting at the Hot Springs Convention Center as Steve Arrison, VHS CEO, right, listens. - Photo by Grace Brown of The Sentinel-Record
The Hot Springs Advertising and Promotion Commission approved its 2020 budget and the city's 2020 marketing plan following a presentation by CJRW of Little Rock at its December meeting on Monday.
Visit Hot Springs CEO Steve Arrison presented a summary of the 2020 commission budget, which projects nearly $9.7 million in revenues, including nearly $6.9 million in tax collections.
Arrison said major changes include health insurance increasing 7.9% for the second year in a row and payroll increasing by $100,000 due to 2020 being a leap year and adding a pay period.
He said retirement has stayed the same at 15.32% of gross wages through the Arkansas Public Employees Retirement System.
Arrison said notable additions include a sales position that will focus on the "small meetings market" and an assistant director of operations position.
"The Majestic Park bond payments are in this budget, we'll be paying $395,177 in 2020, which is a new expense for us," he said. "We increased our budget ... we're trying to pay off the money we borrowed from our restricted funds for our lighting project. We still have $510,000 remaining that we owe on the original $2.2 million.
"We've increased our electric budget by $20,000 a month, so hopefully we'll be paying that off soon, or at least a lot quicker than we are now. As you know, what they told us, the rates have gone up more than we thought, so the payoff has taken us a little longer than we anticipated," he said.
Arrison noted two new departments have been added to the budget.
"The Northwoods now has their own budget where you can look and see exactly what that project is costing us, and the same thing with Majestic Park, which will come online next year, but we will have some expenses this year, I'm sure, so we'll be able to see exactly what those are costing us, as well," he said.
The commission has had the budget since its November meeting, and there was no follow-up discussion.
Part of the 2020 marketing plan was presented by the CJRW team and Bill Solleder, Visit Hot Springs' director of marketing. Overall, the marketing budget is more than $3 million, with CJRW's portion accounting for a little more than $1 million of that total, according to Arrison.
"Hot Springs is indeed different and unique. Certainly, through the years, it has had great success, continues to do so," CJRW CEO and Chairman Darin Gray said. "It's hard not to get excited when we're dealing with and partnering with the number one tourist destination in Arkansas. You are definitely setting the benchmarks across the state. ... Certainly those things don't just happen; it comes about with teamwork, long-term strategies."
Solleder said 2020 marketing goals include 25% social media growth and the addition of two new websites.
"More video, more photography, more channels (on social media). More posting means more people, more engagements. We'd like to reach that 1 million engagement mark again," he said. "Another goal: Two new websites for the Northwoods Trails and Majestic Park Fields will launch, maybe even as early as January."
Solleder also reviewed the 2020 social media schedule, noting that Wednesdays will be a "big day" for them.
"If you're on social media, or on one day a week, Wednesday is the day to do it," he said. "We'll release the Behind the Springs blog on Wednesdays, Feastmode will be released once a month on Wednesdays, the 15-second ad campaign will get love in our feeds on Wednesdays and Checkin' Inn... basically Feastmode, but instead of our wonderful restaurants and signature dishes, it's our great and unique places to stay."
Solleder said special events in 2020 will include the 17th Annual World's Shortest St. Patrick's Day Parade, the fifth annual Spa-Con, the second annual Gudrun, the ninth annual Hot Springs Fishing Challenge and the 15th annual Running of the Tubs.
Local on 12/03/2019
Print Headline: Ad commission approves '20 budget, marketing plan
Sponsor Content
Comments