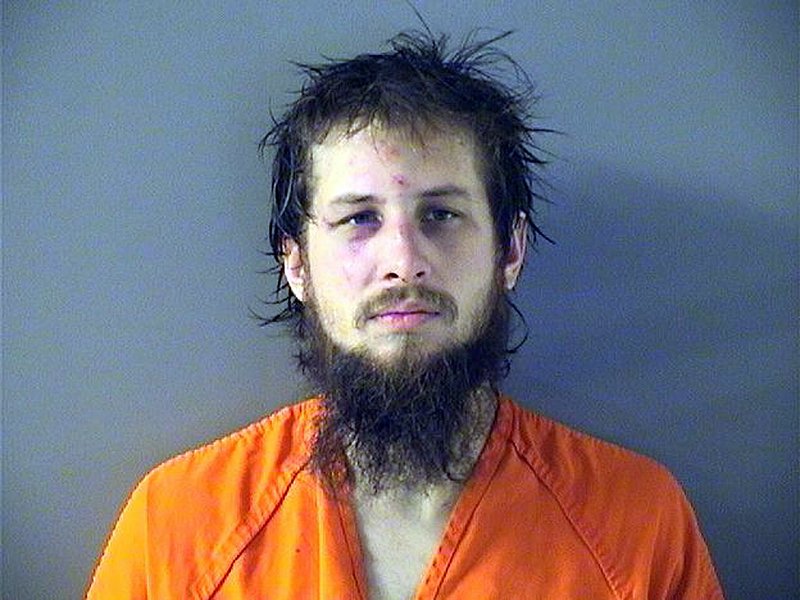 Heath Daniel Stacy - Submitted photo
A Hot Springs man was arrested Sunday morning on a felony battery charge after allegedly attacking another man with a knife Saturday night, stabbing him repeatedly and causing severe injuries.
Heath Daniel Stacy, 29, of 578 Rush Fork Road, was taken into custody around 10:45 a.m. Sunday after being released from the hospital and charged with first-degree battery, punishable by up to 20 years in prison.
Stacy was being held on a $25,000 bond and was set to appear Monday in Garland County District Court.
According to the probable cause affidavit, shortly after 7 p.m. Saturday, Garland County sheriff's deputies responded to the Rush Fork Road residence regarding a stabbing.
A witness stated he and the victim, Brandon Cogburn, 33, had walked to Stacy's residence, a mobile home, to get cigarettes from his wife, 29, who also lived there.
As the two men approached the home, the witness said they could hear an argument inside. They knocked on the door and Stacy's wife let them in. Once inside, they asked her if she was OK.
At that point, Stacy allegedly came out of the bathroom armed with a knife and attacked Cogburn, stabbing him multiple times in his abdomen, his chest, his shoulder and his arm.
The witness said he was finally able to get the victim away from Stacy and took him outside and to a mobile home next door with "injuries that appeared to be severe." Cogburn was transported by LifeNet to CHI St. Vincent Hot Springs. His condition was unknown on Monday.
Investigators spoke to the wife, who stated she and Stacy were "involved in an altercation" when she heard a knock on the door. She said she opened the door and saw the witness, who she knew, and the victim standing there and let them in.
She said the witness was a friend who was "aware she had been abused by Stacy in the past." She said the men asked her if she was OK and the victim and Stacy began arguing and it escalated into a fight.
She said she went into the bedroom and her husband came in a few moments later with a cut on his hand. She said she asked him what happened and he stated he "cut his hand when he stabbed that guy."
According to court documents, Stacy has no prior felony history, but had pleaded no contest on Oct. 23, 2014, in district court to a misdemeanor charge of first-degree assault on a family or household member, involving his wife. A no-contact order that had been issued was later withdrawn at the request of his wife.
Local on 12/03/2019
Print Headline: Man stabbed multiple times; one arrested
Sponsor Content
Comments