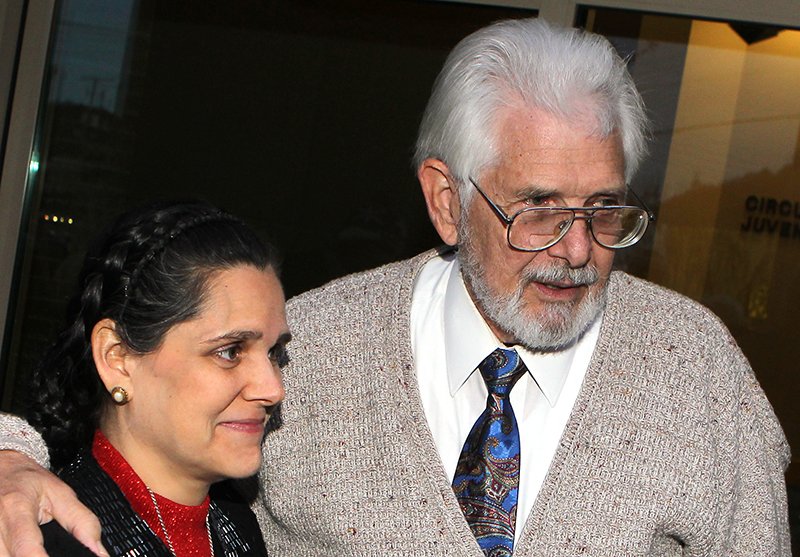 The Sentinel-Record/Richard Rasmussen CUSTODY CONTROVERSY: Michelle Stanley, left, and her husband, Hal Stanley, talk to the media Jan. 21, 2015, following a custody hearing at the Garland County Courts Building.
The investigator who initiated a Garland County couple's placement on the state's child maltreatment registry did so without supporting evidence, testifying last week that superiors pressured her to substantiate child abuse allegations against the couple.
Kathy Finnegan said in the deposition she gave last week that Maj. Ron Stayton, the former commander of the Arkansas State Police's Crimes Against Children Division, told her to make true findings of abuse and neglect against Hal and Michelle Stanley without supporting evidence. Finnegan is the CACD civilian investigator who ordered the removal of the couple's seven children from their home in January 2015.
The Stanleys are suing Finnegan and the Garland County Sheriff's Department in federal court, claiming their constitutional rights were violated by the seizure of the children without reasonable suspicion of child abuse.
The 8th U.S. Circuit Court of Appeals in August upheld a U.S. District Court ruling depriving Finnegan of qualified immunity, the legal doctrine that shields government officials from civil liability if they are deemed to have performed their duties competently and reasonably.
The higher court's order ruled Finnegan did not have reasonable suspicion the Stanleys abused their children after she, Department of Human Services staff and medical personnel interviewed and examined them during the execution of a search warrant seeking a toxic chemical substance at the family's Treasure Isle Road home Jan 12, 2015.
The findings of abuse were based on allegations two of the Stanleys' teenage children convinced adult neighbors and family acquaintances to report to authorities in 2014. According to court documents, they resented their strict upbringing, which included being forbidden from attending public school and interacting with peers outside the home.
"After accepting the case, I began my own investigation," Joe Churchwell, the Stanley family's attorney, said. "Among other things, I discovered that (the 16-year-old boy) fabricated his whole story."
Among the allegations were exposure to a toxic chemical substance known as Master Mineral Solution. The search warrant sworn out by former Garland County sheriff's Deputy Mike Wright said Hal Stanley had tried to force his children to ingest the substance and went so far as to diffuse its vapors through the home's ventilation system.
"(The boy) even fabricated some fake MMS to make sure it scared the adults," Churchwell said.
All 21 true findings were overturned by an administrative law judge or not defended by the state on appeal, removing the couple's names from the child maltreatment registry 21 months after their children were placed into protective custody.
Finnegan testified last week that CACD needed to justify the removal after it became a source of controversy.
"Because I was made to find true on this investigation, because the case was too political," said Finnegan, responding to Churchwell asking how a competent investigator following the state's child abuse assessment protocol could have certified unsupported findings. "I told (Stayton) we did not have enough to find true on this case, and he said we have to.
"I thought I had enough to find true on poisonous and noxious substances, but I did not think it would hold up under appeal. I told Maj. Stayton we did not have enough to find true on this case. I did as I was instructed. I was instructed by people that I thought knew what they were doing."
State Police Public Information Officer Bill Sadler said the agency had no comment when asked for a response to Finnegan's testimony. Stayton retired in February 2017, and Finnegan no longer works for CACD. Sadler confirmed in December that she was transferred and now works as a driver's license examiner.
"Neither I nor anyone representing the department will address questions relating to the case while the litigation is pending," he said.
Finnegan testified that Debbie Roark, CACD's head of investigations, coached her on how to use DHS' Division of Children and Family Service's assessment protocol to support the true findings.
"They wanted this case closed as quickly as possible, because it was a political issue, and because Maj. Stayton was upset because the case was not closed yet," she said. "Debbie Roark sat down with me and showed me how to find true on this case. ... She wrote down what I could say to defend our position when it came to appeal hearings."
Finnegan said the DHS attorney representing CACD recommended findings of physical abuse, which included exposure to poisonous/noxious substances and inflicting cuts, bruises and welts, not be defended, but that Stayton insisted otherwise.
"Maj. Stayton would not let us do that," she said. "He said we have to defend."
Overturned on appeal
An administrative law judge overturned the nine true findings of physical abuse in late 2015 for lack of sufficient evidence. In 2016, the state chose not to defend 12 true findings of educational neglect related to the children not being registered as home-schooled.
The judge barred appeal of the educational neglect findings at the hearing, ruling they had already been litigated during a mediated agreement between the parents and DHS that restored custody of the children after a four-month separation.
But a sealed order Division 1 Circuit Judge John Homer Wright issued in September 2016 said the findings weren't supported by the assessment protocol and remanded them back to the administrative law judge, prompting the state to forgo defending them.
Finnegan said she was deprived of her corroborating witnesses when Churchwell advised the two children whose allegations prompted the investigation not to testify.
"My two witnesses, who made these claims that night, that their lives were so horrible at home, they were told by you to take the Fifth Amendment," she told Churchwell. "I had lost my two children that said life was horrible. And (the judge) allowed you to represent the two witnesses and their parents. There was no way I was going to win this appeal."
Churchwell said the children were at risk of committing perjury, and that they had been subpoenaed to testify without advice of counsel. He said advocating for both the parents and children led the DHS attorney to move for his disqualification, but the judge allowed him to represent both parties.
"If they were pushed to repeat what was said earlier, it would be a crime and (they) would be prosecuted," he said. "So I advised them that they had committed criminal acts regarding false reports, and that everyone is entitled not to incriminate themselves any further."
Finnegan said she did not have evidence to support the case, testifying during last week's deposition that the findings were based on interviews with the two children during the Garland County Sheriff's Department's five-hour search of the home. She later directed the department, supported by its tactical response team, to seize the children.
She used that rationale despite DCFS' assessment protocol requiring a true finding be verified and supported by evidence indicating it's more likely than not that abuse occurred. Claims of alleged victims are insufficient on their own to sustain a true finding.
An internal DHS email The Sentinel-Record reported on in October 2016 indicated the family's way of life may have motivated the removal. Sent by a DCFS supervisor the day after the children were placed under a 72-hour protective hold, the email said the search warrant returned no evidence of abuse and that concern for the children was colored by the Stanleys' unconventional parenting.
"I never want to be hoodwinked like I was that night by two children," Finnegan testified. "But that night, we, (Mike Wright) and I, feared for the safety of little children, and Mike Wright made the right call."
Chief U.S. District Judge P.K. Holmes III dismissed claims against other state actors named as defendants on the basis of qualified immunity. Sheriff Mike McCormick, Under Sheriff Jason Lawrence, sheriff's office Investigator Terry Threadgill and Mike Wright are also named as defendants. The county has not asserted qualified immunity on their behalf.
Churchwell said Stayton, Roark and CACD Administrator Michelle Gatlin are scheduled to give depositions next month.
Local on 02/09/2019
Print Headline: Investigator says evidence didn't support seizure of Stanley children
Sponsor Content
Comments