The second day of the 45th Arkansas Governor's Conference on Tourism featured a session on the advantages of using virtual reality to attract visitors to destinations.
Two representatives from Freelance Society, the company behind the VR campaign in Hot Springs, presented a history of the technology, recent advancements in the field, and success stories from companies and industries that have implemented VR into marketing campaigns during Tuesday's session at the Hot Springs Convention Center.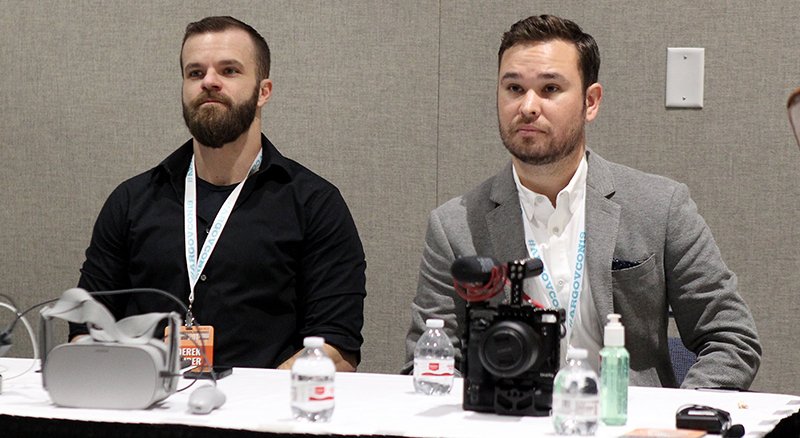 The Sentinel-Record/Grace Brown VIRTUAL REALITY: Derek Huber, left, and Dylan Roberts, both with the Freelance Society, are introduced during the Governor's Conference on Tourism at the Hot Springs Convention Center on Tuesday.
Derek Huber, director of marketing and strategy and a Mountain Home native, noted the significance that such projects in Arkansas have for him.
"I feel like Arkansas gets left out of the conversation nationally so much, as far as the Southern states or the Midwest goes. It's so cool that this is happening here and not Illinois or wherever. I'm really proud. I really hope that the state does take notice, and gets this out there on a national level," Huber said.
"As far as the whole middle U.S. and South, there's not many VR experiences out there for tourism. That's kind of the great thing about jumping on this now is that right now most people have never done this before. They've never experienced VR. So the quicker people jump on it, the more powerful this is going to be," he said.
Co-founder and CEO of Freelance Society Dylan Roberts said the company intends to keep its focus on Arkansas tourism and the expansion of VR advertising in the state.
"We are mainly focusing on Arkansas right now in the tourism industry because Hot Springs and Mountain Home aren't just the first ones in Arkansas. They're one of the first ones across the United States," he said.
Roberts said he hopes to see VR expand in Arkansas and become a vital tool in tourism, citing the success of the campaign in Hot Springs and the evolution of the industry as a reason for state leaders to pay attention to the technology and the unique opportunities it presents.
"I would love to see it in the state overall. I think more communities are going to get involved. I think it's going to be exciting as the overall VR industry improves. The consumer side, you're going to see an increase in content, and I hope the state gets involved. That's kind of why we're here, to educate and inform. I think we need some of the big leaders here to push this tech," he said.
Hot Springs is the first city in Arkansas to lead the charge of using VR in a tourism capacity. Currently, Mountain Home is the only other city in the state to do so.
In order to capture the changing flora and fauna and seasonal events in the community, the filming process took nearly a year to complete.
Visit Hot Springs Director of Marketing Bill Solleder said the final product, unveiled in August 2018 and entitled "Hot Springs: The Experience of a Lifetime," was well worth the wait.
"It was the idea that we were the first (VR) tourism film in Arkansas. That meant a lot to us to be first, and to be leaders, and to be innovators, because Steve Arrison and I think of Hot Springs as all of that. We are trying to lead everywhere. As far as the success goes, when we went into it, we didn't know. We really didn't know if we were going to be able to get people to put the headset on, or if when we were done it was going to be worth watching. We worked hard to make sure that it was, and we worked hard over the year," he said.
"It turned out the success was great. The return on investment, as far as numbers goes, it's really hard to say. Thousands of people have put on the headsets. It's hard to know if they came here because of that. I can say that since we released it, the Chamber of Commerce bought headsets and they're taking it to trade shows so they can use it to attract industry and citizens to come here without having to bring them here," said Solleder.
Solleder said the technology renders updates to ad materials unnecessary for at least three years, making it a highly cost-effective advertising technique.
Those interested in a Hot Springs VR experience can try on an Oculus Go headset for themselves at the Hot Springs Visitor Center in downtown, or view a 360-degree tourism video of the city on a mobile phone or computer via the Visit Hot Springs website.
Thanks in part to its cutting-edge, immersive VR campaign, Visit Hot Springs was one of the finalists nominated to receive an Arkansas Henry Award for contributions to and innovation in tourism.
Local on 02/27/2019