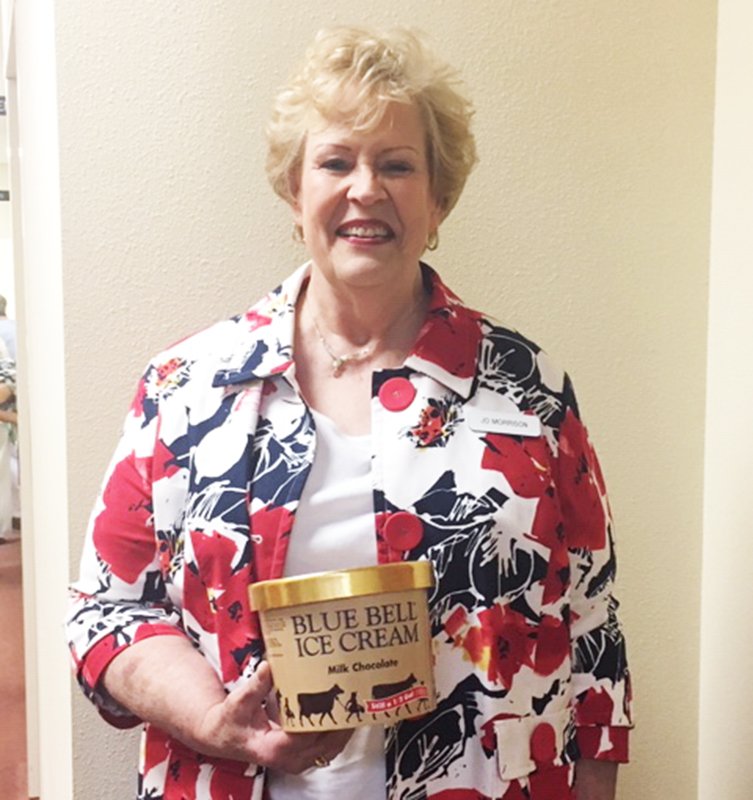 Submitted photo SOCIAL: Jo Morrison, ice cream social co-chair.
Annual Ice Cream Social at VUMC set for July 12
HOT SPRINGS VILLAGE -- The United Methodist Women of Village United Methodist Church, 200 Carmona Road, will host its annual Ice Cream Social on July 12.
Ice cream will be served with a choice of desserts -- cakes, pies or cobblers -- and a choice of coffee, tea or lemonade. Sugar-free and gluten-free products will also be available.
There are two serving times: noon to 2 p.m. and 4:30-7 p.m. There will also be several home-baked choices of pies, cakes and cookies for sale.
Tickets are $5 each and children younger than 5 years old eat free. Tickets can be purchased from UMW members, at the church office, or at the door. Proceeds will be used for Missions, such as Arkansas Rice Depot, Jackson House and Potters Clay.
There are two worship services at VUMC. The contemporary, "come as you are" service starts at 8:30 a.m. Sunday school for all ages is at 9:30 a.m. and the traditional worship service is at 10:45 a.m. A nursery is provided for both services.
Call 501-922-1030 or visit http://www.villageumc.net for more information.
'A Sunday With Adam Crabb' set for Sunday
BISMARCK -- Bismarck Pentecostal Church, 2159 Arlie Moore Road, will present a special Sunday of gospel music ministry with Adam Crabb. The morning service will begin at 10 a.m. and the evening service will begin at 6 p.m.
Crabb has been referred to as the "face of youth" in the Southern Gospel world, often bridging the gap between grandparents, parents and children, a news release said.
"Adam's three years as the leader of the fan favorite 'Crabb Revival' gave him the frontman experience that is now his comfort zone. His youthful approach to traditional lyrics and his willingness to minister in word or song makes services with Adam truly a one-man revival," it said.
"Adam's newly released Daywind Records' recording, 'Going Places,' showcases his talent as well as his heart for people. The song selection begs for country airplay with a who's who of Christian and Country writers offering their best. Recently, he became a member of the Gaither Vocal Band traveling the country and singing with the group. Excellence, passion, talent, it seems that Adam has much to offer the music lover, especially the music lover that hears with his ears and his heart," the release said.
Call Pastor Van Glidewell at 262-4680 for more information.
Religion on 07/06/2019
Print Headline: Religion briefs
Sponsor Content
Comments