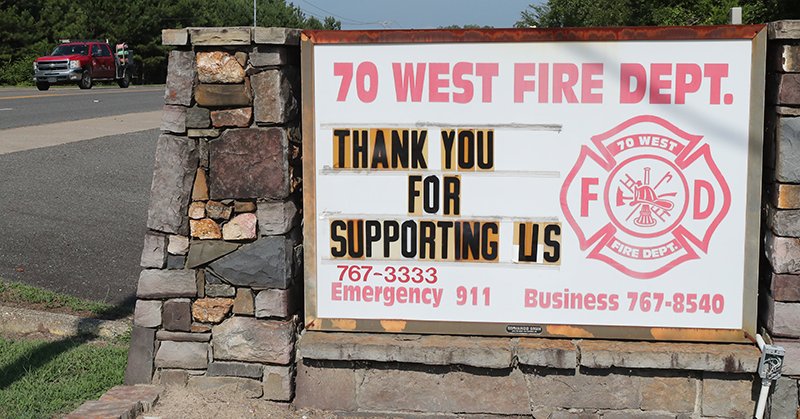 The Sentinel-Record/Richard Rasmussen GIVING APPRECIATION: A motorist drives past a thank you sign Wednesday at 70 West Fire Department's main station at 2900 Airport Road. Voters approved the department's request to form a fire district by an almost two-to-one margin in Tuesday's special election. - Photo by Richard Rasmussen
Fewer than 3 percent of the roughly 7,700 registered voters in Piney Fire Department's 180-square-mile service area defeated a measure to list the department's annual membership dues on local real estate tax bills Tuesday, while voters in 70 West Fire Department's jurisdiction overwhelmingly approved the same ballot question.
The 70 West measure passed by a 562-335 margin in Garland County and prevailed 6-1 in Hot Spring County. The total does not include two provisional ballots cast by Hot Spring County voters, the Garland County Election Commission said.
Voters authorized 70 West to form a fire district and have taxing authority similar to school districts, but electors in Piney's service area rejected the department's request to turn over billing and collecting to the county by a 187-159 margin. It's a decision Piney Fire Chief Scott Miser said could prove costly for property owners who do pay the annual $80 per dwelling fee.
"It's the last thing we would want to do," he said, referring to a fee increase and noting that the flat fee would have become a square footage calculation had the measure passed. "The 20 percent who do pay don't deserve to pay more. They would've had lower fees, better service and lower insurance rates. It definitely would've benefited people, but nobody wanted to come out and vote for it. They didn't want to better their community."
Miser said despite the close margin, putting the question to voters again seemed unlikely given the low turnout and expense of holding special elections.
"It cost in the neighborhood of $10,000," he said. "When you only get 300 people to vote, it's not a good thing."
Miser said liens may be the only way to increase collection rates.
"There's too many people who don't care and don't have any intention of paying," he said. "What the public doesn't understand is we had lien rights before the election. We just never wanted to do it. We have a 100 percent right to. If enough people get liens, the public might see that they should've (formed a fire district)."
Miser said revenue increases driven by a fire district designation would have allowed Piney to buy new equipment and improve its insurance rating, with the resulting drop in insurance rates more than offsetting the annual membership fee. The department has a five rating on the one-to-10 scale, with one being the highest and 10 the lowest.
Tony Dzianott, 70 West treasurer, said Tuesday's vote will further the department's goal of reaching a three rating. It's gone from a seven to a four in recent years, he said.
"In my case, that lowered my insurance by several hundred dollars a year," he said.
The 897 Garland County voters who cast ballots represented 8.5 percent of registered voters residing in the department's Garland County territory. More than 75 percent of the 1,250 turnout for both elections were 55 or older, according to the election commission's poll book software.
Dzianott said the department, confident a majority of its constituency would recognize the benefit of allocating costs across the whole membership, hoped for a turnout large enough to accurately sample the 10,616 registered voters in its 188-square-mile service area. It projected a turnout of 800 or more would carry the day, he said, explaining that a smaller sample may have overrepresented the opposition.
"I think the residents of 70 West ultimately understood the needs of the department, and that this was the fairest way to increase funding and get the equipment we need to keep standards up and improve standards," he said.
Dzianott said the department hopes the 80 to 90 percent collection rate enabled by delegating billing and collecting to the county will raise $200,000 a year in additional revenue. The current 41 percent rate returns about $240,000, he said.
"We're extremely grateful for the support of all the residents in the district who voted for this," he said. "A lot of them not only voted but called their neighbors and friends and brought them to the polls. We're also appreciative of the volunteers of the department who worked hard to get the word out and explain it to people. We couldn't have done it without all of their help."
Print Headline: Fire departments get mixed election results
Sponsor Content
Comments