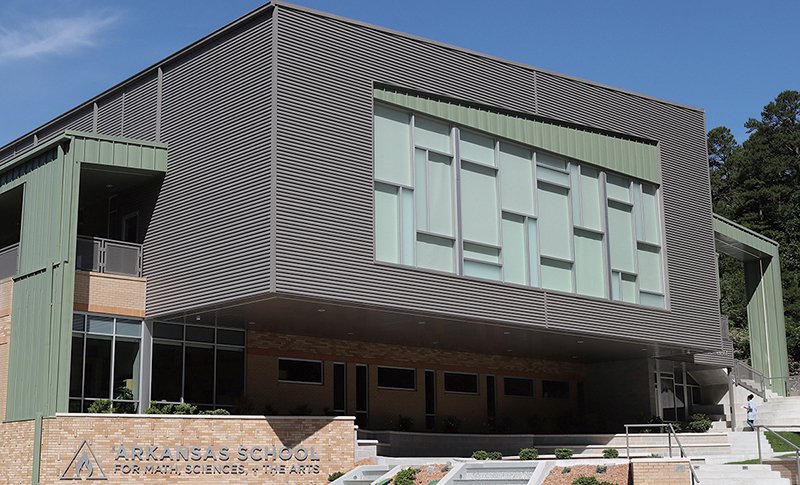 The Sentinel-Record/Richard Rasmussen INQUIRY REQUESTED: An unidentified woman walks into the Arkansas School for Mathematics, Sciences, and the Arts' Creativity and Innovation Complex on Monday.
RELATED: |Audit report finds no evidence of wrongdoing | ASMSA officials appear before Joint Performance Review Committee |Probe finds ASMSA allegations 'unfounded' |Clinton urges ASMSA graduates to 'be brave' |ASMSA commencement with Clinton will be ticketed event | UA aware of ASMSA allegations, grievances |State rep: Review may be on horizon for ASMSA | ASMSA issues stem from lack of communication, official says |ASMSA board meeting reveals alleged assault, many grievances |
The chairman of the Republican Party of Garland County sent an inquiry June 6 to University of Arkansas System President Donald Bobbitt regarding allegations the Arkansas School for Mathematics, Sciences, and the Arts refused a valid student request to form a Young Republicans Club on campus.
The school denies this is the case, and maintains the allegations are "untrue," ASMSA public information specialist Donnie Sewell said Monday.
The allegation was brought to both the board and public's attention at the May 13 ASMSA Board of Visitors meeting.
In the letter, Republican Party Chairman Matt McKee indicates he was authorized to send it by the party's executive committee. An excerpt from the letter to Bobbitt states:
"The documents we received indicate a former student and 10 additional students tried to form a Young Republicans Club at ASMSA, but were rejected by Dr. Rheo Morris, Dean of Students, for lack of participation. A letter from the student stated that the number of students were adequate and Ron Luckow, a U.S. Government and history teacher, had agreed to be the staff sponsor.
"Since the ASMSA student body is supposed to represent a cross-section of the Arkansas population, of which 65 percent voted Republican, I would have assumed a Young Republican Club would have been established.
"In that regard, upon the completion of your investigation, and the determination and application of corrective action, I respectfully request the University of Arkansas provide me a copy of your findings and actions regarding this matter."
The RPGC offered its services to the school's students, staff and administration if assistance was needed in establishing a Young Republicans Club, and a copy was sent to Republican Party of Arkansas Chairman Doyle Webb.
McKee confirmed the "former student" referenced in the letter is Christian "Bubba" Driver, who submitted a written statement regarding the matter that was read aloud at the May 13 meeting. Driver was a senior in the autumn of 2018.
The inquiry was made in the interest of "due deference and equality," McKee said.
"We don't know if the request was denied. It was an allegation made by a student to look into the issue. We just want to be kept in the loop as to what the results of the investigation are," he said Monday.
"We just want to make sure that if the allegation is valid, then the situation can be rectified. We just want to make sure that the students in the school are treated with impartiality."
Sewell stated the claims are "untrue."
"In regards to this particular club, they had to have the minimum number of students. They had to have an adviser to agree to advise the club and sign the paperwork, and then that paperwork has to be given to the dean of students," Sewell said.
"Two of those three things did not get accomplished. The faculty member they approached declined because of commitments on campus."
Without an official sponsor, the proper paperwork did not follow, Sewell said.
The current minimum membership requirement for a club on the campus is five, he said, noting Luckow's other "commitments on campus" include sponsoring Beta Club, the Model United Nations and involvement in the Global Learning Program.
"That claim that an administrative decision was made to deny the club is untrue, because they did not meet the required steps that they needed. There was never an application to consider. You can't deny something that's not turned in," Sewell said.
Luckow was unavailable for comment Monday.
As of Monday afternoon, ASMSA's website listed 35 clubs on campus, including a Grandma's Club, Quidditch Club, Minecraft Club, Ukulele Club, Swing Dance Club, Unashamed Bible Study, Fellowship of Christian Students, Human Rights Club, ASMSA Step Team and Young Democrats Club.
"There is a large variety of clubs and activities on campus for students to become involved in. Each year we add new and exciting clubs and groups to satisfy a particular niche. ASMSA's clubs and organizations are an integral part of what makes us such a strong community," the website said.
Local on 06/11/2019
Print Headline: County GOP seeks probe of ASMSA club allegation
Sponsor Content
Comments