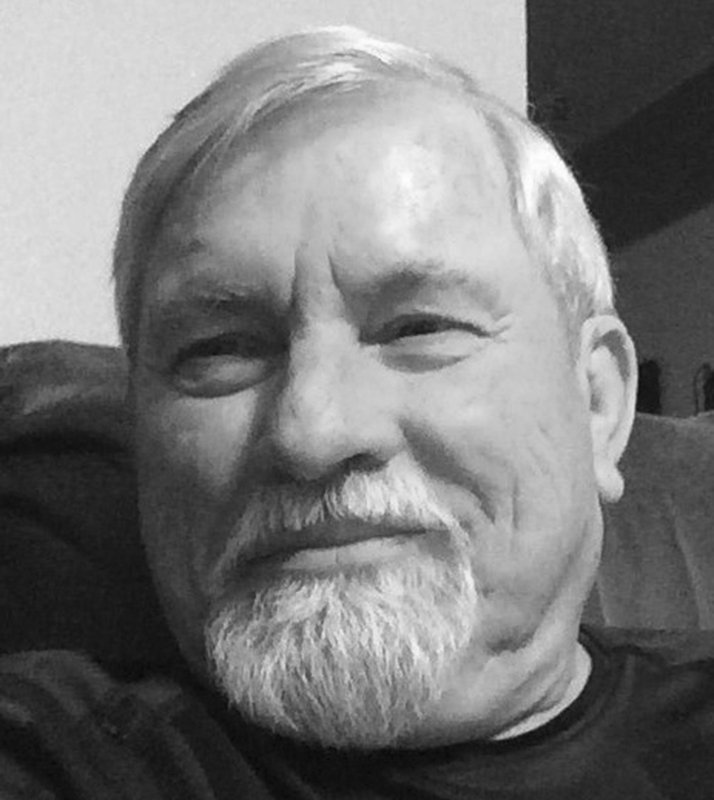 PEARCY -- William Douglas "Doug" Tate was born on Dec. 29, 1950, in Hot Springs, to William Monroe Tate and Stella Warren Tate, and passed away peacefully at home in Pearcy on June 8, 2019.
Preceding him in death, along with his parents, were four sisters, Clara Betts, Patsy Thornton, Lola Golden and Stella Glover, as well as two nieces.
Left to cherish his memory include his wife, the love of his life, Joyce Fendley Tate, of Pearcy; his son, Tracy (Roselyn) Tate, of Olive Branch, Miss.; his daughter, Rebecca (Bradley) Denson, of Bryant; his stepdaughter, Amy Smallwood Grizzle, of Royal; three sisters, Mary Sue (Bob) Bean and Mable Freeman, all of Jessieville, and Irene Chatterton, of Hot Springs; two brothers-in-law, Rodger (Micci) Fendley and David (Heather) Fendley, all of Hot Springs; one sister-in-law, Ellen Fehler, of Hot Springs; 10 grandchildren; three great-grandchildren; and numerous nieces and nephews. He also leaves behind his buddy and sidekick, Kota, his toy Australian Shepherd, who became very protective of Doug during the last year of his life.
Doug grew up in Hot Springs, attended Jones Elementary, Southwest Junior High and graduated from Hot Springs High School in 1970. Doug was a hard worker, throwing newspapers, mowing yards and anything else he could do to make money to pay his own way, buying his own motorcycle at 14 and his own car at 16. He was the first student at Southwest Junior High to drive his own car to school. He worked for Piggly Wiggly, sometimes working to 1 a.m. and then would go home to finish homework and still get up early to get to school.
During his senior year of high school, he was drafted into the Unites States Army to go to Vietnam and was deployed in July of that year. He was a member of the 1st Cavalry Regiment, until he began to suffer from hearing loss, due to gunfire exposure. He then joined the ranks of military police until his return home in 1972. Upon returning back to the states, he went to work for Safeway and was transferred to Arkadelphia, then Memphis, Tenn., where he later left the corporate grocery world and opened his own produce business.
He moved back to Hot Springs in 1996 and opened his own furniture restoration and antique business, Arkansas Minuteman. In 1972, he began to suffer severe back pain and it was discovered that he had injured his back carrying such a heavy load through the jungles of Vietnam. He had surgery to repair the damage, but never reclaimed a pain free life, which forced him to retire completely. Finally, in June 2017, he became reacquainted with his high school crush and they were married in November. By February 2018, he was diagnosed with small cell lung cancer and granted 100 percent disability, presumptive that his cancer was caused by the exposure to Agent Orange, having been in the exact areas where the poison was sprayed and also on the firebase where it was stored. Upon his return from Vietnam, he never got a "welcome home" greeting, except from his family, but his family and friends know that he heard God say it, when he entered the gates of Heaven as a born-again, baptized believer in Jesus Christ.
Services will be 10 a.m. Wednesday in the Davis-Smith Funeral Home chapel, Hot Springs, with the Rev. Steve Lake, chaplain with Dierksen Hospice, officiating.
Interment will be in Memorial Gardens Cemetery.
Visitation will be 6-8 p.m. today.
Pallbearers will be Blake Ellison, Dean Bourassa, Gary Berry, Larry Berry, Junior Golden and Richard Trott.
Honorary pallbearers will be Dr. Matthew B. Lockwood, UAMS/VA Hospital, the entire staff of the Oncology Unit at the Little Rock VA, Dr. Jack Sternberg of the Hot Springs VA, Ron Kirk, who has been more like a brother, the staff of Dierksen Hospice, especially nurse Lee Meredith and CNA Melissa and all Vietnam veterans, especially those who suffered from the effects of Agent Orange exposure.
Memorials may be made to CHA Foundation, 500 Faulconer Drive, Suite 200, Charlottesville, VA 22903 or visit http://www.chafoundation.net/conribute-online.
Guest registry is at http://www.davis-smith.com.
Obits on 06/11/2019
Print Headline: William D. Tate
Sponsor Content
Comments