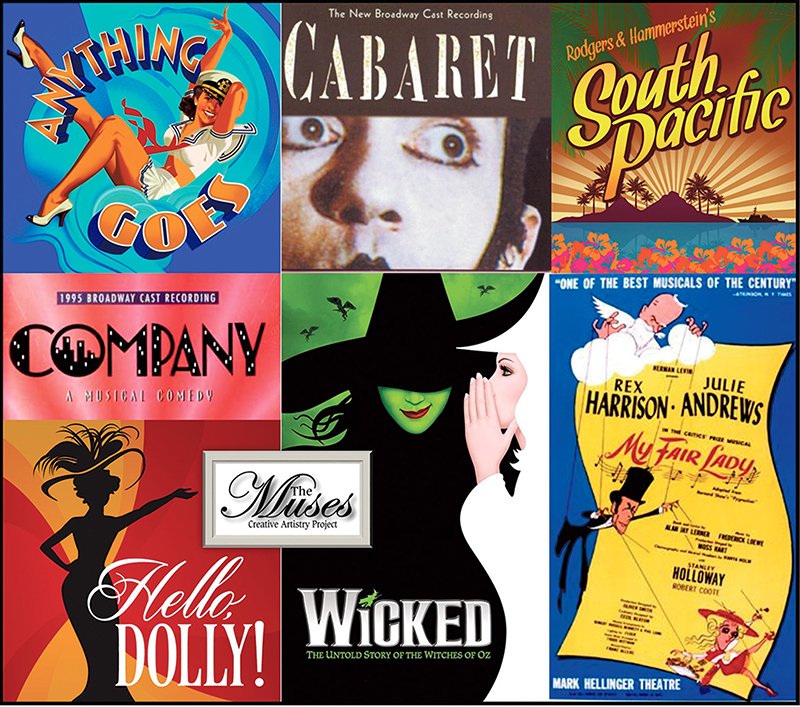 Submitted photo
The Muses Project's new concert series, "Broadway Cabaret -- Seasons of Love," featuring selections from classic Broadway shows, starts performances this Father's Day weekend at the Muses Cultural Arts Center, 428 Orange St.
Performances start with the student show at 6 p.m. Friday. All artists, students and teachers are admitted free, but must call 501-609-9811 to register.
Performances will continue at 6 p.m. Saturday and at 3 p.m. Sunday, on Father's Day. The last performance will be at 7 p.m. Friday, June 21, at Woodlands Auditorium in Hot Springs Village.
The Muses' troupe of performers includes baritone Stacey Murdock and pianist David Saffert, both of Portland, mezzo-soprano Kirstin Scott, of New York City, and tenor Timothy Stafford, of Pittsburgh, along with soprano Deleen Davidson and mezzo-soprano Lola McClendon.
The troupe will present selections from classic Broadway productions including "Cabaret," "Hello Dolly," "South Pacific," "My Fair Lady," "Wicked" and "Rent."
"The term Cabaret dates back to the 12th century, and is European in origin, getting its name from chambrette, or little room, referencing the customary spaces used for this type of intimate performance. It describes a form of theatrical entertainment focusing on the solo vocalist and pianist, combining songs from different sources, with dance, and sometimes drama," Deleen Davidson, Muses general director and principal performer, said in a news release.
"When we program a Cabaret-styled performance, I think in terms of Collection -- Composition -- Collaboration. First, we collect our favorite Broadway show tunes, arrange and compose them into a completely new show format. Then we collaborate with the professional singers, young artist ensemble, instrumentalists and dancers to give these tunes new life on various stages over a 10-day period. This season, our Muses Troupe will perform in El Dorado, Little Rock, Hot Springs, and Hot Springs Village. Each show tune was selected with the individual performer in mind, and each performer is asked to bring his or her personal strengths and talents to the creation of this unique composition for the entertainment pleasure of the audiences. Or, as the M.C. from Kander & Ebb's iconic musical 'Cabaret' says, 'We are here to serve You!'
"This year's theme is 'Seasons of Love,' based on the well-known tune from the musical, 'Rent.' Our selections are romantic, elegant, witty, joyful and touching, playing off of the universal themes associated with all human love and relationships. These show classics premiered between 1934 and 2003, with Cole Porter's 'Anything Goes' being the earliest, and 'Wicked' the latest; but their origins and inspiration trace back hundreds of years, even to Greek mythology. It is interesting to note how many of our selections were inspired by other great works of art and literature," she said.
"We allowed ourselves a generous selection of tunes from 'My Fair Lady,' by Lerner and Loewe, which clearly meets our standards for a classic of the genre, having stood the test of time, and being called 'the perfect musical.' Our principal performers will delight you, as they re-enliven the roles first created by stage-greats Julie Andrews, Rex Harrison, and Audrey Hepburn. The story is based on the 1913 play 'Pygmalion,' by George Bernard Shaw, which was in turn inspired by an ancient story from Greek mythology about a sculptor who falls in love with his creation," Davidson said.
"One of our newer selections (which already had its 20th anniversary!) is 'Seasons of Love' from 'Rent,' an American rock musical by Jonathan Larson, loosely based on the Italian opera 'La Boheme,' which in turn was based on a French novel from 1851. The term 'bohemian' generally suggests an unconventional life, spent in the company of other creatives, involving artistic pursuits: music, fine art, literary or spiritual. The characters are often depicted as impoverished and/or ill (an idea and stereotype we Muses strongly eschew, which suggests that cultivating your personal artistic talent will lead to starvation!). The lyrics consider how we should quantify the value of a year in one's life, answering with, 'measure in love.'
"Our youngest tunes come from 'Wicked,' by Stephen Schwartz. This 2003 Tony Award-winning Broadway musical was inspired by Gregory Maguire's 1995 novel, 'The Wicked Years,' and serves as a prologue to L. Frank Baum's 1900 classic, 'The Wonderful Wizard of Oz,' reaffirming that 100 years later, creativity and imagination, blended with universally understandable relationships, conflicts, hopes and dreams, can continue to enchant and inspire. A Muses' company stand out will be 'For Good,' performed in a cappella arrangement by Kirby Shaw. The song describes the unexpected filial love between Elphaba (the Wicked Witch of the West) and Glinda (the Good Witch of the North), and represents the transformational power of love," she said.
"Stephen Sondheim's 1970 show 'Company' was among the first musicals to deal with adult themes and relationships. In '(Not) Getting Married Today,' Kirsten Scott, our mezzo-soprano from New York, will step into the shoes of every other great Broadway heroine to sing this challenging song, among them Madeline Kahn, Patti Lu Pone, Carol Burnett, and Julie Andrews. This 'wicked fast' song is said to have more words than any other musical theater tune written prior to the 2015 rap musical 'Hamilton,'" Davidson said.
"The Muses' mission has always been to preserve the classical arts through performance and education. We find that many music school students have never have been exposed to the core 'canon' of Musical Theatre, and this lack of exposure limits their scope and understanding of the field they are trying to enter, whether as performers or music teachers. Exposing these young students, recent graduates, and audience members to these (old to us, but new to them) pieces, broadens their understanding of the legacy they are inheriting and assists them in preparing to create and perform new Master Pieces for coming generations. By assembling a hand-picked group of professional musicians and working artists, to perform in mentoring roles with our resident young artists, and giving them such excellent and inspired material to work with, the Muses' productions practically vibrate with energy and enthusiasm, and (dare it say it?) ... love," she said.
Tickets are $35 are available at http://www.themusesproject.org or by calling 501-609-9811.
Entertainment on 06/12/2019
Print Headline: Muses Project presents 'Broadway Cabaret -- Seasons of Love'
Sponsor Content
Comments