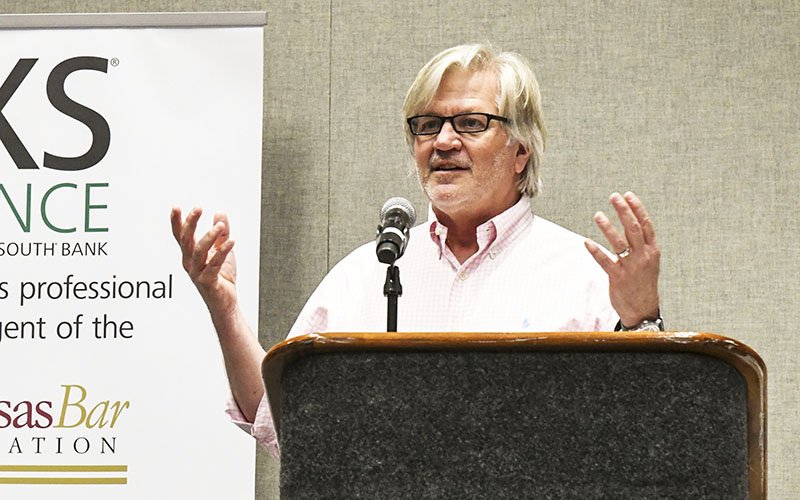 The Sentinel-Record/Grace Brown TALKING MARIJUANA: Attorney David Couch, the author and sponsor of the state's medical marijuana amendment, addresses the annual meeting of the Arkansas Bar Association Wednesday at the Hot Springs Convention Center.
Medical marijuana sales in Garland County have topped $1 million since the state's first legal sale of the drug was transacted here May 10, according to sales information from the Department of Finance and Administration.
The county's two dispensaries continue to be the only ones operating of 32 licensed statewide. DFA said it expects Natural Products in Clinton to be the next to open. The Alcohol Beverage Control Division inspected it last week.
The county's two outlets combined for $1.11 million in sales through noon Tuesday. Green Springs Medical at 309 Seneca St. continues to set the pace, selling 113.16 pounds over 10,485 transactions. Doctor's Orders RX at 4897 Malvern Ave. sold 56.13 pounds over 5,153 transactions.
But the author and sponsor of the medical marijuana amendment voters added to the state Constitution in 2016 said the text of the amendment does not require patients to purchase the drug at a dispensary.
"I will challenge you to read the medical marijuana amendment and find a provision in there that says you have to buy it from a dispensary," Little Rock attorney and public policy advocate David Couch told the annual meeting of the Arkansas Bar Association at the Hot Springs Convention Center Wednesday. "It's not in there."
He related how the West Memphis police recently arrested a registered patient for possessing marijuana contained in a zip-lock bag instead of a dispensary issued childproof container.
"I think the amendment itself says if you're in possession of a medical marijuana card and 2.5 ounces or less of marijuana that is an affirmative defense to any marijuana possession crime," he said.
Couch said buying the drug from a dispensary ensures its quality, noting that the Arkansas Department of Health's testing standards are among the most rigorous of any state that has legalized marijuana.
"Before any product actually makes it to the dispensary, it has to be tested for all sorts of molds, mildews, pesticides," he said. "It has to be tested for its potency. It has to be tested for its active ingredients. All that has to be labeled on the container.
"When you go to a dispensary, you know every time you go there you have those quality controls. It's not like you buy from someone on the street who you don't know where he got it from or where it came from."
Couch said the amendment gives card holders a constitutional right to possess marijuana in Arkansas, protecting them from employment discrimination based on being a card holder.
"You treat it the same as any other medication," he said, noting that the Legislature exempted employers providing public safety services or that engage in high-risk enterprises from the nondiscrimination requirement. "If you abuse opiates, and if you come to work in an intoxicated state that results from other medication you've taken, you can be fired, you can be terminated, you can be written up. It's the same thing with marijuana.
"But if you come to work and you're a medical marijuana patient and you walk in the door and you're not impaired, you have the same right to be there as someone who took an opiate before work."
Couch said the card is not a license to use marijuana with impunity.
"Just because you have a medical marijuana card, it's not like a silver bullet," he said. "It doesn't give you any special protections. If you're driving your car down the road and you show it to the police officer, and your eyes are intoxicated and you're weaving all around, just because you've got that card doesn't mean that you have any special protections whatsoever. In fact, if you do that you're probably going to lose your card."
The amendment lists conditions that qualify for marijuana treatment, but Couch said he was careful not to get too specific. In addition to specific conditions such as cancer, AIDS, ALS, Tourette's syndrome and Alzheimer's, the amendment qualified broader categories of ailments causing severe weight loss, intractable pain, nausea, seizures and muscle spasms.
"We kind of loosened it up so there's probably very few true medical conditions in the state of Arkansas you couldn't pigeonhole into one of these qualifying conditions," he said. "Any condition you have, regardless of whatever its specific name is, that has those symptoms, you can go get a medical marijuana card."
Local on 06/13/2019
Print Headline: County medicinal marijuana sales top $1 million
Sponsor Content
Comments