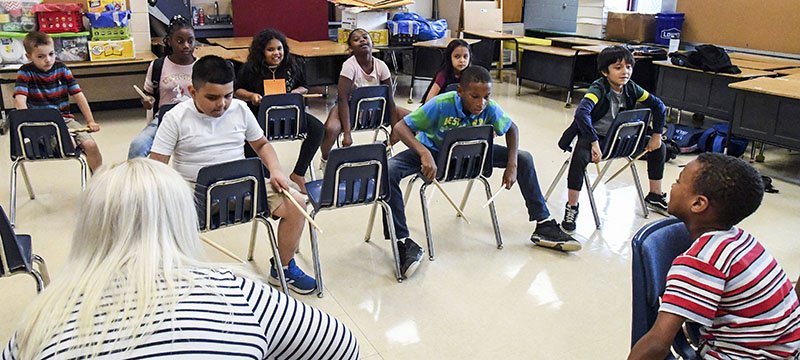 The Sentinel-Record/Grace Brown LITTLE DRUMMERS: Students participate in the first day of the aerobic drumming course offered at the Trojan Summer Academy and YMCA Enrichment Program at Gardner STEM Magnet School on Wednesday.
The Trojan Summer Academy, a partnership program between Hot Springs School District and the Hot Springs YMCA, kicked off Monday at Gardner STEM Magnet School to combat student academic achievement loss, also known as the "summer slide."
"What we really address here is the summer slide. Just due to the simple lack of books or teachers or people that are introducing information, students can lose up to two months just by not attending during the summer," Lisa Autry, YMCA executive program director, said.
"So what we hope to do is to stop that summer slide, and not only stop it but gain knowledge. We have shown through some of our pre- and post-testing in the programs from the past that we can move children up one or two months during that six weeks. So if you think about that, take the two months they could lose, plus the month or two that they can gain, and you can see three to four months change within these students by attending the program every day ready to learn," she said.
The goal of the program is "to make a well-rounded student that is productive at grade level standards," HSSD K-6 Summer Principal Melissa Edwards said.
"It started as us realizing that we had some needs in our community, and the YMCA and Hot Springs School District decided that we would merge together to provide and meet those needs of our children in the community. It's been an amazing partnership where we're able to work and grow academically, as well as emotionally and socially, and enrich children at both ends of the spectrum, high and low. It's an amazing partnership working with the YMCA," she said.
The need-based six-week program will run until July 18, from 8 a.m. to 2:30 p.m. Monday through Thursday, and is free to selected K-6 students in the district.
"We base it off of need and try to include everybody based off the RTI (response to intervention) process that goes through Hot Springs School District," Edwards said.
The program is operated by both the school district and YMCA. There are 265 students enrolled, with the window for enrollment closing on Friday.
Though this number is an improvement from the initial 150 enrolled in the 2016 program, even more students have been invited to participate.
"We had close to 400 that we identified and wanted to put in the program. We were going to accommodate that many because that's what we need to do as far as providing supports for kids here in our community. We're ready to do it, so we're making phone calls to parents every day trying to get them here," Edwards said.
A typical day in the program starts at 8 a.m., with teachers giving math and literacy instruction to students.
Autry said emphasis has been placed on literacy this year.
"That is a big part of the curriculum that we added this year: the phonics and phonemics. We purchased a lot of new curriculum and gave some training to the teachers so we can help add that new component," she said.
Lunchtime follows the instructional periods, and YMCA enrichment programs begin after lunch and continue until 2:30 p.m.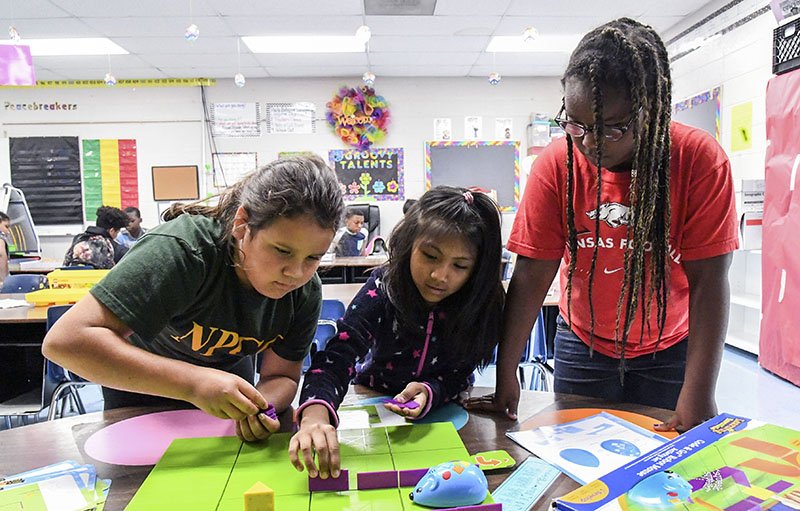 The Sentinel-Record/Grace Brown ROBOTICS: From left, Jules Claggett, 9, Cesia Gonzales, 9, and Kiarah Whittaker, 9, play a game that teaches coding during the Trojan Summer Academy and YMCA Enrichment Program at Gardner STEM Magnet School on Wednesday.
The YMCA helps provide a dozen different enrichment clubs to the students, including aerobic drumming, superhero yoga, cheer dance, Lego club, maker space, coding, STEM, drama, journalism, ninja fitness and art. These clubs not only emphasize academic achievement but aim to improve social and emotional skills as well, according to Sarah-Jean Grisham, director of enrichment for the Trojan Summer Academy.
The students are assigned to three clubs each, which they remain in throughout the duration of the program.
"We try to set the schedule so that all of the children get to experience something that is more focused in the arts, something that is related to STEM, and then something that is related to physical fitness," Grisham said.
The instructors overseeing enrichment are "a mix of Hot Springs School District teachers, Lake Hamilton teachers, professionals in the community; community members who have experience in mentoring positions, things like that. It's a mix of people in the afternoon who have expertise in their area of enrichment," she said.
The schedule is slightly different on Mondays, with students being bused to the YMCA after lunch, where they do a different activity every week. Once there, students can play on the indoor playground, play games and sports in the gym and enjoy pool time.
"It's a lot of team building; cooperative physical fitness. We use the playground, do water activities, and on rainy days have STEM challenges, minute to win it activities, things like that. It's well rounded," Grisham said.
According to estimates from Grisham, Autry and Edwards, it takes a crew of approximately 35 YMCA staff, HSSD staff, and even high school student teaching assistants to make the program function properly.
"One of the amazing things is that we take Hot Springs School District high schoolers, and we are growing professionals within our community. They have the opportunity to come in as teaching aids, so we're teaching them life skills. We have repeaters, and it's exciting to see how they have grown as professionals," Edwards said.
Carrington Holder, a recent HSSD graduate and a four-year repeater in this paid position, said he felt it had benefited him in more ways than one.
Though he does not intend to enter the field of education, he said, "It's helped me be more comfortable around kids. It helps me because I like to help people. I discovered my love of reading in first grade, so this kind of lets me spread that love of reading to little kids."
An incoming sixth-grader said he is enjoying his first year in the program.
"I like helping my friends a lot and playing around. I Like it a lot," he said.
The robotics and coding aspects of the STEM enrichment activity have been his favorite part of the program thus far, and he said he hopes to return next summer.
The YMCA also works with the Lakeside School District and Lake Hamilton School District, but not in the same capacity as the Trojan Summer Academy. Autry said the YMCA is open to partnerships with other schools but is primarily focused in the Hot Springs School District for the time being.
Funds to operate the Trojan Summer Academy are provided both by the district and YMCA.
"I'm not sure that we can put a price on the futures of the children in the community. Yes, it does cost money to run this program, but through Hot Springs School District, their funds, and grant funding that the YMCA does, we're able to combine those two and make this happen. We're all here for the future of the youth in your community. It is so worth it," Autry said.
"We look at risk factors across the board, and we try to provide and meet that need the best way that we can between funds of both the YMCA and Hot Springs School District. Without it, we wouldn't be able to do the things that we do to help children. It is a true partnership for us," Edwards said.
Local on 06/13/2019
Print Headline: YMCA partners with HSSD to prevent summertime slide
Sponsor Content
Comments