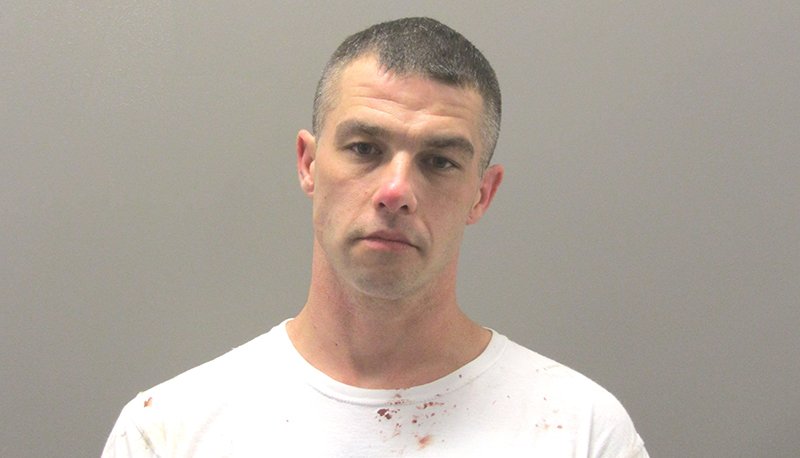 Bailey
A Delight man was arrested Tuesday morning for allegedly assaulting and biting his ex-girlfriend after a brief manhunt by Hot Springs police.
Justin Dewayne Bailey, 36, who was also being sought on a felony warrant as a parole absconder, was taken into custody shortly before 11 a.m. and charged with third-degree domestic battery, punishable by up to one year in jail.
Bailey was being held on zero bond and appeared Wednesday in Garland County District Court.
According to the probable cause affidavit, shortly after 10 a.m. Tuesday, police responded to the eastbound off-ramp of the King Expressway on Higdon Ferry Road regarding an ongoing disturbance.
Upon arrival, they made contact with a woman who stated her ex-boyfriend, identified as Bailey, had attacked her while they were traveling along the road. She said Bailey had been "acting erratically" and punched her in the face while she was driving.
She said she pulled over and Bailey tried to take the keys away from her. At one point, he bit her hand in an attempt to get the keys, but when he was unable to get control of the vehicle he jumped out and fled toward a nearby business and then into the woods.
Officers set up a perimeter around the area and after searching for about 40 minutes they located Bailey in the 600 block of Lakeshore Drive and took him into custody. During a search of his person, the officers allegedly found several ID cards and two debit cards belonging to the victim.
The affidavit notes the victim had bruising, swelling and bleeding abrasions to her left hand consistent with being bitten and also had redness and swelling to her right cheek where Bailey had reportedly struck her.
LifeNet responded to the scene, but it was unknown if the victim was transported to a hospital.
According to court records, Bailey was convicted of first-degree stalking and first-degree criminal mischief on April 7, 2017, in Sheridan and sentenced to six years in prison.
Local on 03/14/2019
Print Headline: Absconder arrested for alleged assault of ex-girlfriend after brief manhunt
Sponsor Content
Comments