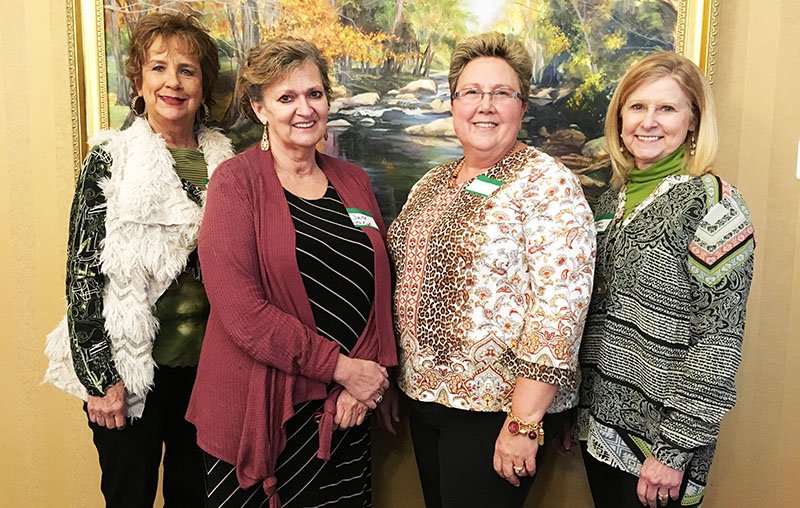 Submitted photo NEW MEMBERS: Hot Springs Women's Welcome Club added four new members for March, from left, Susan Freeze, Sally Dillick, Brenda Richardson and Debbie Jones. Women who have been a resident of Hot Springs for two years or less who want to join a community-minded club "full of friendly women and fun" are welcome to call President Diann Northern, 501-282-3171. - Photo by Submitted photo
Walk Across Arkansas begins March 25
Registration is now underway for Walk Across Arkansas, an eight-week exercise campaign that begins March 25 where individuals and their teams set, and try to meet, personal goals for physical activity.
Teams across the state will rack up more than 1 million exercise minutes during one of the largest public health initiatives in the state, according to a news release from the Garland County Cooperative Extension office.
"If you have been needing a kick start to better health, Walk Across Arkansas is a fantastic and no-cost way to do it. Many of our past participants have had more energy, enjoyed better sleep, and found new friends along with a host of other benefits," the release said.
"It can be as simple as adding a daily walk to your routine or joining one of our county Extension Get Fit groups to add strength and flexibility training to your new fitness routine. The goal of Walk Across Arkansas is to move people from being 'temporary' exercisers to permanently healthy," the release said.
Registration for teams of 10 or fewer members started March 11, and anyone can form a team and start moving or people can register as an individual walker.
"For Garland County participants, we are looking to add some added fun by offering incentive gifts for our top walkers each week and for the winning county team at the end of the event in May," the release said.
To learn more about how to register a team, visit http://www.walk.uaex.edu or call Alison Crane at the Garland County Cooperative Extension office, 501-623-6841, or email [email protected]
"This year we are inviting all of our Garland County teams and anyone else who would like to join us for our starting walk to be held Monday, March 25, at the Greenway by the Hot Springs Transportation Depot starting at 5:30 p.m. So stick your walking shoes in your car and join us after work or school. Let's enjoy the 'hopefully' pretty weather together and get started toward a healthier spring," the release said.
Society on 03/14/2019
Print Headline: Items of interest
Sponsor Content
Comments