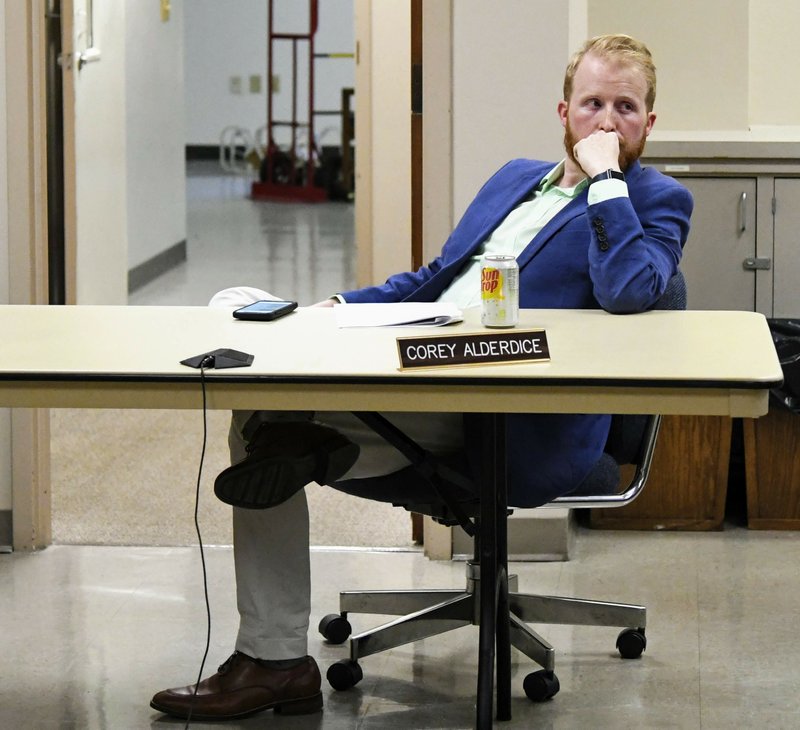 The Sentinel-Record/Grace Brown PUBLIC CONCERNS: Corey Alderdice, director of the Arkansas School for Mathematics, Sciences, and the Arts, listens to concerns from the community during a board of visitors meeting at the school on Monday. - Photo by Grace Brown
RELATED: | Audit report finds no evidence of wrongdoing | ASMSA officials appear before Joint Performance Review Committee |Probe finds ASMSA allegations 'unfounded' |County GOP seeks probe of ASMSA club allegation |Clinton urges ASMSA graduates to 'be brave' |ASMSA commencement with Clinton will be ticketed event | UA aware of ASMSA allegations, grievances |State rep: Review may be on horizon for ASMSA | ASMSA issues stem from lack of communication, official says |
A 17-year-old male student alleged during the Arkansas School for Mathematics, Sciences, and the Arts Board of Visitors meeting on Monday that he had been sexually assaulted on campus and no action had been taken after he reported the incident.
He alleged the assault had been reported weeks ago, that nothing was done on the part of the administration, and that the accused student is still on campus.
"Perhaps what I view as a student is unacceptable is that all too often if there ever is a problem, it is not addressed unless a parent intervenes. Because I find that the students of this school are rarely respected," the student said.
"Case in point, the past three weeks I have neglected to tell my parents of the fact that three weeks ago I was sexually assaulted on campus, and informed administration, and that student is still on campus despite it being a level four violation mandating a minimum one-week suspension."
"I would ask that these remarks and the tapes of this meeting be immediately transmitted to (UA System President) Dr. Donald Bobbitt at the U of A System's office and the chairman of the U of A Board Trustees," said board member Steve Faris.
"I think it needs to be expedited," Faris said.
"Many of the claims that were made this evening are topics that have already been thoroughly investigated at all levels and have been unfounded. But I certainly understand and recognize the individuals' desire and need to express those statements publicly, but ultimately understand that due to student and employee privacy that we are significantly limited on the direct response that we can make to an individual claim," said ASMSA Director Corey Alderdice.
"The school remains in contact with the University of Arkansas System of leadership. As issues arise, we use the Board of Visitors as a conduit to assess feedback and to ensure that our campus operates at a high level in accordance with U of A System board policies. As the board has requested, we will certainly transmit the contents of the meeting to both the system president and the chair of the board of trustees," he said.
While speakers praised the school for its academic rigor and challenging nature that has improved students' education, a number of other complaints were aired at Monday's meeting.
Other allegations shared with the board included claims of unreported drug-related activity, preferential treatment of certain students, racism, classism, bullying and other mistreatment on the part of residence life staff, a lack of communication between parents and administration, the enforcement of rules and regulations not in the school handbook, denials of allegedly valid requests to form a Young Republicans club, student and faculty fears of retaliation after sharing grievances with administration, and a lack of transparency.
Local on 05/14/2019
Print Headline: ASMSA board meeting reveals alleged assault, many grievances
Sponsor Content
Comments