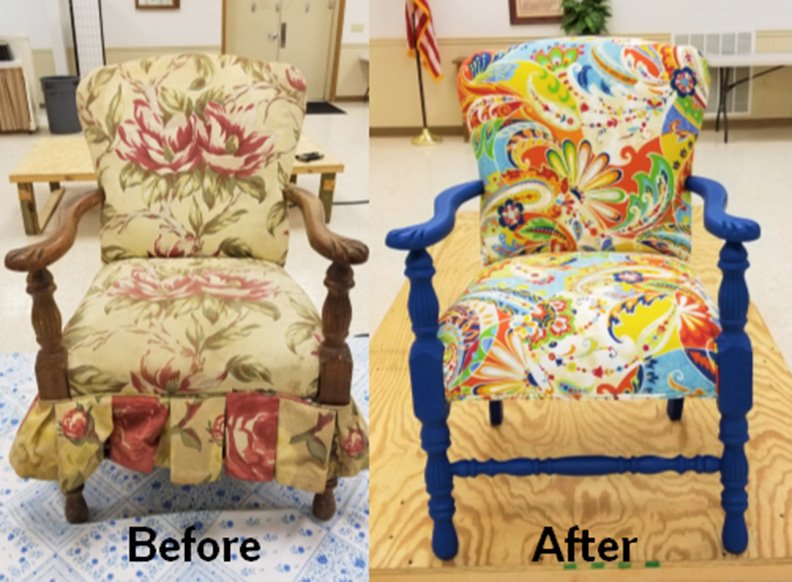 The Upholstery Club of the Garland County Extension Homemakers Council will offer a class on the basics of upholstering furniture in June that will give participants the chance to reupholster a piece of their own furniture.
The five-day class will be held at the EHC Educational Building at the Garland County Fairgrounds from 8:30 a.m. to 4 p.m. June 12, 13, 14, 17 and 18.
Participants will learn and apply the basics of upholstering furniture. Most pieces, such as sofas or chairs, are acceptable, with the exception of recliners. Only one piece per person is allowed unless the project consists of multiple small pieces -- for example, the cushioned seats of a set of dining room chairs.
Participants with multiple pieces, or to obtain more information, call Frank Fulmer 525-8998 or Libby Jacques at 760-1181.
Participants are required to know how to use a sewing machine, and must furnish their own fabric -- no plaids. The amount of fabric needed for each project can be determined by a chart provided at registration. The chart is designed for experienced upholsterers, so the club suggests having additional fabric; at least 10 percent extra. Extra material should also be purchased if the print needs to be matched, similar to wallpaper motifs that need matching. A display of suggested types of fabrics is available at the Extension office.
Participants are to bring a helper with them on the first day to help remove the old fabric from the piece. Do not remove any fabric or any part prior to class. Removed fabric will be labeled and will be used as patterns for the new pieces. Wood repair or refinishing should be done prior to the upholstery class sessions.
Each student must have pliers, scissors, screwdrivers, needles and pins, tape measure, seam ripper, marking pen, and an old, clean sheet or tarp to cover the work table. An upholsterer's staple puller will be issued to each project for use during the class only. Extra supplies such as cording, batting, webbing or zippers may be purchased from the club.
Registration must be made in person at the Extension office, 236 Woodbine. Call 501-623-6841 for more information. A limited number of projects will be accepted. The cost of the class is $30, payable by check upon registration.
The class will break for an hour lunch, so bag lunches should be brought. Free coffee will be provided.
Society on 05/19/2019
Print Headline: Upholstery Club to offer five-day class in June
Sponsor Content
Comments