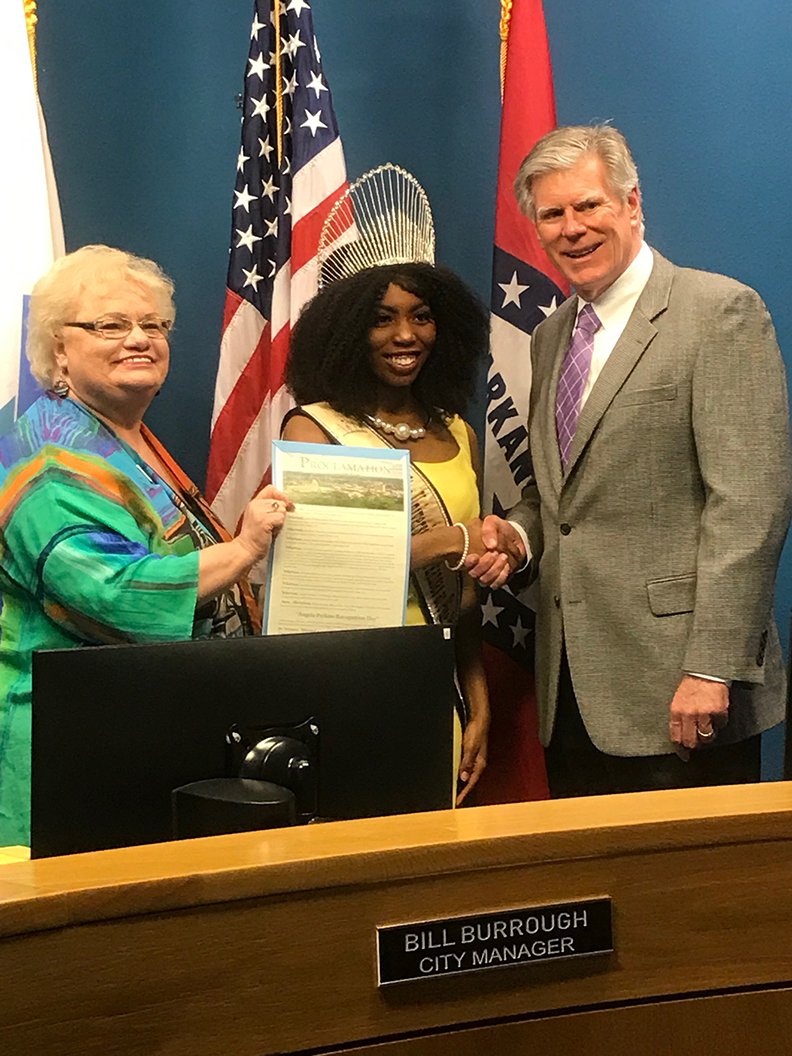 Miss University of Arkansas at Pine Bluff Angelica Perkins, of Hot Springs, visited the Spa City on April 16 with a reception at the Hot Springs School Board followed by recognition given at the Hot Springs Board of Directors meeting.
The Hot Springs UAPB/AM&N Alumni Association sponsored Perkins, the 89th Miss UAPB, coming to Hot Springs on that day.
Perkins garnered first place in the annual HBCU Campus Queens competition in February. Presented by EBONY Magazine, the competition is based on a voting system featuring queens from more than 60 Historically Black Colleges and Universities across the United States, a news release said.
According to the competition leaderboard, Perkins received the most votes among the top 10 finalists. The third Miss UAPB to represent the institution in the publication, the EBONY HBCU Campus Queens franchise is one of the longest-running editorial features for the magazine. The participants embody the determination, inner beauty and positive impact that EBONY admires in our next generation. The young women who participate in the HBCU Campus Queens Program are poised to affect great social change within our collegiate, civic, national and global communities, the release said.
A Hot Springs native, Perkins is a rising scholar at UAPB with a 3.9 GPA, majoring in Business Finance. She is heavily involved at the institution and is a member of numerous organizations, one of which include the Carolyn F. Blakely Honors Program. Perkins has been involved on campus from the second she entered Golden Lion Country, as a participant in the Lions' Program. A few experiences she's had include studying abroad, an active reign as the 2017 Miss Black and Gold, and director of public relations for the Student Government Association, where she created innovative ways to better connect the campus.
Having passion for community, as well, she has also helped charter an on-campus recycling program and is the chapter co-chair of community outreach for Zeta Phi Beta Sorority, Incorporated, Beta Beta Chapter. This position allows her to be heavily invested in the campus and the Jefferson County community. Upon graduation, she plans to attend law school in hopes of becoming an international business lawyer, the release said.
Entertainment on 05/20/2019
Print Headline: Miss University of Arkansas at Pine Bluff visits HS
Sponsor Content
Comments