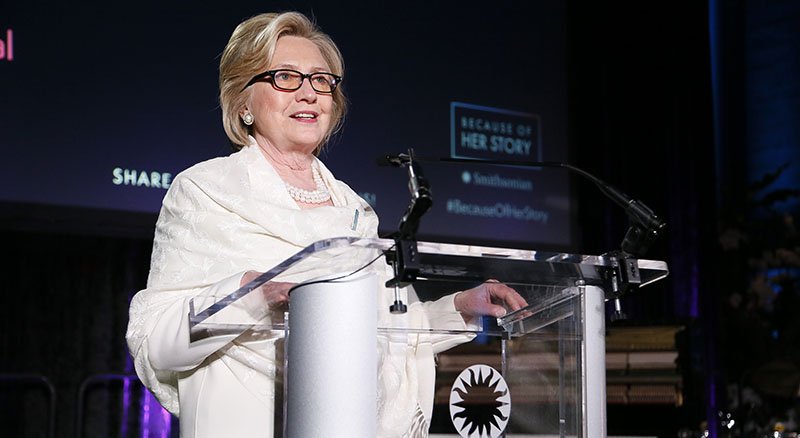 Paul Morigi/AP Images for National Portrait Gallery GUEST SPEAKER: Former Secretary of State Hillary Clinton speaks at the opening of "Votes for Women: A Portrait of Persistence" at the Smithsonian's National Portrait Gallery on March 28 in Washington. Image distributed for National Portrait Gallery.
RELATED: |Audit report finds no evidence of wrongdoing | ASMSA officials appear before Joint Performance Review Committee |Probe finds ASMSA allegations 'unfounded' |County GOP seeks probe of ASMSA club allegation |Clinton urges ASMSA graduates to 'be brave' | UA aware of ASMSA allegations, grievances |State rep: Review may be on horizon for ASMSA | ASMSA issues stem from lack of communication, official says |ASMSA board meeting reveals alleged assault, many grievances |
Saturday's commencement ceremony for the Arkansas School for Mathematics, Sciences, and the Arts with former Secretary of State Hillary Clinton as the guest speaker will be a ticketed event and closed to the public, a school spokesman said Monday.
The school's graduations do not usually require a ticket for entry, Donnie Sewell, ASMSA's public information specialist, said.
This is being done in an effort to "keep it a manageable size," he said. Around 3,000 people are expected to attend the graduation in Bank OZK Arena adjacent to the Hot Springs Convention Center at 2 p.m. Saturday.
The commencement will be the "same as all of our other graduations. It's just a regular graduation, except it's ticketed," Visit Hot Springs CEO Steve Arrison said Monday.
Tickets have been given to family, alumni and other stakeholders in the school, he said, with graduating students receiving 20 tickets to distribute and the option to request more if needed and available.
As for security, as a former secretary of state, Clinton will receive the same level of protection that any other guest speaker would receive from the convention center, with at least three police officers present.
"There's really nothing else different. We are just doing our same security. Every graduation is important," Arrison said.
The graduation will be the only event taking place that day, and no other rooms or areas in the convention center will be used for the ceremony, Arrison said.
This is due to it being a holiday weekend and the convention center having an empty schedule, rather than a special security precaution taken because of Clinton's presence, he said.
Arrison emphasized the importance of attendees following the new security rules recently implemented at the arena.
Jennifer Wolcott, director of operations for Visit Hot Springs, said this proactive approach of establishing new measures actually took place last year with the Arkansas State High School Basketball Tournament. This year the measures were modified to specify only clear bags 14 by 14 by 6 inches will be allowed within the arena.
"During state basketball (this year), we probably had 55,000 people (total), give or take, and it went off really good that weekend," Wolcott said. "We had clear bags and the schools got the word out, and process and procedures were good. So this year for graduations, we've checked with Verizon (Arena) and all the other facilities in Arkansas. It's just what we're going to.
"So this year we're doing the clear bags for all the graduations in the arena. It's not for all events yet -- we're looking at that in the future -- but it is for the graduations this year."
In addition to only clear bags, only one bag per person is permitted. All individuals entering the venue are subject to search.
"We're following what other venues are doing and trying to be proactive with it," Wolcott said. "We don't want anything to happen, so we're being proactive."
Prohibited items for the graduation ceremonies include knives of any kind; firearms of any kind; backpacks; bags larger than 14 by 14 by 6 inches; more than one clear bag per person; fireworks or pyrotechnics of any kind; outside food or beverages; beach balls; Frisbees; confetti; streamers; laser pointers; balloons; noisemaking devices; audio or video recording devices other than mobile phones; and signs, flags or banners.
Other items deemed by staff to be potential safety or security threats will also be prohibited. Wolcott said the response has been positive to the new protocols, which she said can be attributed to communication with the school districts.
"(The schools) got all the information out and this year, I've already had several calls thanking us for doing this," she said. "All the schools have our policy. We've been working with National Park (College) for over a year and they even sold clear bags for people on their campus. They've been working really well with us."
Wolcott said there has not been any pushback, she believes, because people have "attended stadium events, SEC ballgames, things like that, so at basketball they were aware of it.
"We haven't had pushback and we think everyone will just work together and it will go well for us. Our main priority is for them and their safety, and I think when they realize that, everyone works together and we get it done."
The arena also requires at least two Hot Springs police officers depending on the size of the event. The larger the event, she said the more officers are on site.
"A lot of the schools bring their own resource officers for their graduates, as well," she said.
Bank OZK Arena will not be using metal detectors, Wolcott said.
"I know Verizon does do metal detectors, and some other places, but we're not doing that. Just the clear bags. Just so people are aware," she said.
"It's all about communication and getting it out, so that's why we've been making sure everyone is aware and is prepared so it can be enjoyable and nobody walks in not knowing."
Local on 05/21/2019
Print Headline: ASMSA commencement with Clinton will be ticketed event
Sponsor Content
Comments