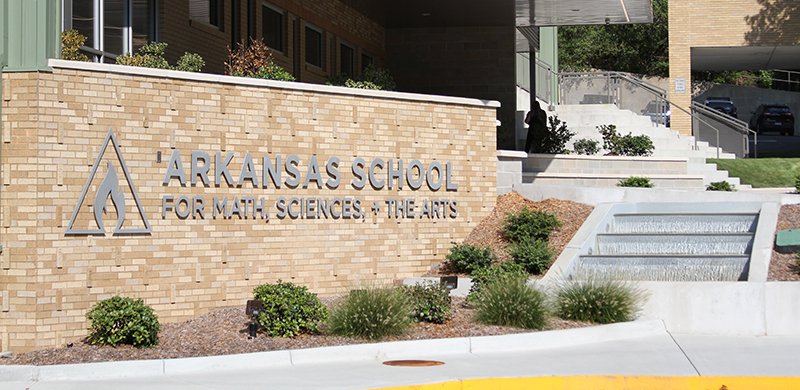 The Arkansas School for Mathematics, Sciences, and the Arts. - File photo by The Sentinel-Record
RELATED: |Audit report finds no evidence of wrongdoing | Probe finds ASMSA allegations 'unfounded' |County GOP seeks probe of ASMSA club allegation |Clinton urges ASMSA graduates to 'be brave' |ASMSA commencement with Clinton will be ticketed event | UA aware of ASMSA allegations, grievances |State rep: Review may be on horizon for ASMSA | ASMSA issues stem from lack of communication, official says |ASMSA board meeting reveals alleged assault, many grievances |
Officials from the University of Arkansas and the Arkansas School for Mathematics, Sciences, and the Arts in Hot Springs appeared before the Legislature's Joint Performance Review Committee for nearly two hours Tuesday to address allegations raised against the school and a subsequent external review.
University of Arkansas System President Donald Bobbitt, Arkansas School for Mathematics, Sciences and the Arts Director Corey Alderdice and U of A System Vice President of Government Relations Melissa Rust responded to the committee's questions. The committee meeting was livestreamed by the Legislature.
"The meeting today is really more about transparency, because we don't do business in the dark, and we believe that if there are issues that exist and that folks were concerned about, that those need to be addressed in public and not behind closed doors with legislators and administrators," state Rep. Jimmy Gazaway, of Paragould, committee co-chair, said during the livestream.
Gazaway listed a number of concerns addressed in the report summary, including "alleged sexual assault," "unreported drug-related activity," "preferential treatment of certain students," "racism, classism, bullying and mistreatment by residence life staff," "required participation in the activity known as a privilege walk," "lack of communication between parents and administration," "enforcement of rules not in handbooks," "attempt to start a young Republicans club denied," "fear of retaliation toward faculty and students from admin," "lack of transparency from school admin," "concerns about residence life," "a March 9, 2019 drug incident," "issues regarding contact with parents," "professional development programs" and "issues relating to director Alderdice's leadership."
Pertaining to the allegation of sexual assault, ASMSA "immediately investigated that particular allegation and determined that in fact there was not an act of sexual assault that happened. The external evaluation also reviewed that particular matter" and "agreed with the conclusion that had been reached at the campus in consultation with legal advice from our general counsel's office," Rust said.
In the case of potential sexual assault, "the hotline will be called. End of the story," Bobbitt said.
Bobbitt said the primary problems at the school have been due to "the difficulty of trying to correctly manage, in a residential setting, 16- and 17-year-olds," especially since ASMSA is "not located on a college campus."
The allegations of unreported drug-related activity were in line with the school's procedures, Alderdice said.
ASMSA previously "had an understanding" with the Hot Springs Police Department that "low-level materials," such as marijuana, could simply be disposed of by the school's own licensed, contracted security employees, he said. In a conversation with the HSPD this past summer, Alderdice said it was decided it would be "more appropriate" for the school to call police and have them dispose of the drugs.
"We have talked to local police and said that we do not want that responsibility," Bobbitt said.
When questions were raised about allegations of misappropriation of funds by Alderdice, he said, "I thoroughly and soundly reject that claim." Bobbitt told the committee that "if you have a question about expenditures of ASMSA, we will provide an answer for you."
"As for the other claims you levy," Alderdice said of other allegations, "I believe these are explored quite in-depth through the external review requested on my part and conducted by the University of Arkansas System, and that those claims have been unfounded, particularly those of bullying, harassment and intimidation."
He said the report "clearly notes that the majority of the issues presented by this limited number of individuals," were "based on either incomplete or incorrect assumptions."
The veracity of the report was called into question by state Rep. Mark Lowery, of Pulaski County, as well as whether Alderdice should remain in his role as director by state Rep. Brandt Smith, of Jonesboro.
"Obviously some of the concerns that were raised were found to be truthful, to be viable, or we would not have President Bobbitt telling us that recommendations have been made, that changes are going to take place and that they are taking place. So I would just ask that you would stop referring to 'inaccuracies' and recognize that there are sometimes differences in perceptions and that these are parents that are concerned about their minor children," Lowery said.
State Sen. Alan Clark, R-District 13, told the officials "scholastically, I give you an 'A.'" but with "handling situations with kids," Clark said he gives the school a "D."
"There's a pattern of incidents that perhaps you don't see," Clark said.
Bobbitt said since concerns had been raised, Alderdice has "met with the faculty earlier this semester, has regularly scheduled meetings with faculty leadership groups," "meets with me regularly," "attends the meetings of the two and four year chancellors," and "has made sure that his presence in the residence halls after the normal academic day has been noted."
The committee made several recommendations to Bobbitt and Alderdice, including the institution of a random drug testing policy for students.
Bobbitt said the review has "led to an improved institution for all."
Changes to ASMSA discussed during the meeting included the suspension of the privilege walk activity, the founding of a young Republicans club "in accordance with procedures," Alderdice said, a special audit request of the school's finances in May and the abolition of the school's "community withdrawal" policy that allowed students found guilty of significant violation of rules and near their graduation date to still receive a diploma.
Alderdice said steps have been taken to improve communication between administration and parents, including the maintenance of a "parents association" Facebook group, work to "rebuild the parents association and the advisory council," and hosting quarterly online question and answer sessions.
"The experience for our students this fall is going to be different and improved over what has been experienced in the past," Bobbitt said.
Local on 11/13/2019
Print Headline: ASMSA officials appear before Joint Performance Review Committee
Sponsor Content
Comments