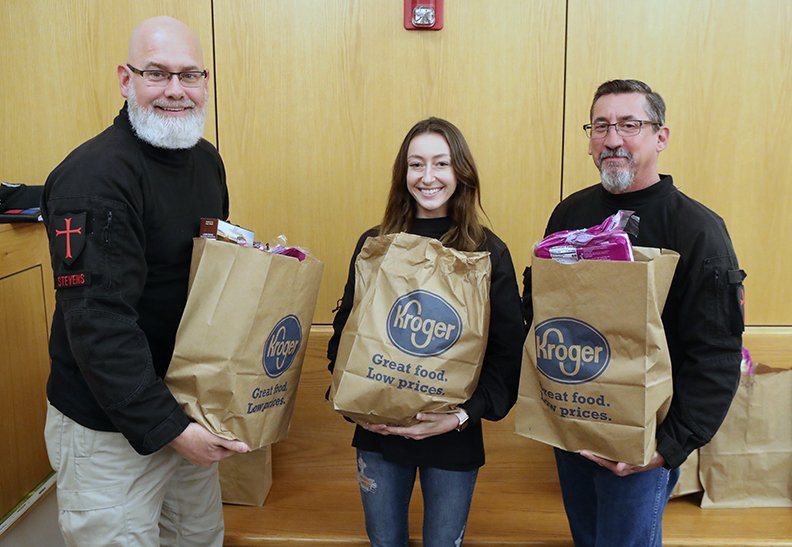 From left, Fearless Rock dive team members William Stevens, Suni Nichols and Eddie Rogers give out 20 Thanksgiving meals to families of juveniles in the H.E.R.O.S. drug treatment program Thursday at Garland County Juvenile Court. - Photo by Richard Rasmussen of The Sentinel-Record
Eleven families in the juvenile court system will have one less thing to worry about this Thanksgiving after the Fearless Rock Underwater Memorial dive team donated full meals to each of them on Thursday.
Dive team member Will Stevens said the project started when they heard the Kamo's Kids Foundation raises money every year to provide meals to the families that participate in Helping Everyone Reach Our Sobriety, or H.E.R.O.S., juvenile drug treatment program. Stevens said they asked how much it costs to feed a family a Thanksgiving meal.
After learning it was around $50, fellow dive team member Eddie Rogers said the group knew they could provide between two and four full meals.
Stevens said they then asked the followers of the memorial's Facebook page to help buy more meals. "Facebook (users) raised $750, enough for all the meals," Stevens said. "It was an amazing thing to be a part of."
"Our goal was to pay for two to four," Rogers said, noting they would have been happy if they were only able to help out that amount of people. "With (11), we're ecstatic," he said.
Those who donated to the families were not just local people. Stevens said not only did people from all over America donate money, they also had donors from England, South Africa and Australia.
Chris Burrow, juvenile drug court coordinator, called the donations from around the world "unbelievable." He said that these people from other counties "think enough to help our kids ... I was floored."
"I think it's amazing," dive team member Suni Nichols said, noting that by giving the meals out, these families "don't have to worry about it."
Stevens, Nichols and Rogers presented the meals to the families and Rogers noted it felt good to be able to help. "It is great to be part of something (that helps) people who are trying to better their lives," he said.
Each of the bags contained a turkey, pumpkin pie, rolls, mashed potatoes, green beans and corn. Burrow said enough money was donated that each family will also receive a ham for Christmas and will get to go see the Holiday Lights display at Garvan Woodland Gardens.
The dive team was created to honor U.S. Navy SEAL Team Six member Adam Brown who was killed in Afghanistan. Stevens said the group is also honoring a member of the dive team who died in 2017 named Brick Smith. He said "Adam and (Smith) cared about" Hot Springs.
Local on 11/24/2019
Print Headline: Thanksgiving meals donated to families in drug treatment program
Sponsor Content
Comments