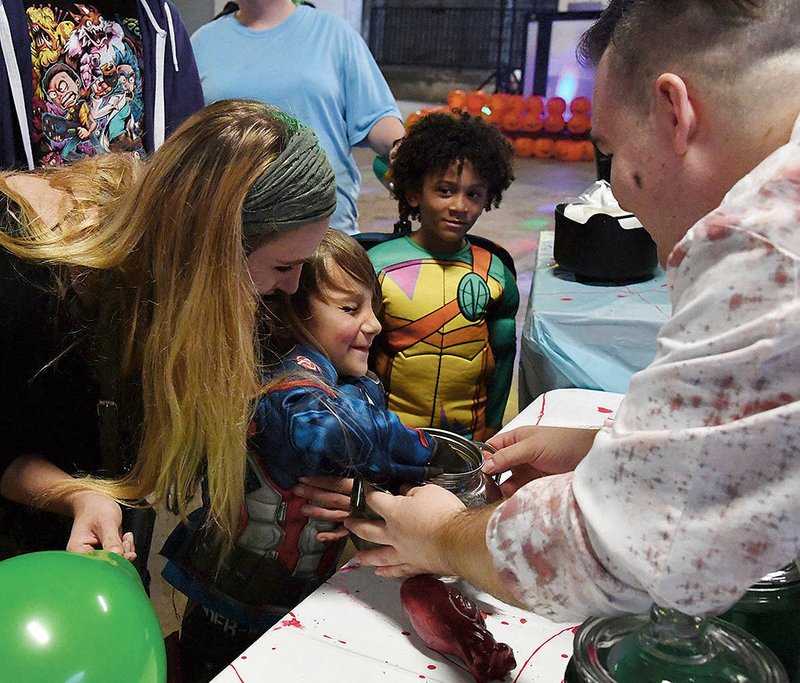 Conrad Canipe, 4, of Hot Springs sticks his hand into a jar of goblin ears at Glow on the Row in downtown Hot Springs on October 31, 2018. - File photo by The Sentinel-Record.
Halloween is right around the corner, and there is no better place to be than right here in the spooky Spa City! Hot Springs offers numerous -- mostly free -- family friendly Halloween events both on All Hallows' Eve and the days leading up to the big night. Read on to find the best places to be this year to dress in your best costume, get the most scares, win at thrilling games and, of course, eat loads candy!
Glow on the Row
Glow on the Row is an annual downtown trick-or-treating event Oct. 31. Downtown merchants will hand out candy and glow sticks to trick-or-treaters. For more information, call 501-318-0997.
Boo With a Badge
Over 10 Garland County emergency response agencies come together to host the annual Boo With a Badge 5 to 8 p.m. Oct. 31 at the Hot Springs Fire Department, 310 Broadway St. The event includes a "Holly's Haunted Hallway" inside the station, as well as trick-or-treating. Everyone is welcome to dress in costume to come out and look at the police cars, fire trucks, SWAT vehicles and Game and Fish's mobile fish tank. For more information, call Cpl. Joey Williams at 501-321-6789 ext. 6740.
Halloween Carnival
The Piney Fire Protection Association will host its second annual Halloween Carnival from 5-7 p.m. Oct. 31 at the department, 120 Mid-America Blvd. There will be games and loads of candy. Candy donations and costumes are encouraged.
Halloween at the Y
The YMCA, 130 Werner St., is hosting Adventures Through the Doorway: Halloween at the Y from 5:30-7:30 p.m. Oct. 31. This free, family friendly event is open to the public. There will be bounce houses, booth games, plenty of candy and the first 50 kids will get a Halloween T-shirt. For more information, call the YMCA at 501-623-8803.
Witches Ride Fall Festival
Garland County's Relay for Life will host its annual Witches Ride Fall Festival 11 a.m. to 1 p.m. Oct. 19 in the Hot Springs Mall parking lot, 4501 Central Ave. The event will include prizes for best costume and best-decorated broom, as well as activities and food. All proceeds will benefit the American Cancer Society.
Pumpkin Light Night
Hot Springs School District's fifth annual Pumpkin Light Night will be 5-7 p.m. Oct. 29, at Hot Springs World Class High School, 701 Emory St. The event will include bounce houses, decorated pumpkin judging, games, food trucks and entertainment from HSSD student groups. Costumes are encouraged.
Magic Screams
Magic Springs Theme and Water Park, 1701 E. Grand Ave., will host Magic Screams, the "Scare Capital of Arkansas," from noon to 11 p.m. on Saturdays and from noon to 9 p.m. on Sundays through Nov. 3. Magic Screams will feature a Family Movie Series, contests like Pumpkin Roll, Mummy Wrap and costume contests for all ages. New haunted attractions include Illusion Confusion and the Inflatable Corn Maze for children, CarnEvil #9, 3-D Scream Vision Experience, and ExitTrance 2.0: Psychedelic Journey to the "Other Side" for those looking for a big scare factor. Magic Screams will also be bringing back favorites like Wasteland and The LAST RIDE: Zombie Hunt Adventure. Regular daily admission tickets to Magic Screams are $29.99 plus tax for adults, $24.99 plus tax for children and seniors, and season passes are $79.99 plus tax. For more information, visit MagicSprings.com/magicscreams.php.
Gateway Community Association Costume Party
The Gateway Community Association's first-ever costume party and thriller crawl contest will be Saturday, Oct. 26, at Grateful Head Pizza, 100 Exchange St., from 6-10 p.m. Food, beverages, games, and more fun will be offered throughout the evening. There will be a contest for the best costume and for the best "thriller crawl" at the party. The event is a fundraiser for the community association. They plan to use the funds to bring "Santa Larry" back to Hot Springs in December. Tickets are $15 per person.
Go Magazine on 10/15/2019
Print Headline: Spooktacular Happenings in Hot Screams
Sponsor Content
Comments