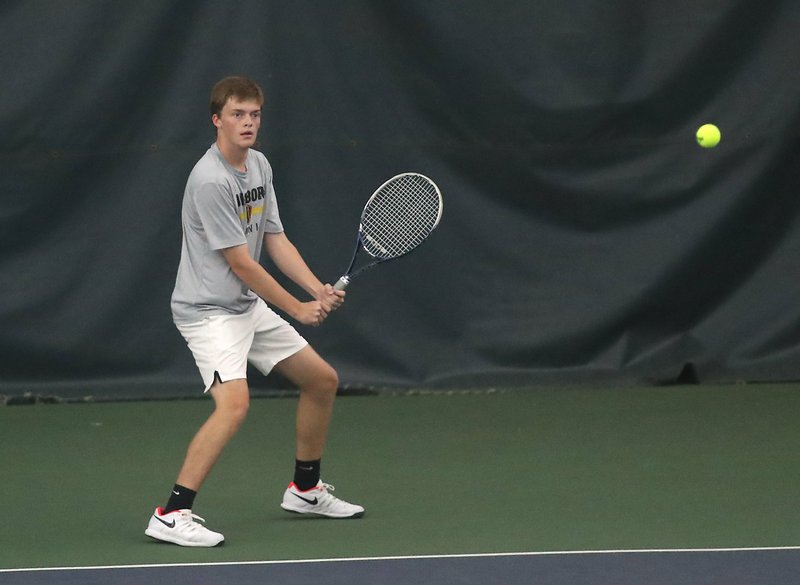 Jonesboro's Eric Richardson returns a shot to Lakeside freshman Ben Hollis in their semifinal Tuesday during the Class 5A State Tennis Tournament. Photo by Richard Rasmussen of The Sentinel-Record
The rains did not dampen Jonesboro's performance on the tennis courts on Tuesday, despite the semifinal and final rounds being moved from Lakeside High School to the Hot Springs Country Club's indoor courts.
Jonesboro once again claimed the Class 5A state boys and girls tennis titles Tuesday, marking the school's third-straight boys and girls titles.
With Eric Richardson claiming the boys singles title and both of Jonesboro's boys doubles teams reaching the final, the Hurricane easily hemmed up the boys title with Little Rock Christian finishing as runner-up.
Richardson defeated Lakeside freshman Ben Hollis, 6-0, 6-3, in his semifinal before he had a repeat performance of last year's semifinal against Little Rock Christian's Eli Pierce. Last year, Richardson took a 6-4 win in the first set against Pierce before battling to a 7-5 win of the second to advance to the final.
The opponents battled it out, trading games until they reached a 4-4 tie, and their ninth game went to a deuce.
"Whoever wins the deuce point wins that game," Richardson said. "So it was a long point. ... It was intense. And then I got up 5-4, and I had the momentum after that, for sure."
Richardson swept the rest of the match for a 6-4, 6-0 win. The senior admitted that he was a bit surprised by Hollis in the semifinal.
"I had not played Ben before, so I really wasn't sure what to expect," he said. "I knew he was a good player. He had been playing right next to me in my quarterfinal match, so I'd seen him a little bit, so I knew he was going to be a little bit of a step up in the competition, but it was definitely a kind of a big moment."
The girls title was dependent upon the outcome of the final match of the day. Jenna Payne continued her sweep of the girls singles bracket, as the sophomore won her second-straight girls singles title.
"It feels really good," Payne said of her second-straight title. "I mean, last year was definitely a scary year because of Emily Heide and our USTA background, but I mean, this year just everything was just as competitive, if not more, and it was just a really great scenario to be in."
Payne gave up just 28 points in the 6-0, 6-4 win over Olivia Gaston, who Payne calls a good friend.
"I knew it was going to be just a tough match going in," she said. "The score doesn't really like give back how many long points we had with each other. Our points were amazing, so just the score didn't get to show her side of the story this time."
With the girls doubles team of Mary Claire Brown and Peyton Mullen falling in the semifinals to Mountain Home's Sarah Godfrey and Macie Heide, the overall title was as up in the air as the Lady Bombers' final against Lakeside seniors Mary Catherine Cowen and Isabella Calhoun.
A win by the Lakeside pair would have left Lakeside and Jonesboro sharing the title, while a win by the Mountain Home duo would knot up the Lady Bombers and Lady Rams in second place.
Cowen and Calhoun won the first set of the match before Godfrey and Heide went on a four-set streak to pull out to a 4-1 lead. The Lady Rams pair knotted the score again, but the Lady Bombers duo gave up just two points in the final games of the set for the 6-4 win.
The second set was neck-and-neck from the start with the first four games being decided by one or two points as the pairs both traded games. The next three games were more lopsided with the teams drawing at 4-4. Godfrey and Heide took the 5-4 lead after winning the deuce before winning the deciding set without dropping a point.
"I knew it was gonna be hard because these girls -- we were watching them, and we knew they were really good," said Godfrey, a junior. "And so it's a little nervous for us, a little nerve wracking, but it was just, it was really exciting. When we were getting down, we were really nervous, but we were also, I think, really proud that we'd come this far."
Heide, whose sister was runner-up last year in the singles after winning in her sophomore and junior years, admitted that she was also nervous about the match.
"For me being a freshman, it was, like, really nervous for me, and I knew that they were really good," she said. "I've been playing tournaments, so I knew what to expect. ... It makes me like really happy and that I've been putting in really good work and that I'm actually winning and not losing all the time, so really exciting."
Jonesboro head coach Jason Morgan was very pleased with his team's performance Monday and Tuesday.
"It's been great," he said. "It's a group effort, you know. To win a team title, it takes everybody. That's one big advantage we had coming into here. We had both girls doubles, both girls singles, same for the boys, so coming in with the full team was a big help to force the win."
Sports on 10/16/2019
Print Headline: Jonesboro sweeps 5A tennis titles
Sponsor Content
Comments