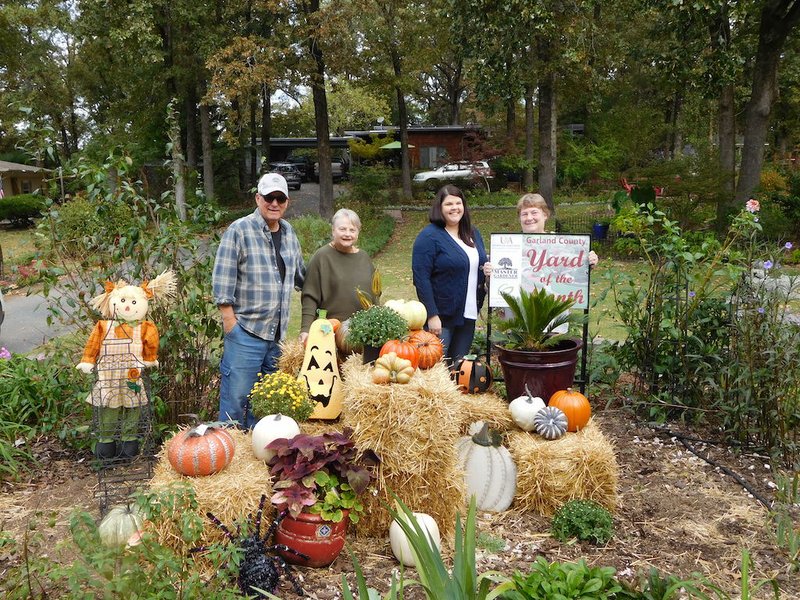 From left, homeowners Ron and Sharon Dent, Kristen Mangham, Special Events coordinator at Garvan Woodland Gardens, and Gaye Harper, Master Gardener, stand among the Dents' fall display of hay bales, pumpkins, scarecrows, ornamental cabbage and mums. Not pictured is Master Gardener Carolyn Davis. - Submitted photo
Garland County Master Gardeners have selected the home of Ron and Sharon Dent as the October Yard of The Month.
The Dents moved to Hot Springs from Florida in 2006. They are native Arkansans, and their yard has been a labor of love and a work in progress, with most of the work being done by the Dents, a news release said.
"The yard has large mature Cedar, Oak, Red Bud, Magnolia, Dog Wood, and Japanese Maple trees. Several large Cobalt blue pots dot the landscape planted with a variety of herbs and bulbs. Hidden among the Daylilies, iris and a wide variety of perennial flowers are whimsical yard art pieces, driftwood and bird baths. Brick pathways lead to several outdoor rooms featuring different aspects, a shade garden with Hydrangea, several different hosta and fern, Hellebore, Azalea, Coleus, and Caladiums. There is a designated Rose Garden plus rose bushes scattered through the landscape. Along the side of the yard are Pear, Persimmon, Apple and Fig trees with several trellis planted with grapes, raspberries, blackberries and boysenberries. The vegetable garden is located in the backyard where tomatoes, peppers, and more herbs are grown. The strawberry patch and compost are located nearby," the release said.
Society on 10/20/2019
Print Headline: Dent home selected as October Yard of the Month
Sponsor Content
Comments