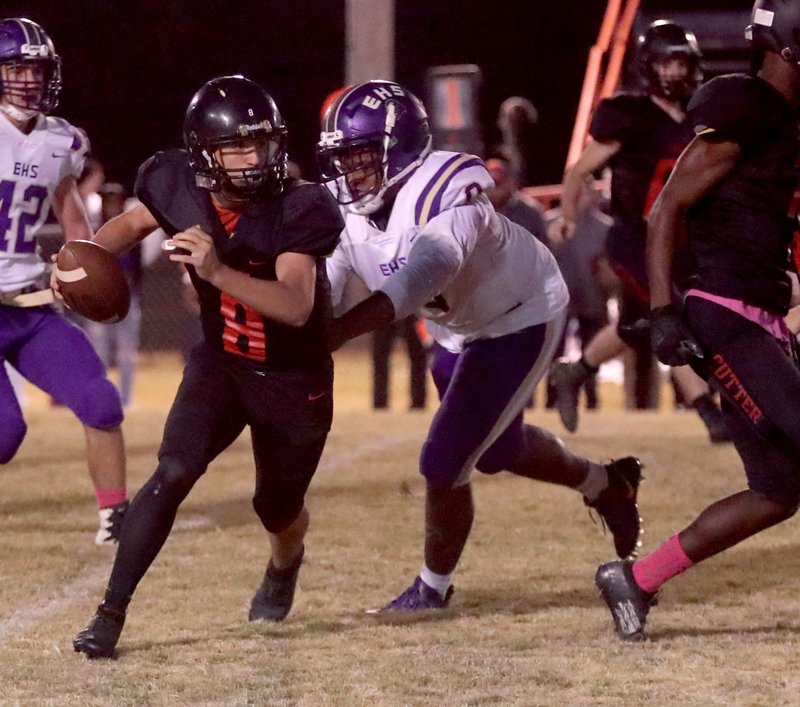 Cutter Morning Star's Sam Moore (8) looks for running room as England's Marvin Shavers (0) defends during action at Eagle Field Friday. Photo by Richard Rasmussen of The Sentinel-Record
Long-awaited cheers filled the air Friday night as Cutter Morning Star dominated the line of scrimmage at Eagle Field while cruising past England, 36-6, in the Eagles' first win over the Lions in program history.
CMS junior quarterback Sam Moore was 7-for-12 passing for 177 yards and two touchdowns while rushing 14 times for 16 yards and a score.
With a 21-0 lead at halftime, the Eagles (4-3, 2-2 2A-5) held the Lions scoreless throughout the course of three quarters until England (3-4, 2-2) avoided the shutout late in the fourth as senior quarterback Mason Brazeal threw a 27-yard strike to target Tamarous Dodson for the visitors' lone scoring drive.
With two minutes left in the game, the 2-point conversion was denied, setting the final.
Cutter Morning Star's Keshawn Blevins set the tone early in the first frame as Moore spotted the junior with 7:57 on the clock while connecting on a go-ahead 15-yard pass for a score. Senior Tyler Mace secured a 7-0 lead for the Eagles after splitting the uprights on the point after.
"All week we talked about [how] we've got to get on them early," said CMS head coach T.C. Shamel. "We've never beaten England in football at Cutter; that's huge. We knew we had chances this year; our kids have played hard.
"Coming off of a 7-point loss on the road to Mountain Pine and then a 6-point loss in double overtime to Poyen on the road, [we] had to regroup."
Two minutes before the end of the first quarter, junior Landon Watson connected with Moore on a short toss fueling a 32-yard touchdown pass by senior Tyrone Harris. The kick by Mace stretched the Eagles' lead out to 14-0 going into the second period.
Dynamic plays by Cutter's productive offense triggered another scoring drive by Moore as the playmaker capitalized on good field position while rushing for a quick 7-yard touchdown with 11 seconds remaining in the first half for a 21-0 lead at the break after the kick.
With 7:35 on the clock in the third quarter, junior Kaden Prather connected with Moore on a 75-yard pass placing the Eagles at the 1 before Blevins, zipped past defenders to make it 29-0 after the conversion.
"It was good to be back home with our fans," said Shamel. "Our kids just believe. We haven't been to the playoffs since 2013; our kids just believe; they're excited. They want to get back, and now we're just trying to increase that seed.
"We're 2-2 in conference now [and] could easily be sitting at 4-0. ... This is a high-scoring offense that we just held to 6 points, and it was late. We almost shut those guys out tonight."
With less than five minutes remaining, Moore found Watson on a 19-yard target for a touchdown. Mace went for 4 for 4 on PATs for a 36-0 lead invoking the mercy rule as both teams entered the final frame.
Watson threw one pass for 32 yards and a score. Blevins carried the ball 10 times for a gain of 27 yards and a touchdown while sprinkling in one reception for a 15-yard passing touchdown. Watson caught three passes for 62 yards, and Prather reeled in two for 98.
Defensively, senior Matthew Cook logged two picks -- one on England's opening drive that he returned 65 yards and a 35-yard interception to end the first half.
The Eagles forced two turnovers in the second quarter including Cook's second interception, and senior Daniel Britto recovered a fumble with 3:41 left in the first half.
Blevins tipped a pass to Prather for a 43-yard pick, and senior Brock Duncan forced a turnover on downs in the waning moments of the fourth quarter after sacking England's quarterback.
"I couldn't be more proud," Shamel said. "They're doing what we're asking them to do. Offensively, No. 8 (Moore) is making plays, but really they're all making plays. Offensive line blocked well tonight. ... I can't ask any more than what I got from them tonight."
The Eagles travel to Conway this week.
"Conway Christian is struggling, but we've got to go to their place next week," added Shamel. "They're a good ball club. ... They're not what they've been, but still, we've got to focus when we go down there. We've got high school kids here and you just don't know sometimes; you've got to get them fired up, focused, and we will. That's our job."
Sports on 10/20/2019
Print Headline: Eagles believe, soar to 1st win over Lions
Sponsor Content
Comments